-Say Gayle
DHAKA, Bangladesh,  CMC – Chris Gayle has given a strong endorsement of Darren Sammy's captaincy, and says he expects him to continue to improve in the leadership role.
Sammy replaced Gayle as West Indies captain in October, 2010, a move by selectors that sparked widespread criticism and rigorous debate among pundits.
Gayle, who recently returned to the side after a 14-month exile, said Sammy had performed well in what had been a difficult role.
"He has bonded himself with the team for the last two years he has been captain," Gayle told media here  yesterday.
"He's played a particular role in the last two years. It's not an easy role being captain and we as senior players have to try and make his job as easy as possible. He has done well and in the last couple years (earlier this year) he has actually gotten a Test century which has been a big improvement from his personal point of view."
He added: "[He's been] doing well with the ball as well so as time goes on, he'll actually progress and get to learn more … and in the future be a better captain."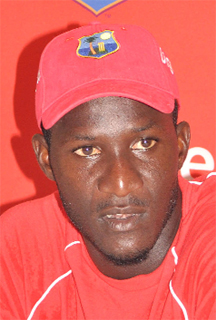 Sammy has led a West Indies revival since his time in charge, leading the side to the Twenty20 World Cup triumph in Sri Lanka last month and to a comprehensive win in all formats when New Zealand toured the Caribbean during the summer.
Last year, the side reached the quarter-finals of the 50-over World Cup and also managed to hold Pakistan to a 1-1 draw in a two-Test series.
Gayle returned to the side in time for the New Zealand series after ending a highly publicised stand-off with the West Indies Cricket Board, and played a crucial role with his heavy scoring in all formats.
He hit a century and a half-century in the Test and one-day series and half-centuries in the two Twenty20 Internationals hosted in Florida.
With the impasse now behind him, Gayle said it was important for international players to manage conflict properly.
"When you're playing international cricket you're always going to have a lot of issues to deal with on and off the field but as a player you have to know what's important for you and you have to be careful in how you deal with things around your cricketing career," the big-hitting Jamaican pointed out.
"You have to be strong-minded in the middle to get the job done but it's part of life. We're going to always have these things to deal with off the field. Every particular board will have problems but it's just something we have to live with … and try and make things easier for each other."
Comments

A resurgent Guyana Amazon Warriors side completed a comprehensive seven wickets victory over the out-of-sorts St Lucia Stars to cruise to their second consecutive home win in the Caribbean Premier League (CPL) at the Guyana National Stadium, Providence, last evening.

BARCELONA,  (Reuters) – Barcelona are suing Neymar for 8.5 million euros ($10.00 million) for breach of contract as they want him to return the bonus he was paid when he signed a new five-year deal just nine months before joining Paris St Germain, the Spanish club said yesterday.
(Reuters) – Cristiano Ronaldo will have to serve his five-match ban for pushing a referee after the Spanish sports court (TAD) rejected Real Madrid's appeal against the length of the suspension, Spanish media reported yesterday citing court officials.

A 90th+3 minute strike secured Western Tigers a 1-1 draw with Georgetown Football Club (GFC), when the Corona Beer Invitational Football Championship continued on Monday at the GFC ground, Bourda.

Despite concluding the CONCACAF u15 Boys Championship with only one victory from four matches, Guyana Football Federation (GFF) President Wayne Forde said, he is delighted with the team's overall performance.