BRISBANE,  (Reuters) – Australia captain Michael Clarke scored a brilliant unbeaten double century to give the hosts a remarkable 37-run first innings lead on the fourth day of the first test against South Africa  yesterday.
Supported first by a maiden century from opener Ed Cowan in a record stand of 259, and then by Mike Hussey's 86 not out, Clarke's 218 helped lift Australia from 40 for three when he took to the crease on Sunday to 487 for four at stumps.
It was Clarke's sixth test century, and his third double hundred, in the 15 tests since he was named captain last year in the wake of the Ashes humiliation and Australia's quarter-final exit at the World Cup.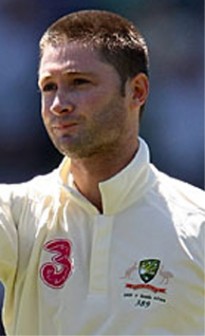 Although by no means a chanceless knock, the 31-year-old played with patience when South Africa's vaunted pacemen got anything out of the Gabba track before punishing anything loose with some fine shot-making.
When he carried his bat back to the pavilion at the end of the day to the raucous cheers of a sparse crowd at the famous Brisbane ground, Clarke had faced 350 balls over 504 minutes and scored 21 fours.
"I'm very happy with that," Clarke, who accumulated his 1,000th test run of the year during the innings, said in an interview on the boundary.
"We're in a great position with a 30-odd lead. I'd like another 70 odd runs in the morning and then I want to have a crack with the ball. We'll see what happens."
Cowan departed for 136 in heartbreaking fashion just before tea, run out at the non-striker's end when Dale Steyn got a finger to a Clarke drive that hit the stumps and the opener was caught out of his crease backing up.
His partnership with Clarke was an Australian record for the fourth wicket at the Gabba, beating the 245 Clarke and Mike Hussey made against Sri Lanka in 2007.
Cowan's wicket was the only wicket to fall on the day and Hussey started pouring on the runs as if determined to get the record back for his own partnership with his captain.
The 37-year-old bucked his poor recent form against South Africa by reaching his half century off just 68 balls with a drive through long-off, and was closing on a century of his own when play ended.
WINNING CHANCE
Hussey's cut four off Morne Morkel took Australia past South Africa's first innings tally of 450 and gives the hosts an unlikely chance of winning a test which lost an entire day to rain on Saturday.
"We're going to need to maximize our time to have a chance of bowling South Africa out," Clarke added. "We're going to need a lot of things to go our way as well. It's worth having a crack at trying to win."
Clarke's negotiation of the "nervous nineties" for his century had been fraught and he was nearly run out going for a second run that would have brought him to the hundred mark.
There were no such jitters on his approach to the two hundred mark, which he passed by slapping the ball through mid-on for two runs before giving the badge on his helmet another kiss.
Cowan's century was a retort to those critics who have consistently questioned his place in the team since he made his debut in last year's Melbourne test against India.
The 30-year-old lefthander reached the mark two overs after lunch by pulling a short Vernon Philander delivery for four to the square leg boundary, beginning his joyous celebrations before the ball hit the rope.
South Africa's number one test ranking is on the line in the series, which continues with matches in Adelaide and Perth after Brisbane.
Bowling coach Allan Donald reflected on a disappointing day after which Steyn, the world's top-ranked bowler, had figures of 1-109 and the attack combined to send down 22 no balls.
"You see Michael Clarke walking down those stairs last night at 40-3 and you start thinking… that it could for 80-5 or 90-5 overnight and to be fair, they played well," he told reporters.
"There's no excuses for (the no balls)… it's not that we have to tell these guys who are professional cricketers and playing at the highest level that they need to get their feet behind the line."
Scoreboard
South Africa first innings 450 all out* (J. Kallis 147, H. Amla 104, A. Petersen 64; J. Pattinson 3-93)
Australia first innings (overnight 111-3)
E. Cowan run out                                              136
D. Warner c Kallis b Steyn                                 4
R. Quiney c Steyn b Morkel                              9
R. Ponting c Kallis b Morkel                             0
M. Clarke not out                                             218
M. Hussey not out                                             86
Extras: (lb-11, w-1, nb-22)                            34
Total: (for four wickets, 121 overs)         487
Fall of wickets: 1-13 2-30 3-40 4-299
Still to bat: M. Wade, P. Siddle, B. Hilfenhaus, J. Pattinson, N. Lyon.
Bowling: Steyn 27-3-109-1 (nb-1), Philander 25-2-82-0 (nb-8), Morkel 26-6-109-2 (nb-2), Kleinveldt 17-0-81-0 (nb-11, w-1), Kallis 12-3-30-0, Smith 9-0-36-0, Amla 2-0-9-0, Petersen 3-0-20-0.
* South Africa's JP Duminy was injured and unable to bat
Second test: Adelaide Oval Nov. 22-26
Third test: WACA, Perth Nov. 30-Dec. 4
Comments

Yesterday, in perfect conditions for racing at the National Park, Paul DeNobrega sprinted off with the spoils of the feature 35-lap event of the fifth Banks DIH's Non-Alcoholic 11-race programme.
Back Circle will battle Tigerbay, while Future Stars will oppose ESPN in the semifinal round, following quarter-final wins on Friday, in the 3rd Annual Xtra Beer 'Ballers in the Summer' Street Football Championship.

The Guyana Amazon Warriors' horror run in this year's edition of the Caribbean Premier League (CPL) continued yesterday, as they crumbled to yet another defeat, this time falling by seven wickets to top of the table Trinbago Knightriders at the Guyana National Stadium, Providence.

BIRMINGHAM, England, CMC – West Indies suffered a humiliating innings and 209-run defeat in the historic day/night opening Test after losing 19 wickets in a devastating capitulation on Saturday's third day at Edgbaston.
Guyana's Men's and Women's teams will have the opportunity to be crowned as Caribbean Champions when the NLA XXV Senior Caribbean Squash Championships conclude today in Kingstown, St.