KINGSTON, Jamaica, CMC-Batting star Marlon Samuels is predicting a cricket revival in the Caribbean as a result of the West Indies recent title triumph at the ICC world Twenty/20 tournament in Sri Lanka.
Samuels, who played a leading role in the Windies victory over Sri Lanka in the finals, says he believes his side's success, will magnify cricket's appeal in the region.
Samuels comments have echoed the views of many officials and cricket enthusiasts alike in the wake of the West Indies inspiring 36-run win over the home side to claim the trophy.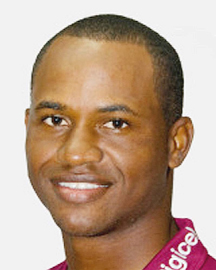 "That's why I play so hard because I know that having a world title will bring back a lot of things" said Samuels in an exclusive interview with the Gleaner.
"My role is to take it as serious as possible and work as hard as possible so that I can inspire others to the game and to reach to my level because cricket has its own superstars as well".
Some analysts believe cricket in the Caribbean is on the brink of resurgence after years in the doldrums.
Samuels says his side's latest success will serve to rekindled interest in the sport especially among kids.
"I think kids lost a lot of interest in the game because there wasn't enough hope," Samuels said before going on tour with West Indies.
"They had lost all hope, the West Indies team wasn't doing too well".
The 31 year old Jamaican also lamented the earning potential of cricketers who compete in the domestic season in the region.
He pointed to Australia as an example of a regional where cricketers who do not make the national side can earn a living playing in the domestic league.
"In the West Indies, you are taking a chance with your life coming out of high school and saying that you are going to play cricket. There are no guarantees and if you look at the countless players who come in for one game and get thrown out, it's amazing" said Samuels, one of several West Indies cricketers drafted into the most lucrative Twenty20 competitions around the world such as the Indian Premier League and the Big Bash in Australia.
"I have seen more than 50 players come and go; some may come on a one tour, fail and never make it back, while others play two games and that's it".
Samuels is currently on tour with the West Indies team, which begun the first of two Tests against Bangladesh yesterday.
Comments

Ladies and gentlemen it's Showtime. All of the boxers on the six-fight 'Bad Blood' (Sangre Malo) card scheduled for tonight at the Cliff Anderson Sports Hall cleared their final hurdle yesterday by making weight in their respective weight classes.

Stumps on day two of Guyana's Jaguar's final round clash against the Trinidad and Tobago Red Force ended on a bittersweet note for young sensation, Sherfane Rutherford who fell agonizingly short of his maiden first-class century at the Guyana National Stadium, Providence yesterday.

LONDON, CMC – Under-fire West Indies Under-19s and their embattled captain, Emmanuel Stewart, have found backing from the historic Marylebone Cricket Club, in the controversial 'obstructing the field' dismissal of South African opener Jiveshan Pillay, during their ICC Youth World Cup match last Wednesday.

BRIDGETOWN, Barbados, Jan 19, CMC – Barbados Pride pace quartet of Chemar Holder, Keon Harding, Justin Greaves and Dominic Drakes brought to life a pedestrian day with hostile bowling in the final hour to put Jamaica Scorpions on the back-foot in the Regional 4-Day Championship on Friday here.

BASSETERRE, St Kitts, CMC – Devon Smith's bid at history proved anticlamatic when he suffered the indiginity of a one-ball 'duck' on the opening day of Windward Islands Volcanoes' final round match against Leeward Islands Hurricanes here Thursday.