MELBOURNE,  (Reuters) – Former test batsman Stuart Law will step in as interim batting coach for Australia after Justin Langer stepped down to take up the head coach position for his native Western Australia state.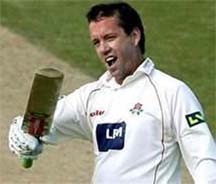 Law, who played one test for Australia in 1995 and 54 one-day internationals from 1994-1999, would take the assistant coaching role for the next five tests, Cricket Australia's (CA) performance manager Pat Howard told reporters in Brisbane  yesterday.
Australia will play two more tests against South Africa after tying their first in Brisbane this week, before a three-test series against Sri Lanka.
Law had coaching stints with Sri Lanka and Bangladesh before returning home to take up the head role at CA's Centre of Excellence.
Comments

(Reuters) Three USA Gymnas-tics board members resigned yesterday in the wake of its former team physician sexually abusing female gymnasts, a step the organization said would support its reform efforts.

(Reuters) – The presidents of world soccer and world athletics are set to be snubbed by the International Olympic Commit-tee (IOC) next month when the body is likely to again overlook them for membership, a source told Reuters yesterday.

BRIDGETOWN, Barbados, CMC – The Vivian Richards Cricket Stadium in Antigua will host the final of the Women's Twenty20 World Cup later this year, the International Cricket Council confirmed yesterday.

By Charwayne Walker When Tagenarine Chanderpaul reached three figures against Barbados at the Kensington Oval in the ninth round of the Cricket West Indies Digicel-sponsored Regional four day championships earlier this month, the son of the legendary Shivnarine Chanderpaul had placed himself and his father on an elite fathers and sons list who had the distinct honour of scoring a century at the Regional First Class Level.

By Romario Samaroo Guyana Jaguars Head Coach, Esaun Crandon said Sunday that excellent preparation and planning were the factors mainly responsible for the Guyana Jaguars winning the just-concluded Cricket West Indies (CWI) Digicel Regional four-day competition.