After decades of going close to winning a Berbice cricket championship, Blairmont on Sunday, upset Albion by four wickets to win the Elizabeth Styles Under-21 tournament.
Spearheaded by a brilliant all-round performance by man of the final,  Kevon Jawahir, Blairmont completely outplayed a stunned Albion team at the Blairmont Community Centre.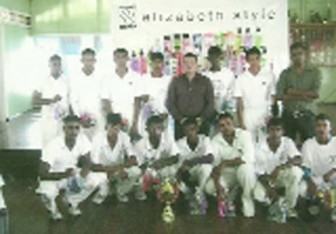 Batting first after winning the toss, Albion lost Balchan Baldeo lbw to medium pacer Devendra Prashad  in the third over but a solid second wicket partnership of 59 between Kandasammy Surujnarine and Veerapen Permaul saw Albion recover to 68 for 1 before Surujnarine was bowled by leg-spinner Jawahir for 29 in the 12th over.
Without addition to the score, Sharaz Ramcharran was trapped lbw by the same bowler.
Albion subsequently lost Gudakesh Motie-Kanhai (06) David Latchaya (00) Andy Mohan (00) Andrew Harripersaud (00) and Avinash Wajid (04) to find themselves in deep trouble at 92 for 9 in the 20th over.
However, Veerapen Permaul 53, with six fours and Latchman Bishram who made 11, added 35 crucial runs to take Albion to 127 before both were dismissed in quick succession as Albion folded for 129 all out in 32 of their allotted 50-overs.
Jawahir bowled superbly to end with 5-22 while left-arm spinner Waqar Hassan  supported with 3-23.
Needing to score 130 runs from 50-overs, Blairmont suffered an early setback when opener C. Harrinarine was trapped lbw by off-spinner  Permaul for five with the score on nine in the fifth over.
However, skipper Devendra Prashad 37, Parmanand Ramdhan, 22, Dereck Narine Jr., 19 enabled them to reach 100 for 6 in the 33rd over before Jawahir 18 not out and Nick Ramsaroop 15 not out added 32 in an unbroken seventh wicket stand to lead them to victory. Bowling for Albion, leg spinner Avinash Wajid took 2 for 29 and Permaul 2 for 23.
At the presentation ceremony treasurer of the BCB, Anil Beharry, praised the Blairmont side for its historic victory which he said was a positive sign that the BCB's efforts to assist lower ranked clubs were working.
He encouraged the Blairmont team to use the win as a stepping stone towards greater achievements at all levels. Chairman of the Berbice Cricket Board Special Events Committee Hilbert Foster outlined the outstanding work of the Berbice Cricket Board in 2012 with a record breaking 160 activities/programmes and 25 cricket tournaments.
He also expressed gratitude to the management of Elizabeth Styles for investing in cricket in Berbice.
Representative of Elizabeth Styles, Bissoondyal Singh, praised the BCB  for organising the tournament with such a high standard and for promoting the company's brand in Berbice.
Singh encouraged the cricketers to maintain discipline at all times and then announced to great applause that the sponsorship would be renewed in 2013.
Former BCB president, Malcolm Peters, also spoke while former West Indies captain Clive Lloyd met both teams during the lunch break.
The two teams and the umpires received Elizabeth Styles hampers while  Veerapen Permaul – best batsman and Kevon Jawahir, best bowler and finals man of the match received hampers.
The winning team received $50,000 and a trophy, the runners-up $30, 000 and the man of the finals $5,000 and a trophy.
Comments

A resurgent Guyana Amazon Warriors side completed a comprehensive seven wickets victory over the out-of-sorts St Lucia Stars to cruise to their second consecutive home win in the Caribbean Premier League (CPL) at the Guyana National Stadium, Providence, last evening.

BARCELONA,  (Reuters) – Barcelona are suing Neymar for 8.5 million euros ($10.00 million) for breach of contract as they want him to return the bonus he was paid when he signed a new five-year deal just nine months before joining Paris St Germain, the Spanish club said yesterday.
(Reuters) – Cristiano Ronaldo will have to serve his five-match ban for pushing a referee after the Spanish sports court (TAD) rejected Real Madrid's appeal against the length of the suspension, Spanish media reported yesterday citing court officials.

A 90th+3 minute strike secured Western Tigers a 1-1 draw with Georgetown Football Club (GFC), when the Corona Beer Invitational Football Championship continued on Monday at the GFC ground, Bourda.

Despite concluding the CONCACAF u15 Boys Championship with only one victory from four matches, Guyana Football Federation (GFF) President Wayne Forde said, he is delighted with the team's overall performance.