– wants World champion to use his status to influence other athletes
Minister of Culture, Youth and Sport, Dr. Frank Anthony has lauded the performance of Randloph Morgan who won a gold medal at the recent World Open powerlifting championships in Puerto Rico.
Morgan was paying a courtesy call on the minister at his Main Street Office on Monday.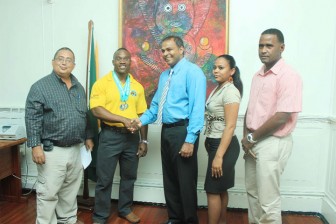 Morgan, competing in the 83 kilogramme category earlier this month, placed eighth overall but won a gold medal in the deadlift competition with a lift of 330 kilogrammes (727.65lbs).
It was Guyana's first individual World title in powerlifting.
"I just want to extend the ministry's and government's congratulations to Morgan. We had no doubt that he would have gone out there and become a champion for us, since the powerlifters in Guyana are making a name not only for this country, but also putting the Caribbean on the map in terms of power-lifting," stated Dr Anthony.
Dr. Anthony was of course referring to the exploits of other powerlifters namely John Edwards, Winston Stoby and Dawn Barker.
Edwards is a Pan Anerican gold medallist, Stoby won a gold medal at this year's World Masters Powerlifting Championships in Killeen, Texas, United States of America in October while Barker rules the roost at the Caribbean level.
"We would like to congratulate him for all the efforts. As the president of the Guyana Amateur Powerlifting Federation (GAPF) (Peter Green) said earlier, Morgan had a lot more to offer and I am sure he will be demonstrating that in future tournaments," Dr. Anthony said.
He added: "We are very proud and pleased with his performance at the championships, even though he was hindered by Hurricane Sandy which resulted in his being delayed in New York and having to travel to Puerto Rico one day before the championships lifted off."
The minister also called on Morgan to use his status as World Champion to influence this country's young athletes.
"I hope that you will use your status as a world champion to influence other young athletes and to get them more involved in the sport. I think this is a sport we have demonstrated our ability to do well and I want you to take up that role in maybe mentoring some of the younger sportsmen who are involved in the sport, as they will look up to you and we want you to use your star power to get more persons involved in the sport."
GAPF president Green said Morgan was chosen simply because he was one of the most outstanding powerlifters in Guyana.
"When we chose Randolph Morgan to go to the World Open Championships, I didn't have much hope that we would be the overall winner but after analyzing that there are 18 of the World's best athletes, I decided that he was most fitting for the position," said Green.
Morgan said, in a brief reply, said it was both an honour and a privilege to represent one's country.
"It's an honour to represent your country. Very rare, athletes like us get an opportunity to do that and being given the privilege to do so, I decided to go out there and give it my best irrespective of the circumstances," said Morgan.
Speaking of his performance Morgan revealed that he stayed on a low carbohydrate diet in order to maintain his weight and he also trained in the mornings and afternoons.
Comments

Guyana Jaguars yesterday completed a resounding innings and 81 runs victory over the Trinidad and Tobago Red Force on the final day of the Cricket West Indies (CWI) regional four-day first-class season at the Guyana National Stadium, Providence.

Winners of the seventh annual Trophy Stall doubles championships received their prizes last Friday at the grand Guyana Tennis Association 2017 annual Awards Ceremony.

There were no surprises as two-time Olympian Winston George and Natrena Hooper were named the Senior Male and Female Athletes-of-the-Year for 2017.

The ascension of Dexter 'De Kid' Marques in the world flyweight ranks continued on Saturday night at the Cliff Anderson Sports Hall.

By Noelle Smith World ranked tennis player Sachia Vickery was Friday honoured by the Guyana Tennis Association (GTA) and showed her appreciation by giving back to the GTA and a  bevy of young players through a donation of tennis equipment.