By Iva Wharton
Alika Morgan and Llewellyn Gardner won their respective categories at the  Suriname marathon held Saturday in the neighbouring republic.
Gardner was the winner of the over 45 years category while Morgan won the females 18-25 years event.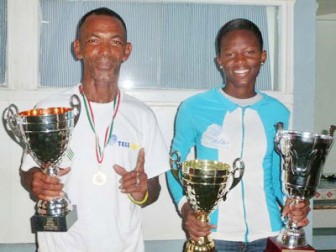 Gardner clocked 3 hours, 32 minutes for what he said was his eighth championship win.
He said he totally enjoyed the race adding that there were no challenges that he could speak of. After competing in the marathon for eight yours you get accustomed to it, he said.
His next event will be the Barbados Half Marathon on December 1 an event where he placed 11th last year. This year he said, he would be looking for a top 10 finish.
Morgan, clocked three hours, 19 minutes a time which placed first in the 18-25 years category and second overall.
"I did not prepare much for it but I feel that I misjudged the route because the course was different.
The last time it was straight, this time there were plenty curves," Morgan, who was accompanied by her coach Leslie Black told this newspaper. Morgan said she won the event in 2008.
Like Gardner, Morgan said she too will be competing in the Barbados Half Marathon and 10K events.
She is the defending 10K champion.
The two said that they would like to thank the many sponsors who made their trip to Suriname possible among them, the Guyana Telephone and Telegraph Company, Pauline Stephenson, Survival Supermarket and Ramchand Auto Sales.
Also competing in the race were South American 10K champion Cleveland Forde, who clocked a time of 2:49:45s behind two Kenyans, Lionel D'Andrade with a time of 2:50:08s and Kevin Johnson who clocked 2:5547s.
Comments

Guyana Amazon Warriors left a packed house heartbroken after folding to the Jamaican Tallawahs by two runs in a thrilling final over, as they began their home leg of this year's Caribbean Premier league (CPL) with a school boyish display, last evening at the Guyana National Stadium, Providence.

DUBAI, England, CMC – Reigning champions West Indies Under-19s will be part of history, when they kick off their title defence of the ICC Youth World Cup (YWC) against hosts New Zealand Under-19s.

Guyana ended their Group-F campaign in the CONCACAF Boys U15 Championship on a winning note, edging St.

BIRMINGHAM, England, CMC – A day that started brightly ended in typical uncertainty for West Indies, after Alastair Cook and Joe Root plundered hundreds to give England an early hold on the historic first Test on Thursday.
BASSETERRE, St. Kitts, CMC – A strong all-round performance from Javeor Royal propelled Jamaica Under-19s to a four-wicket victory over ICC Americas Under-19s in the Regional One-day youth tournament on Thursday.