Michael `Jaggy' Persaud's TNT dominoes team on Sunday exploded to emerge winners of the F&H Printing Establishment million dollars countrywide dominoes competition at the National Gymnasium.
TNT won with 78 games defeating West Side, 69, and Limpy Lotto of Bartica 58 games to earn the G$500,000 prize.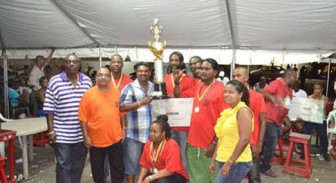 West Side, of West Coast Demerara, received G$250,000 while the popular  Limpy Lotto team, led by the entertaining Vackacy Joe and Esther Manjet,  took home G$100,000.
The other top three places went to Assassins, fourth, G$60,000, Providence fifth, G$35,000 and Rage, sixth, G$25,000.
The top three teams were also given trophies and nine medals per team.
There were also a number of individual prizes with TNT's Shawn Morgan being adjudged the finals MVP. He received $10,000. Gordon Peters of Adventure received $5000 for sharing the first double love in the playoffs while the Turning Point girls' team won $5000 for being adjudged the best female team in the playoffs.
Vackacy Joe, who took TNT's Leroy Edwards down Lovers Lane, received $3000 for sharing the first love in the finals.
Limpy Lotto won $25,000 for being the area team which reached the furthest in the competition while the Ministry of Health team won the best corporation prize of $15,000 and B6 the best uniformed team, a prize worth $30,000.
Teams winning their respective zones received $10,000 while each team participating in the playoffs received a pack of dominoes, compliments of F&H Printing Establishment. Out-of-town teams were assisted with travelling expenses and accommodation. The organizing committee came in for high praise in raising the bar of dominoes competition in Guyana while the organizers, on the other hand,  felt that there were areas which needed to be improved.
A meeting was held last evening prior to the compilation of their final report.
The sponsors have indicated that they will again partner with the Georgetown Domino Association and will invite other sponsors on board in this national effort to return dominoes to its glory days. F& H Printing has also indicated that it will reach out to sub associations to try and make dominoes once again become a truly competitive sport, which will be played at the national level.
The company also stated that it would like to thank all who lent invaluable support to make the competition the success it was and singled out the Ministry of Youth, Culture, Youth and Sport, and in particular  Neil Kumar, Director of Sport, and  Roderick Harry, who provided crucial support in securing facilities.
Around the Web