SAO PAULO, (Reuters) – Police briefly detained one of Brazilian football's most powerful men yesterday after searching his home in what they said was an investigation into criminal organisations practising extortion, corruption and financial crimes.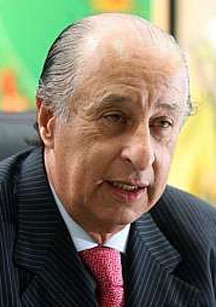 Marco Polo del Nero, vice-president of the Brazilian Football Confederation (CBF) and a member of FIFA's executive committee, was questioned as part a massive police operation in which authorities served 87 search warrants and made 33 arrests in six Brazilian states.
Police did not say if Del Nero would be the subject of any criminal charges, and declined to provide any details on his questioning. But the pre-dawn raid of his home in Sao Paulo was an embarrassment to senior FIFA officials, many of whom are in Brazil this week for a Soccerex trade fair and Saturday's Confederations Cup draw.
The incident also cast an unwanted spotlight on the CBF, which under its previous president Ricardo Teixeira was involved in several corruption and bribery scandals. Teixeira resigned in March after more than two decades on the job, citing health issues.
Del Nero, a 71-year old lawyer who represents South America on FIFA's powerful executive committee, denied any wrongdoing. In an interview with the local news agency UOL Esporte, he said he was questioned for about 20 minutes about personal affairs that are unrelated to his soccer activities.
"I'm totally at ease. This is a personal matter that I cannot discuss publicly…It will not affect anything," Del Nero said in the interview.
Del Nero also heads the Paulista Football Federation, the organisation that oversees professional soccer in Sao Paulo state, and is a member of the organising committee for the 2014 World Cup, which Brazil will host.
The Paulista Football Federation issued a short statement saying the investigation was unrelated to Del Nero's activities as its president.
Authorities said the raids were aimed at breaking up two gangs they believe were using information uncovered in police investigations to blackmail politicians, judges and other important figures.
The investigation, which began in 2009, uncovered a "major network of espionage made up of people selling privileged information," federal police said in a statement.
Asked about the Del Nero case, FIFA secretary general Jerome Valcke cautioned against jumping to conclusions. But he also suggested that FIFA could conduct its own inquiry.
"We have an ethics committee with the freedom to investigate any member of FIFA but we can't just accuse people," Valcke told reporters at the Soccerex fair in Rio de Janeiro. "We are all innocent until proven guilty."
Del Nero has taken on a greater role in Brazilian soccer following Teixeira's resignation earlier this year. On Friday, Del Nero was involved in the CBF's surprise decision to fire Mano Menezes as coach of Brazil's national team.
Comments
Colts secured wins over Kobras and Plaisance Guardians in the Open and U-23 Divisions, respectively, when the Georgetown Amateur Basketball Association (GABA) League Championship continued on Sunday, at the Burnham Court, at Carmichael and Middle streets.

LONDON, (Reuters) – The gradual decline of West Indian cricket is hardly a new phenomenon but the latest capitulation of a once-dominant test match power has brought genuine expressions of sadness throughout the sport.

LONDON, CMC – The fallout from West Indies' humbling innings defeat to England in the opening Test weekend has continued with several of the Caribbean players slumping in the latest International Cricket Council rankings.
Upper Demerara Football Association (UDFA) and Essequibo/Pomeroon Football Association secured easy wins when the UDFA GT Beer Inter-Association Championship continued on Sunday, at the Mackenzie Sports Club ground, Linden, UDFA downed East Coast Football Association 3-1.

(Reuters) – England's Stuart Broad wants to play in the home Ashes series against Australia in 2019, the paceman has said after passing Ian Botham to take second place on the country's all-time list of test wicket-takers.