Twenty-year-old Taffin Khan successfully defended his chess title after winning the Dr Chase National Senior Championship held on Sunday.
This is Khan's third consecutive title as the National Senior Chess Champion.
Speaking with Stabroek Sport, Khan said he was pleased to have won the title again. "I am the first person to retain the title three times in a row since the Guyana Chess Federation restarted, but I don't know if anybody in the seventy's or eighty's won it more than three times," he said.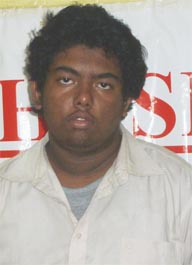 Asked whether it was a tough challenge since he has not played with any younger players in the competition this time around, Khan said, "It would have been more challenging if I played with younger players, they are more experienced. Some of the players like Mr. (Loris) Nathoo and Mr. (Craig) Sylvester I have not played with for a number of years." However, he noted that the two put in stronger showings than when he last competed against them. Khan's last match against Nathoo was in 2010 and his last encounter with Sylvester was in 2008.
The three-time champ has a FIDE rating of 1800, though he said it is not where he wants to be.
He plans on taking a week of rest then head right back into practice, which he does on the computer. Khan also noted that more international competitions must be held in order to test his skills.
He also expressed hope that the Chess Federation will send a team to the Chess Olympiad in Norway in 2014.
Khan who played seven games won four and drew two games against President of the Federation Shiv Nandalall and Nathoo. He defeated the lone female competitor Maria Thomas, Frankie Farley, Sylvester and Glenford Corlette. Former National Champion Kriskal Persaud did not compete in the championships.
Khan finished with six points followed by Nandalall and Nathoo who tied with 5.5 points.
Thomas finished in fourth place with four points followed by Farley and Sylvester with three points apiece while Corlette had one point.
Comments

Darren Bravo and Brendon McCullum swatted the Trinbago Knightriders to the most improbable victory over the St.

BASSETERRE, St Kitts, CMC – Kirstan Kallicharan's hundred kept Trinidad and Tobago unbeaten in the Regional Under-19 one-day championship here Tuesday, as they trounced Windward Islands by eight wickets.

BRIDGETOWN, Barbados, CMC – In-form opener Dwayne Smith believes Barbados Tridents has sufficient quality to turn their season around and reach the playoffs of the Caribbean Premier League.
Guyana's contingent of athletes and officials were scheduled to depart this morning for Suriname to compete in the 2017 edition of the Inter-Guiana Games (IGG).

MANCHESTER, (Reuters) – Wayne Rooney announced his retirement from the England national team on Wednesday, ending a 14-year stint in which he became the country's top goal scorer with 53 goals.