RIO DE JANEIRO,  (Reuters) – CONCACAF, boosted by Mexico's triumph at the London Olympics, is making ambitious plans to grow and develop soccer in the region as it starts afresh after last year's corruption scandal.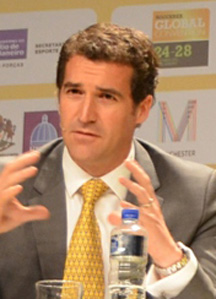 Secretary general Enrique Sanz believes that Mexico's men's gold medal in August was only the start for the North, Central America and Caribbean Confederation as the new administration attempts to put it back on its feet.
"We expect to have four teams here in Brazil for the 2014 World Cup from our region and out of those four we expect one to win (the trophy)," he told Reuters in an interview at the Soccerex conference.
"We are putting our bar very high and that is the image we want to pass on.
"We want our confederation to prepare our teams to go and win, whether it be the World Cup, the Confederations Cup, the Club World Championship or the Under-20s, as they did with the Olympics."
CONCACAF also won the women's Olympic tournament with the U.S. while Canada were third.
"For us, the Olympics was great. We got 50 percent of the medals in football, we got two gold medals, a bronze and we had Honduras doing a great (men's) tournament," he said.
CONCACAF has three guaranteed places at the World Cup while the team which finishes fourth in the region's qualifying competition plays off against the Oceania region winners for another place.
"I think we deserve more, we need to show it at World Cup level," Sanz said. "We have six teams in the final stage of our World Cup qualifiers and it is the first time I have six such competitive teams."
CONCACAF will concentrate on grass roots.
"We have already started the reform process and will then focus on the development part of the game and get back into the basics of the game," he said.
"We need to get back to focusing on the players, the coaches, the referees, the tournaments, and from there the growth opportunities we have.
"There's a tremendous amount of opportunities in CONCACAF, in terms of sponsorship, broadcasting and growing the game.
"We are in a region that is fortunate to have huge markets and is fortunate to have a big population, so we need to get back to the basis of organising it so that it can grow."
GOLD CUP MOVE?
Sanz said that all possibilities will be considered including moving the confederation's flagship tournament, the Gold Cup, away from permanent hosts the United States.
"We are looking into everything now," he said. "If there are reasons for hosting it in another country which benefit the confederation and the region, we need to explore it.
"For 2013, it's too late. They next one will be in 2015. We need to plan ahead and that is what we are doing, not only for the Gold Cup but also for the Under-17 and Under-20 championships and futsal.
"If we can use those tournaments to bring development to those countries it will be beautiful."
CONCACAF found itself at the heart of a cash-for-votes scandal during the last FIFA presidential election in which former Asian soccer chief Mohammed Bin Hammam was accused of giving cash gifts to Caribbean officials.
The confederation was thrown into turmoil after Trinidadian Jack Warner, president for 21 years, resigned from all soccer positions in June last year after he was suspended by world governing body FIFA following the allegations.
Warner's long-established right-hand man, American general secretary Chuck Blazer, also quit the body at the end of 2011.
Jeffrey Webb of the Cayman Islands Football Association was elected as the new president in May.
Determined to avoid a repetition in the future, CONCACAF last month set up an audit and compliance committee to check its finances, while the meeting to decide the fixture list for the final stage of World Cup qualifiers was held in public in Miami.
"We held an event open to the public because we want to be transparent and open and say that this is the way it is done from now on," said Sanz.
Ultimately, Sanz said CONCACAF'S image would fix itself once the improvements began to show through.
"It's not about fixing an image, it's about making it reality. We want the development and the growth to be for real," he said.
Comments

Guyana Amazon Warriors left a packed house heartbroken after folding to the Jamaican Tallawahs by two runs in a thrilling final over, as they began their home leg of this year's Caribbean Premier league (CPL) with a school boyish display, last evening at the Guyana National Stadium, Providence.

DUBAI, England, CMC – Reigning champions West Indies Under-19s will be part of history, when they kick off their title defence of the ICC Youth World Cup (YWC) against hosts New Zealand Under-19s.

Guyana ended their Group-F campaign in the CONCACAF Boys U15 Championship on a winning note, edging St.

BIRMINGHAM, England, CMC – A day that started brightly ended in typical uncertainty for West Indies, after Alastair Cook and Joe Root plundered hundreds to give England an early hold on the historic first Test on Thursday.
BASSETERRE, St. Kitts, CMC – A strong all-round performance from Javeor Royal propelled Jamaica Under-19s to a four-wicket victory over ICC Americas Under-19s in the Regional One-day youth tournament on Thursday.