Floodlight finals: Regal XI, Mike's Wellwoman triumph
Regal XI beat Herstelling by 32 runs while their Over-40 team defeated Floodlights by 46 runs, and Mike's Wellwoman won against Trophy Stall Angels in the Female final in the just concluded Guyana Floodlight Softball Cricket Association Nationwide Tournament.
A release from the Association on Monday said that In the Over-40 final, Regal rattled up 139 for 8 in their allotted 20 overs. Troy Kippings top scored with 35 while Mahendra Arjune and Jaga Bhoj supported with 24 and 22. Rahaman Khan took 2 for 16. Floodlight XI were then restricted to 93 in 17 overs as the number of overs was shortened because of time. Mahesh Chunilall grabbed 5 for 17 and Tony Amerally took 3 for 27.
In the Open category Regal batted first and posted 144 for 8 in their allotted 15 overs. Richard Latiff top scored with 38, while Ricky Sargeant and Saheed Gittings supported with 19 and 17 respectively. For Herstelling,  Tikaran Narine claimed 2 for 24 and Shameer Hussain 2 for 39. Herstelling XI were then bowled out for 112 in 14.2 overs. Omesh Narine top scored with 35. Premnauth Motilall captured 4 for 21 and Troy Kipping 3 for 9.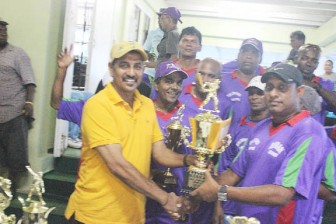 In the Female Category, Trophy Stall batted first and notched up  70 for 4 in their allotted 10 overs. Erva Giddings 22 and Kavita Yadram 21 were the top scorers. Zola Telford took 2 for 10. Mike's Wellwoman scraped home with 2 runs required off the final delivery.
They made 71 for 8 in 10 overs. Akeza Tompson 18, Onika Wallerson 13 and Haseena Mohamed 11 were the main scorers. J. Nero took 2 for 14. The winners were presented with Trophies and $100,000 each.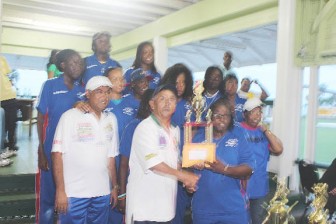 The competition was sponsored by Mike's Pharmacy, Survival Supermarket, Ramchand Auto Spares, Ariel Enterprise, Motor Trend, Petama Enterprise and Trophy Stall.
Most Read This Week