Regal XI beat Herstelling by 32 runs while their Over-40 team defeated Floodlights by 46 runs, and Mike's Wellwoman won against Trophy Stall Angels in the Female final in the just concluded Guyana Floodlight Softball Cricket Association Nationwide Tournament.
A release from the Association on Monday said that In the Over-40 final, Regal rattled up 139 for 8 in their allotted 20 overs. Troy Kippings top scored with 35 while Mahendra Arjune and Jaga Bhoj supported with 24 and 22. Rahaman Khan took 2 for 16. Floodlight XI were then restricted to 93 in 17 overs as the number of overs was shortened because of time. Mahesh Chunilall grabbed 5 for 17 and Tony Amerally took 3 for 27.
In the Open category Regal batted first and posted 144 for 8 in their allotted 15 overs. Richard Latiff top scored with 38, while Ricky Sargeant and Saheed Gittings supported with 19 and 17 respectively. For Herstelling,  Tikaran Narine claimed 2 for 24 and Shameer Hussain 2 for 39. Herstelling XI were then bowled out for 112 in 14.2 overs. Omesh Narine top scored with 35. Premnauth Motilall captured 4 for 21 and Troy Kipping 3 for 9.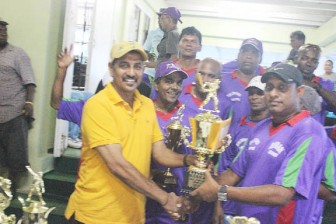 In the Female Category, Trophy Stall batted first and notched up  70 for 4 in their allotted 10 overs. Erva Giddings 22 and Kavita Yadram 21 were the top scorers. Zola Telford took 2 for 10. Mike's Wellwoman scraped home with 2 runs required off the final delivery.
They made 71 for 8 in 10 overs. Akeza Tompson 18, Onika Wallerson 13 and Haseena Mohamed 11 were the main scorers. J. Nero took 2 for 14. The winners were presented with Trophies and $100,000 each.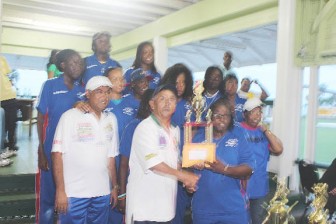 The competition was sponsored by Mike's Pharmacy, Survival Supermarket, Ramchand Auto Spares, Ariel Enterprise, Motor Trend, Petama Enterprise and Trophy Stall.
Comments

(Reuters) Three USA Gymnas-tics board members resigned yesterday in the wake of its former team physician sexually abusing female gymnasts, a step the organization said would support its reform efforts.

(Reuters) – The presidents of world soccer and world athletics are set to be snubbed by the International Olympic Commit-tee (IOC) next month when the body is likely to again overlook them for membership, a source told Reuters yesterday.

BRIDGETOWN, Barbados, CMC – The Vivian Richards Cricket Stadium in Antigua will host the final of the Women's Twenty20 World Cup later this year, the International Cricket Council confirmed yesterday.

By Charwayne Walker When Tagenarine Chanderpaul reached three figures against Barbados at the Kensington Oval in the ninth round of the Cricket West Indies Digicel-sponsored Regional four day championships earlier this month, the son of the legendary Shivnarine Chanderpaul had placed himself and his father on an elite fathers and sons list who had the distinct honour of scoring a century at the Regional First Class Level.

By Romario Samaroo Guyana Jaguars Head Coach, Esaun Crandon said Sunday that excellent preparation and planning were the factors mainly responsible for the Guyana Jaguars winning the just-concluded Cricket West Indies (CWI) Digicel Regional four-day competition.