Banks Beer football to be bigger than last year – Burnett
Tomorrow marks the start of the Banks Beer/GFA end-of-year tournament and President of the Georgetown Football Association, Vernon Burnett said it would be bigger than last year's.
Burnett made that comment at a press conference held at the Sleep Inn International Hotel, Brickdam on Thursday after a team briefing with representatives of twenty of the twenty-two teams expected to compete in the tournament.
The GFA President said together with Banks DIH they are working to ensure that the tournament surpasses the success of the inaugural tournament last year.
This tournament was birthed out of the impasse between the GFA and the Guyana Football Federation (GFF) which saw the majority of the teams affiliated to the GFA not being invited to the annual Kashif and Shanghai tournament. Also because of the political atmosphere last year the Banks Beer/GFA tournament seemed to be the tournament of choice for hundreds of football fans. This followed an online disclosure by one of the K&S principals that he had voted for the PPP/C.
Burnett was asked if he believes that they can pull the same kind of support they did last year given the absence of the tension. He replied in the affirmative.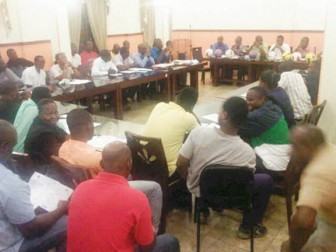 "We believe that we will draw the crowd because we have a product that people want. We have the best quality line up along with the best combination of teams".
According to Burnett, the Georgetown jurisdiction currently has the highest quality of football being played round Guyana. "True football enthusiasts will enjoy what we have to offer".
He said too that there are a number of side attractions which he believes fans will enjoy.
The twenty-two teams will compete in preliminary round matches which will see sixteen teams advancing to the knockout stage which starts on the following Sunday, December 16th.
The teams competing in the tournament are Guyana Defence Force, Santos, Sunburst Camptown, Riddim Squad, Fruta Conquerors, GFC, Northern Rangers, Police, Flamingo, Beacon, Houston Stars, University of Guyana, Black Pearl, Banks All Star, Rusal, Netrockers, Ann's Grove All Stars, Eagles United, Botofago, Victoria Kings All Stars, Blueberry Hill and Caribbean United. Caribbean United from Barbados is the only overseas team competing in the tournament.
The tournament has attracted teams from Georgetown, East Coast Demerara and Linden.
The winner of the tournament will walk away with a cash prize of $4 million along with the winning trophy, the runner-up $2.5 million and the third and fourth place teams will receive $1.5 million and $1 million respectively and trophies.
Sunday's match will see Banks All Star taking on Rusal from 18 hours followed by the feature match between Victoria Kings All Stars and Eagles United FC from 20 hours.
Most Read This Week