LONDON, (Reuters) – Michael Schumacher should have stayed in retirement rather than risked his reputation in a disappointing Formula One comeback with Mercedes, Bernie Ecclestone said yesterday.
"I would rather he had stopped as a seven-time world champion than stopping now," the commercial supremo told the official formula1.com website.
"People new to the sport – people who have joined the F1 fan fraternity just recently – will remember Michael now, not as he was. They don't see the hero that he was but the human that can fail," added the 82-year-old.
Schumacher retired for the second time after finishing seventh in last month's season-ending Brazilian Grand Prix. In three years with Mercedes, he had only one podium finish and no wins to add to his record tally of 91.
The 43-year-old German had first retired in 2006, when he was with Ferrari and had won five titles in a row with them to add to the two championships he won with Benetton in the 1990s.
Ecclestone, whose own future at the helm of the sport has been increasingly questioned as legal problems mount up and he gets older, drew a parallel with his own situation although he made clear he had no plans to retire.
"I think the important thing is…to know when you can't do what you used to do anymore and then hand it over to somebody else. I hope that's what I can do: when I feel I can't deliver, I will certainly say goodbye," he said.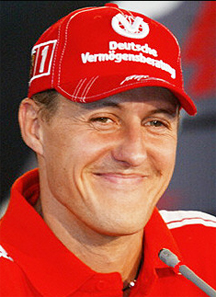 "Probably the bad thing with me is that I put in lots of effort to build Formula One the way it is now, so this is my baby and I want to look after it. Sooner or later we're going to have to get a babysitter. When that will be, who knows? I am in very good shape."
Ecclestone said Formula One would continue to explore new frontiers, with Russia's Sochi the next new race to be added to the calendar in 2014 now that a grand prix in New Jersey had been postponed for 2013.
"I suppose the next big thing will be Russia. Then we have to get this New York thing picking up again. There's lots of unfinished business – no time to waste one thought on retirement," he said.
The Briton hailed the debut of a new race in Austin, Texas, this year as phenomenal and "perfectly prepared" and sent a warning to European circuits that they needed to sharpen up their act.
"Maybe we'll get the Europeans to wake up instead of thinking that it (a Formula One race) is a God-given thing. When Europeans perform and do their job we are happy to stay," he said.
Comments

BASSETERRE, St Kitts, CMC – Batsman Emmanuel Stewart returned from West Indies Under-19 duty to immediately stamp his authority, as he steered Windward Islands to a convincing seven-wicket victory over Jamaica in the opening round of the Regional Under-19 one-day championship here yesterday.

(ESPNCRICINFO) For the first 37 overs of the game, St Lucia Stars were ahead and cruising.

The Guyana Amazon Warriors yesterday visited the St. John's Bosco Boys Orphanage at Ben Profitt Drive, Plaisance, East Coast Demerara.

LONDON, CMC – Head coach Stuart Law has praised the character of Test captain Jason Holder and says he could be an effective leader over the next decade in West Indies cricket.

LONDON,  CMC – Team manager, Joel Garner, has warned pundits to write off West Indies "at their own peril" as the Caribbean side gear up for the opening Test of the three-match series against England starting tomorrow.