Guyana's Niall Roberts and Onika George won medals at the Amateur Swimming Association of Trinidad and Tobago (ASATT) Invitational Championships held in Westmoorings, Trinidad last Sunday.
Roberts grabbed a silver in the boys 15 and over 50m butterfly while  George won a bronze medal n the girls' 13 – 14 50m backstroke event with a personal best time of 34.72s.
The event was held at the Marlins Swim Pool.
Roberts was beaten by Marlins Swim Club's Joshua Romany who clocked 25.57 seconds to Roberts' 26.70s.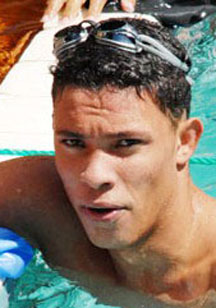 George also registered new personal best in the other five events she participated in; namely the 100m backstroke (1:20.48s), the 50m freestyle (30.37s), 100m freestyle (1:08.67s), 200m freestyle (2:39.29s), and the 50m butterfly (35.56s).
Roberts also competed in the 50m freestyle (25.25s) and the 100m freestyle events clocking 25.25 and 56.38s respectively times which saw him placing fourth.
Roberts and George were a part of the seven man team which participated at the event.
The others were Accalia Khan, Leon Seaton, Nkossi Beaton, Nathan Hackett and Joseph DeNobrega.
Trinidad-based Guyanese swimmer Noelle Smith also participated in the event but represented the University of the West Indies Swim Club.
Overall the team placed 17 out of 26 teams that participated in the event which included swimmers from all across the world.
Comments

(Reuters) Three USA Gymnas-tics board members resigned yesterday in the wake of its former team physician sexually abusing female gymnasts, a step the organization said would support its reform efforts.

(Reuters) – The presidents of world soccer and world athletics are set to be snubbed by the International Olympic Commit-tee (IOC) next month when the body is likely to again overlook them for membership, a source told Reuters yesterday.

BRIDGETOWN, Barbados, CMC – The Vivian Richards Cricket Stadium in Antigua will host the final of the Women's Twenty20 World Cup later this year, the International Cricket Council confirmed yesterday.

By Charwayne Walker When Tagenarine Chanderpaul reached three figures against Barbados at the Kensington Oval in the ninth round of the Cricket West Indies Digicel-sponsored Regional four day championships earlier this month, the son of the legendary Shivnarine Chanderpaul had placed himself and his father on an elite fathers and sons list who had the distinct honour of scoring a century at the Regional First Class Level.

By Romario Samaroo Guyana Jaguars Head Coach, Esaun Crandon said Sunday that excellent preparation and planning were the factors mainly responsible for the Guyana Jaguars winning the just-concluded Cricket West Indies (CWI) Digicel Regional four-day competition.