Roberts, George cop silver, bronze medals in T/dad
Guyana's Niall Roberts and Onika George won medals at the Amateur Swimming Association of Trinidad and Tobago (ASATT) Invitational Championships held in Westmoorings, Trinidad last Sunday.
Roberts grabbed a silver in the boys 15 and over 50m butterfly while  George won a bronze medal n the girls' 13 – 14 50m backstroke event with a personal best time of 34.72s.
The event was held at the Marlins Swim Pool.
Roberts was beaten by Marlins Swim Club's Joshua Romany who clocked 25.57 seconds to Roberts' 26.70s.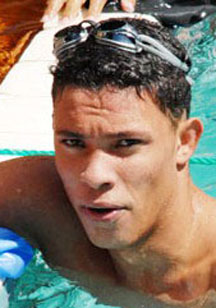 George also registered new personal best in the other five events she participated in; namely the 100m backstroke (1:20.48s), the 50m freestyle (30.37s), 100m freestyle (1:08.67s), 200m freestyle (2:39.29s), and the 50m butterfly (35.56s).
Roberts also competed in the 50m freestyle (25.25s) and the 100m freestyle events clocking 25.25 and 56.38s respectively times which saw him placing fourth.
Roberts and George were a part of the seven man team which participated at the event.
The others were Accalia Khan, Leon Seaton, Nkossi Beaton, Nathan Hackett and Joseph DeNobrega.
Trinidad-based Guyanese swimmer Noelle Smith also participated in the event but represented the University of the West Indies Swim Club.
Overall the team placed 17 out of 26 teams that participated in the event which included swimmers from all across the world.
Most Read This Week