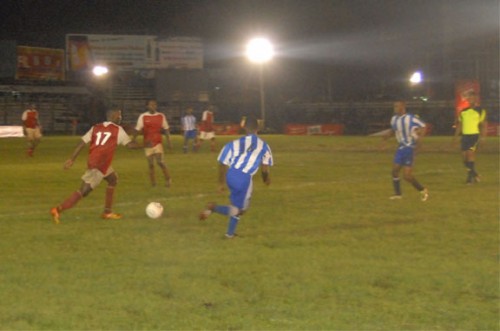 By Duncan Saul
Despite being a relatively young team, Blueberry Hill of Linden is not ruling out altogether the possibility of winning the second annual Georgetown Football Association (GFA) Banks Beer Cup Knockout football tournament.
So says coach of the team Garvin Croal.
Blueberry Hill won their opening engagement against Caribbean United of Barbados 3-2 on Wednesday night at the Tucville Playfield.
They face Northern Rangers FC at 6pm this evening at the Georgetown Cricket Club (GCC) ground, Bourda.
"Winning the tournament of course is our main goal," says Croal.
"Realistically, I would be satisfied with a quarter-finals spot due to the nature of pre tournament preparations. We have a young team that is not afraid one anyone and that is willing to work hard to accomplish the goals we have set," he declared.
Unlike some teams, Blueberry Hill was mandated to compete in a qualification round in order to enter the main draw.
"We had to go through the qualification rounds to get to the main tournament and all we have to do is keep working hard and preparing in the right ways and the results will take care of themselves. I believe that collectively we can win entire tournament," an upbeat Croal predicted.
But in order to win the entire tournament Croal says the team must stay focused and work collectively. '
"Only then can we become successful.
"The weather has not been a factor due to the geographic and physical make up of our ground. Preparation has not been adequate from a personnel perspective. My team was a fractured unit prior to the tournament and I'm working on getting us to gel collectively and build a team culture with emphasis on the future. So far we have been on the same wavelength and can only get better as the tournament progresses."
He said because of the constraints of not being able to prepare before the actual tournament as his team was a splintered unit, he is targeting, realistically, a quarter-finals spot.
Comments
Wales Football Club secured its second win in the Stag Beer sponsored West Demerara Football Association (WDFA) Senior League edging Jetty Gunners 1-0 yesterday at the Den Amstel ground.

Stewartville Secondary punched their ticket to the next round of the Digicel Schools football championships dismissing Windsor Forest 5-2 yesterday at the Leonora Sports Facility.

LILLE, France, (Reuters) – Wales produced a stunning upset to reach the Euro 2016 semi-finals after Hal Robson-Kanu's superbly fashioned goal and Sam Vokes's late header secured a 3-1 comeback win over Belgium yesterday to set up a clash with Portugal.

BORDEAUX, France, (Reuters) – Title contenders Germany will come face to face with their ultimate tournament nightmare when they take on Italy in their Euro 2016 quarter-final in Bordeaux today.

Despite possibly being eligible to represent Canada in the future, recently capped Golden Jaguars international Shaquille Agard said that his intention was to always represent Guyana on the international circuit.