Tournament favourites, Alpha 'The Hammer' United pounded B.V Triumph, four-nil on Tuesday night at the Georgetown Football Club (GFC) ground to clinch a semi final berth in this year's 23rd Kashif and Shanghai Football tournament.
A double by national forward, Dwight Peters, (80th and 84th minutes)who recorded a hat-trick in his last game against Rosignol United and strikes from  national player Daniel Wilson (20th minute) and guest player from Grenada's national team, Kithson Bain,(50th minute) moved the star studded team closer to the $4M first prize.
The city team did not disappoint their fans in the sizeable crowd as they overwhelmed the East Coast side with superior ball handling, finishing and swarming defence by the midfielders and full backs, Charles Pollard, Quincy Madramootoo and Issa McPherson.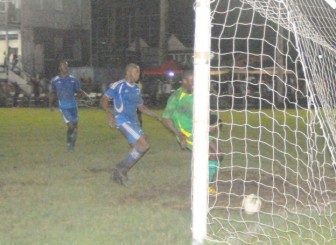 After Wilson received the ball on the left wing and buried a low right footer from just inside the box to put Alpha up one, the game became much more competitive as B.V Triumph's team played with more of a sense of urgency. Hard fouls and cautions were the highlights of the action prior to Wilson's goal.
Peters was fouled inside the penalty area, 10 minutes before half-time and proceeded to take the penalty shot but the national forward who had buried two penalties in his last game failed to find the back of the net with a soft kick which was saved by goalkeeper, Linden Dennis diving to his right.
The back and forth play would continue but neither team scored and the teams headed into the dressing rooms with the score at one-nil.
Like in their previous game against Rosignol United, Alpha came out of the dressing room with a more sense of purpose and scored three times in the second half.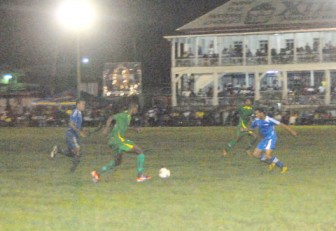 Five minutes after half time, the dreadlocked Bain, received a picture perfect pass from Wilson just outside the box, dribbled a few yards closer to the goal and buried a low left footer past a diving Dennis.
Both teams continued to grind as Alpha looked to increase the score line while BV Triumph desperately searched for goals. BV Triumph had a sniff of hope in the 79th minute as Alpha was forced to play with 10 men after McPherson was red carded for excessive force on an opposing player.
This did not change the fortunes of the favourites as they would find the back of the net on two more occasions before the final whistle.
Five minutes after McPherson's red card, Peters made up for his penalty blunder when he nailed a screamer from just outside the box to put Alpha up three-nil
Moments later Bain, sent a pin point pass to the lurking Peters who easily hit the bulls eye from point blank range to record his  double and give Alpha the four-0 advantage.
Meanwhile, another tournament favourite, Pele, booked their place in the semi final round by drubbing Silver Shattas, four goals to nil.
A double by national forward and prolific goal scorer, Gregory 'Jackie Chan' Richardson who also netted a hat-trick in his team's opening game coupled with strikes from Dirk Archer and Romel Gordon, completed Pele's goal fest.
Richardson scored off a penalty in the 66th minute and scored again in the 73rd minute. Archer breached Silver Shattas' goalkeeper in the 83rd minute while Gordon did the same, five minutes later.
Lucky ticket holders won cell phones, a motor cycle, food hampers and other prizes.
The semi final games will kick off tomorrow at the same venue. Kick off time is still unknown.
Comments
Wales Football Club secured its second win in the Stag Beer sponsored West Demerara Football Association (WDFA) Senior League edging Jetty Gunners 1-0 yesterday at the Den Amstel ground.

Stewartville Secondary punched their ticket to the next round of the Digicel Schools football championships dismissing Windsor Forest 5-2 yesterday at the Leonora Sports Facility.

LILLE, France, (Reuters) – Wales produced a stunning upset to reach the Euro 2016 semi-finals after Hal Robson-Kanu's superbly fashioned goal and Sam Vokes's late header secured a 3-1 comeback win over Belgium yesterday to set up a clash with Portugal.

BORDEAUX, France, (Reuters) – Title contenders Germany will come face to face with their ultimate tournament nightmare when they take on Italy in their Euro 2016 quarter-final in Bordeaux today.

Despite possibly being eligible to represent Canada in the future, recently capped Golden Jaguars international Shaquille Agard said that his intention was to always represent Guyana on the international circuit.