Greig's death has come as a shock
Sir Garry Sobers
Sir Garry Sobers on Saturday described Tony Greig, who died of a heart attack in Sydney, Australia, aged 66, as "the kind of cricketer you would always want in your team."
All-rounder Greig, a former England captain and one of the movers behind the formation of Kerry Packer's World Series Cricket in 1977, was in the World team under Sobers against Australia in Australia in 1972-73 and in the England team that played in Sobers' last two series in England in 1973 and the Caribbean early in 1974.
"Greigy was never one to take a backward step in anything he did," Sobers said. "He was at my side in that World team in Australia, always urging everyone on, saying 'come on, let's get at 'em".
"When I heard of reports that he was down with lung cancer, I said to myself that if anyone could beat it, it would be him. He was a real fighter. So his death has come a shock."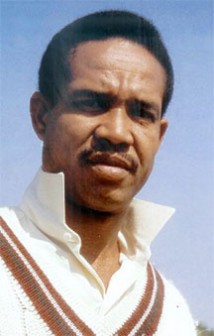 Sobers recalled an incident in the World team's series involving Greig that was a prelude to Sobers' masterful 254 in Melbourne, described by Sir Donald Bradman at the time as the finest ever played in Australia.
It was fast bowler Dennis Lillee's sensational first international appearance. After he twice dismissed him for nought with bouncers, Sobers said he told Australia captain Ian Chappell "to let that Lillee know I could bowl bouncers, too".
When Lillee came out at No.11 and survived a few balls, Sobers said Greig turned to him and said: "Come on, skipper, let him have it".
When Sobers asked him "let him have what?", Greig replied "the bouncer, the bouncer".
"I pitched up a couple more and then gave him a bouncer past his face outside off-stump," Sobers related. "Well, he turned pink and slogged the next ball to be caught at mid-off. Greigy seemed to enjoy it as much as I did!"
In his final Test in 1974, Sobers was one of Greig's 13 wickets at the Queen's Park Oval, out for 0 in the first innings.
"I had a lot of admiration and respect for Tony Greig and we got on very well," Sobers said. "My sympathies go out to his wife and family". (TC).