Guyana's Under-20 Lady Jags will begin their quest for victory over challengers Cuba, Trinidad and Tobago (T&T) and Puerto Rico when they compete this weekend in the second round of the Caribbean qualifying matches for the 2012 CONCACAF Under-20 Women's Championships.
The team will face Cuba in their first game today at the Estadio Pedro Marrero Ciudad de La Habana from 3pm with T&T and Puerto Rico kicking-off group action at 10am at the same venue.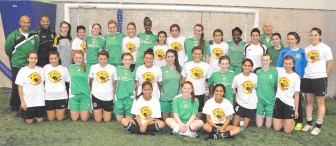 Technical Director of the Guyana Football Federation Women's Programme, Mark Rodrigues, said he was confident that the senior team will continue to make Guyana proud, in an interview with Stabroek Sport after they returned from a mini camp in Canada. The Lady Jags are the first Guyanese team to advance to a CONCACAF final. The squad which travelled to Canada allowed some of the younger players to rub shoulders with the seniors. It also comprised Coach Chris Brown, GK Coach/Trainer Ali Tabrizi and Physiotherapist Neena Gupta. Rodrigues, who has been with the Programme from its inception, noted that while the ultimate goal is to advance to the next round, the aim in Cuba is to win the group and advance as the Caribbean threat.
"Winning the group will also give the players the much needed confidence required heading into the CONCACAF finals in Panama in March. It will force teams to view us differently and play us more cautiously, which we could then use to our advantage," Rodrigues explained. The Lady Jags won their first round group match at the Uitvlugt Community Centre following wins over Antigua & Barbuda 7-0, Anguilla 5-0 and a bruising win over the Dominican Republic 2-1.
Rodrigues noted that the technical staff has been doing their homework: "I have done a considerable amount of research on our opponents and will be approaching each game with a specific game plan as they all play differently.
Cuba has very crafty players especially in midfield. Trinidad relies heavily on speed and attacking from their wide players. Puerto Rico is a very technical team who can punish you if you do not defend as a group. According to Rodrigues, the Guyana team is well balanced with five senior players in the starting line-up complementing a quality group of newcomers.
"The Under-20's are very fortunate to consistently have a great goalkeeper in Simone Busby, who only conceded a solitary goal (a redirection) in the first round in Guyana, and will be looking to her for continued quality leadership between the pipes both in defending and starting our attacks. Simone is not just a shot stopper; she handles the ball extremely well with her feet and is very calm, which allows the team to go forward with confidence.
Rodrigues said the team also welcomed senior player Olivia Gonsalves back into the squad though she was unavailable in Guyana. Gonsalves, a junior player, was thrust into the spotlight with the senior team in Cancun, Mexico and performed very well. "One could say she is now a veteran, as she displayed in the game in Toronto with her quality play," the technical director added. The only two surviving players from the original Lady Jags squad of June 2009 are  Justine Rodrigues and Ashlee Savona who joined after celebrating their 15th and 16th birthdays respectively, whose wealth of experience will serve this team in good stead. Justine and Ashlee have both earned scholarships in the USA and are starters on their college teams: Justine as a freshman and Ashlee as a sophomore. Both players fully understand and play each game like it's their last, leaving everything on the field, the director said, adding that they are great teammates.
According to Rodrigues, the newcomers to the programme are very talented and are beginning to understand the magnitude of what they have embarked on. Some  have stepped-up their game in Guyana while others were slow in getting started, but have since garnered more experience from round one. "While the Cuba test will be challenging for us as a unit and given the challenges we face preparation and otherwise as a smaller nation on a limited budget; belief, pride, passion and an amazing coaching staff carries us a long way," Rodrigues said.
Team Guyana: Justine Rodrigues (Captain) Ashlee Savona (Captain) Martyne Alphonso, Simone Busby, Leah Marie Ramalho, Chantal Lynch, Leah Chisholm-Allison, Olivia Gonsalves, Tessa Edwards, Elysia Prasad, Kailey Leila, Kelly Pelz-Butler, Alisha Leila, Esther Frotten, Otesha Charles and Sara Vaughan. The technical staff remains the same as at the Canada camp, comprising Rodrigues, Brown, Tabrizi and Gupta.
Around the Web