This is the twelfth in our series on new parliamentarians
A Partnership for National Unity (APNU) parliamentarian Sydney Allicock believes that the new dispensation in the National Assembly creates an avenue for politicians to "attack the issues rather than personalities and try to bring back that good name that Guyana really deserves."
Allicock is not new to politics; he was associated with the PNC since he was a youth, but he said he was not to keen on joining a political outfit as he would have preferred to be in a "pressure group". Nevertheless, he was encouraged by the vision of APNU and the fact that it is made up of ten groups which "makes sense," he said.
Allicock wants the country's education system to be improved as he feels it is pivotal to the advancement of a young nation such as Guyana.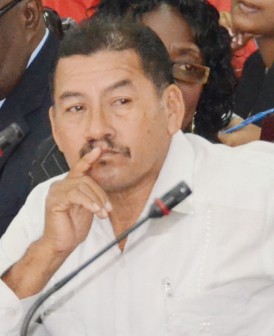 A trustee for Iwokrama and representing the North Rupununi community, Allicock told the Sunday Stabroek that while he was involved in political work for a number of years he simultaneously was also involved in community work as he was not one to wait for government to do everything for his community. This is the message he gives people of his community and region. He said the indigenous way is working together and this makes them stronger and in the process creates opportunities for financial strength, such as was found in the area of eco-tourism, which is now a growing industry in Region 9.
From a very young age Allicock said, he realized that persons in his area would wait to be told what to do.
"I thought that was wasting time. I thought we were intelligent enough to look at the environment that we lived in and to make a living out of it by agreeing on things that were necessary for our survival because we were feeling it…" Allicock told the Sunday Stabroek.
This realization, he said, started since he was about 12 years old as when children they were whipped for speaking their own language.
"That began the whole thinking, because why were we whipped? That was a way of communicating and I considered that as our language and not a dialect as such because that is the way we communicated with each other before any other language," he asserted.
The Region 9 resident said he became intrigued with the history and culture of his people and he always wanted to be involved in the decision making. In later days he became a representative of his community and then the Toshao of Annai.
When he became a Toshao, Allicock said, he thought he would have "created miracles you know as if I had the control of everybody but I quickly learnt that was not so and realized that the support for me was about 60 per cent and the other 40 per cent was not agreeing on things."
One of the burning issues then for Allicock was the satellite communities being forced to come and support the "big community" such as Annai, which he described as "total nonsense."  Those communities wanted to "survive too" and one of the first things he did was to give them their own control as he felt the energy and resources they used to trek to the big village would have been better spent in their areas.
'Too long to change'
His motivation to join the PNC at the time–a party his father was a member of–was to have his voice heard as he felt things were "taking too long to change."  But there were many things he did not agree with and Allicock said he was never one who was shy of speaking out so that even within the party he was called 'opposition'.
"And I did not mind because I said I would not stand and allow things to happen that I believe to be wrong… so I opposed them with the people in mind, not myself because whatever was decided upon affected the persons out there," he said.
He recalled that in 1992 he discussed with the powers that be that there should be a "plan B" in the event that the party lost the elections but no one seemed to believe that would have happened.
"When we lost is then people were scrambling for a plan B then is when we realized that we should have really had a plan to move on…"
He was still in the PNC in 1997 but during that period many persons advocated for an "interior party" and he began communicating with his childhood friend Paul Hardy and they later formed the Guyana Action Party (GAP) which campaigned in 2001 and won Region 9. "But the big worry was the financial back up to implement projects and so on, so that was a weakness for us," he admitted.
According to Allicock while the PPP/C government has done a lot for the interior locations one of the things they have not been able to control is crime. Allicock said it is a "frightening thing when you are poor you depend on the police for support and you are not comfortable."
The  condition of the Lethem – Linden road, especially during the rainy period, is another sore point for Allicock.
He said while the road builders get a lot of flak for the deplorable state of the road the public is not aware of the contents of their contracts and what they are being paid for.
"So we could say all sorts of things
but when you get into the meat of the
story and you look at what they are being paid for then it is a totally different
story," he said.
Allicock said it is not a case of money not being spent but rather more concentration needs to be placed on the level of rainfall during the rainy seasons. The road is still bad and he is dreading the rainy season which would soon be here again as he pointed out that every year during that period the road is flooded.
"That is one of the problems I would like to see corrected. We have the material to build a better road, if the money is given you build the road higher. You have to raise the road. You have to really compact the laterite on the road and you would be able to have even cars going to Lethem if it is done properly," he said.
Allicock is not too pleased about what happened last year when employees of the Ministry of Works moved into the area during the flood. He said when the residents felt they would have alleviated their problems they actually became bigger problems. He said they had lodged a complaint with then president Bharrat Jagdeo as the workers had set up an "illegal gas station on the road" and they sold the fuel cheaply to persons.
"So how could you trust a group that was put there to help you…that was doing that sort of skullduggery?" he questioned.
He said those are the things that "caused pain to know you are taking the tax payers' money to fill your own pockets."
At present, Allicock is a village councillor for the Surama District and managing director for the community's tourism business. The community has various packages such as canoeing, trekking and jungle survival training among others which are offered to tourists. There is a lodge which can accommodate 16 persons at any one time. Everyone benefits from the business since there is a rotation system which sees persons working for one month at a time. He said there is work for boat men, drivers, caterers, guides, cultural people, secretaries and administrators among others all of whom are not permanent and the business is growing.
For last year alone the community saw over 600 visitors and according to Allicock the cutoff for visitors per year is 1,000 as "we don't want to do too many things one time because it would create an impact on the environment."  The business has been in existence for the past ten years and the $1,000 paid by persons when they enter the community goes to the village council for its administration. The tourist then pays to be involved in an activity of his/her choice to the persons who are offering the services, a percentage of which goes to the tourism business which provides accommodation and meals among others for the tourists.
Allicock is married and the father of six grown children and he has travelled the world extensively in his advocacy work for the indigenous people, tourism and conservation. He describes himself as being self taught through his large appetite for reading.
Around the Web