"I am going to use every means to first of all to clear up the misconceptions," Morian told Sunday Stabroek in a recent interview and one of those misconceptions has to do with the issue of Linden electricity rates.
Lindeners had recently come out in their thousands to protest the government's move to raise their electricity tariff, arguing that economically speaking they were not in a position to pay higher electricity bills. They even had harsh words for APNU – which Morian represents in parliament – after Prime Minister Sam Hinds had announced that the partnership's leader, David Granger, had agreed that the electricity tariff should go up.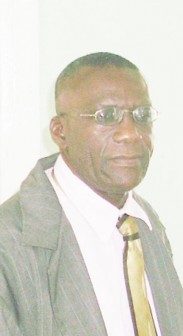 Morian revealed that when Hinds made that announcement in the National Assembly not only was he shocked, but if he had not had a good heart he would have had a heart attack. He said immediately after the announcement his fellow Member of Parliament from the region, Vanessa Kissoon, asked for a print-out of the statement and they went out and called a press conference. They also called their leader saying they were not present when the agreement with the government was made, and what they heard about it in Parliament that was not what they were saying to the people of Region 10.
"Based on what the leader is saying to us that is not what was agreed on, and I said to him there should have been a joint declaration so we agree on what we are saying," Morian said. He revealed that within ten minutes of the announcement Linden was "up in arms" and Kissoon and himself had to leave parliament at 10pm that very evening and rush to Linden to "calm things and come back down."
Morian said that the government is giving the impression that Lindeners do not want to pay higher electricity bills, something he says is untrue. Rather it is a case that there needs to be employment opportunities for residents first and foremost.
"Our argument is, we want to pay but we want to see economic conditions that give people jobs. What will we pay with now? Two weeks ago people lights get cut for twelve hundred dollars," he said.
He said the people want to work for their income, but there are no jobs. "The government is not saying to all and sundry that they destroyed electricity generation in Linden," Morian said. The government "unilaterally" sold the region's steam power plant to a company called Texas Ohio Energy, he said, and put the company in "the hands one of their own in Linden" to manage it, and it failed. A deal was then struck with Omai to generate electricity; the company was at that time using the more expensive fuel and there was a deal for the company to switch to the cheaper fuel within a year, but that never happened.
When Omai left Bosai then took over the responsibility to supply electricity.
"The government needs to come clean and say, look we tried this and it failed, but don't try to label us as people who don't want to pay," Morian said.
Morian also criticised the government for only allowing one television station in Linden, namely, NCN, and he called this a "travesty."
"You wake up in the morning you see the PPP, whole day you see the PPP. What happen to the other side?" he asked.
He said as it relates to the recent electricity issue in parliament the Lindeners only got to hear from the government (Granger and other leaders of APNU were allowed on NCN the day after the Prime Minister's announcement). Morian said that the government should allow the opposition parties access to NCN so that they can present their side as Guyana is a democracy and the people must hear from all.
Meanwhile, describing many of the communities in Region 10 as depressed, Morian revealed that about three years ago a group of Brazilians visited Linden under an umbrella company and expressed the desire to move large amounts of fertilizer to Brazil. He said they had talks with the Regional Democratic Council (RDC) and were willing to help repair the roads while they region would have had 50 bridges "up and running."
He said they felt that that it was a good deal because it would have created jobs, and one local company was so confident that it would become a reality he went ahead and built a bond and a wharf to facilitate the Brazilians.
"We are still waiting on the government to do the bridges. Why would the government which is knowledgable of the kind of employment and spin-off for businesses this deal would have brought dragging their foot?" queried the new parliamentarian.
Further, Morian said he was a consultant on the Linden Economic Advancement Programme (LEAP) and said the lending arm of the programme – Linden Economic Advancement Fund (LEAF) – at the end of the programme repatriated to the government over $100M  which should have continued the Linden Economic Network (LEN).
"We checked the 2012 Budget estimates – nothing for LEN. How could you claim that you love Linden and you want Linden to develop and you holding that sum?"  Morian said.
He said what is worrying is the fact that the government wants to remain in the city and manage Linden and the region without the involvement of the residents. He said there are farmers in West Watoka who are waiting for land titles to apply for loans from the bank, but after three years these have not been issued even as the government continues to give out title for lands in other regions.
He said they are asking to manage their affairs as is done in other regions, instead of the government controlling and wanting the residents to be silent partners looking on. "It can't happen like that, it has to be for the people and by the people," Morian stressed.
He pointed out that in the Budget money to build roads in Region 10 were allocated under the ministries of Finance, Public Works and Agriculture outside of the regional administration.
"So it means they are going to send in who they want, when they want, how they want; we have no say how it is done… And these things aren't being told to the general public," Morian said.
According to the new parliamentarian some 75% of the roads are bad in Linden.
He said he was forced to raise the issue of hundreds of women security guards in Linden working for just $100 an hour, and that the minister said it was so because the lowest tender was accepted for the contract.
Morian argued that the government has been stifling the region since 1992 in every facet, as in every area there is a battle.
"You can't develop Guyana nine regions and one region is not developed…" Morian said, adding that the elected leaders should be allowed to have a say in how money is spent in the region since the people have spoken.
He questioned where the children who come out of school would go, and the many others who are being trained by the government for six months but who have no jobs to go to. "So frustration build, more of our young people turn to drugs… the churches are now becoming welfare agencies…" a seemingly frustrated Morian said.
He said he heads the Christian Development Foundation and every year the foundation raises money to do projects in Linden and Kwakwani. For over ten years Morian has been working on the RDC and he said at one time he was the Chairman of the Works Committee, sat on the Regional Tender Board, served on the Education Committee and was very much involved in the running of the Regional Democratic Council.
He said he had recognized one of the challenges facing the region was leadership, and the non-involvement of the church, which always took a position on the sidelines, a view he does not share. "But if you are ministering to people the ministry don't end on Sunday; I see the ministry as the wholeness of people, so for me to help people to move forward I had to get into RDC…" Morian said.
He is an Assemblies of God pastor with his own church – Truth of Calvary Assembly of God Church – and he pastors three congregations. He admitted that he took a lot of "flak" from the church and he said he is yet to convince many persons that development is a holistic approach.
"Persons felt that you shouldn't get involved, but how do you help people if you don't want to get involved?" he asked, adding that his educational background also drives his involvement as his first degree was in social work, and he also has one in statistics and management as well as studying  disaster preparedness and project management.
Morian said he would like to be convinced biblically that he should not be involved in politics, adding that scripture is replete with men and women who served in leadership positions.
And even as he pastors, Morian has his own company where he works as a consultant for project management and business planning.
He describes himself as an avid musician and gardener and is married with two children.
Around the Web