Sitting on the banks of the Corentyne River, approximately 54 miles from Crabwood Creek is one of two Amerindian villages – Orealla.
Orealla is an Arawak word which means white chalk, and seems to have acquired its name from the chalk hills around. The village with a population of over 1000, spreads up one of these hills.
Orealla was at one time inhabited mainly by the Arawaks and Warraus with some Caribs, but at present Wapishanas and Macushis can also be found there. The community's economy is dependent on logging, hunting and farming.
For the past few years the village has gone through a major transformation. It was presented with a new boat from the Government of Guyana and the residents have been receiving electricity at night while some sections enjoy potable water most of the time. After years of lobbying for its own telephone, the community now receives telephone services from the Guyana Telephone and Telegraph that were inaugurated a few weeks back.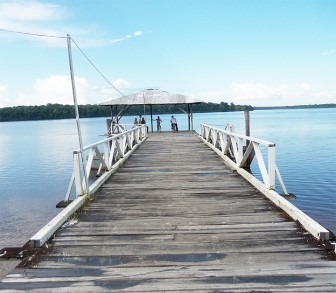 Walking through the village on a hot August day, this newspaper caught up with Dennis Andrews. "Fifty-three years ago I came from Demerara and lived here. I can't complain; I like this place it quiet and you can relax any time," says the pensioner.
He was cooking his lunch at the time, and chatted while he tended to his pot. He remarked that years ago the lifestyle of the community was very humble and everyone came together willingly to assist one another. "[Now] people would help," he continued, "but you have to give them a lil change.". Andrews told Stabroek News that he worked for a while in Suriname, and is a ground provision farmer. Even though he is no longer young, he still farms on a small scale.
When asked about what development he would like to see take place in his village, he replied that there was a need for a lot of improvement. There should be job opportunities for the young people who left school, he said, because at present they can only resort to farming and logging. While Andrews thought the village an interesting one because of its simplicity, he plans to return with his children to St Cuthbert's Mission, from where he originated, some time soon.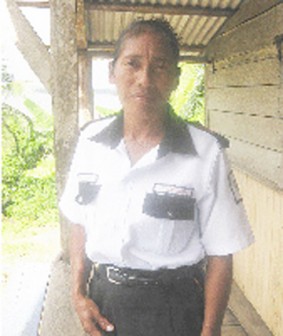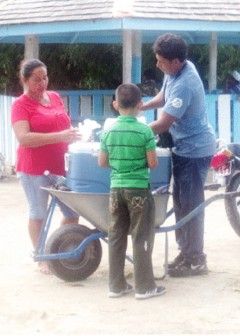 Viola France has been living in the community for most of her life and said that she is proud of Orealla. She lived in Kwakwani during her teenage years but returned to her place of birth at the age of 17. France works as a security guard at the newly erected GT&T service site and said that not much happens in the community on a daily basis.
"Everybody go about doing their own thing," she said, going on to comment, "It is a very good place to live in. There isn't a lot of crime in the community, you would have, but one and far [between] …and now development is taking place which means we would have a more civilized community to dwell in." France said that sports formed the major recreational activity for the youths and the not so old in the community: "Some people would just come out and look at the games while the small ones would run around."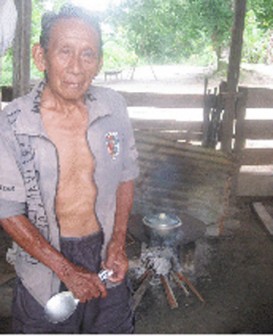 When asked what new development she would like to see in the community she replied, "[A] secondary school, because parents find it hard to support  their kids who have to go to school on the coast."
This resident noted that the water supply is a major problem for those residents who reside on the hill: "The people up the hill don't always get water; if they do have the pipe run slow…they mainly depend on rainwater".
At the front of the village Vincent Panux and his son were selling shaved ice; they traverse up and down the hill every afternoon. "Everybody hustle here; things are kind of rough and if you don't, you might punish" he said while shaving another cube of ice. Elaborating, he explained "Wood get scarce and small, so it is hard to depend on logging now; it is not like before when you used to have enough [lumber] and life would have been bright." He added that owing to hardship in the village, he was forced to migrate to neighbouring Suriname to find a job.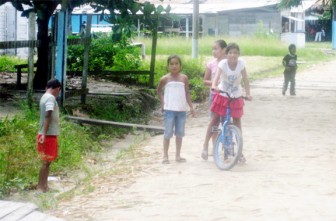 Panux described the livelihood of Orealla residents as being pretty simple. "On a normal weekday the children would go to school while the men would work on their farm and cut lumber, and the ladies would assist in farming, household chores, make craft or cassava bread and casareep," he said.  Other than the struggles in the village, he told this newspaper, the community is a great one to live in.
Community activist Ingrid Devair was thrilled to know that her village would be featured in this newspaper. Devair said that her community has a lot of potential for boosting economic growth, but residents need support in order to take advantage of it. "Farmers at times lose a lot of crops because they are not educated about the products they should use for their farm. Sometimes they have to sell their produce very cheap to coastlanders so that they can cover their expenses," she explained.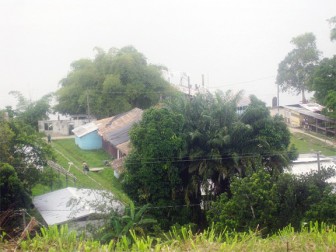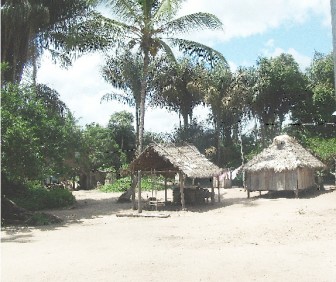 She also said that the same thing happens with the lumberjacks, and she called on the authorities to assist the residents of Orealla. Devair believes that her village has great potential for tourism since it has a lot of sites for bird-watching, and boasts a mini-waterfall with cool creeks and a white chalk hill – just a few of the features she listed. She too said that sports is the only activity that keeps the village alive and together. "No matter what problem or struggle the community is going through, sports is what always brings them back together,' she said.
This village is home to several Christian churches and a nursery and primary school. Health needs are catered for in the form of a health care centre, which recently received a trained nurse. Orealla also has a police station, an office for the Ministry of Forestry, several small shops, two guest houses – one owned by Cortours Adventures – and a campsite.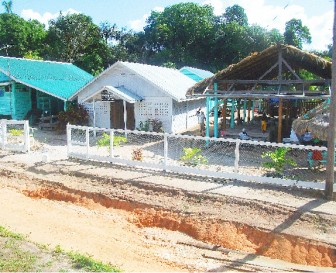 The campsite which belongs to the Church of Nazarene sits on the top of the hill overlooking the Corentyne River. It was built in 2007 because over the past decades the church had been holding their camps in the village. Campers at the site told this newspaper that they love the village since it allows them to concentrate and relax their minds. Despite them being miles away from home they still feel at home. The people are most hospitable said one camper: "The[y] are very humble; down to the smallest child would greet you." They said that they enjoy the fresh air and the breath-taking sunrises and sunsets. The campers were also amazed at a black water creek that flows through the Orealla.
Residents said that they enjoy themselves and relax in harmony is when there are heritage celebrations. This period would see residents returning home and visitors passing by to have a taste of village life. The celebrations would usually include a list of fun-filled activities such as a cassava-grating contest, a greasy pole, track and field events and canoe-racing among others. A few residents also mentioned that sometimes they would have a regatta as a part of the celebrations. In 2009 Orealla was in the spotlight as that year it hosted the much anticipated Amerindian heritage celebrations.
The village is accessed by boat and amphibious craft.
Around the Web