I just don't get it
Dave Martins - So it Go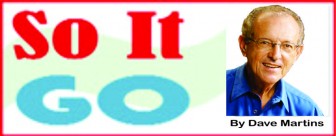 Ever since I can remember, I've had this interest about understanding how things work, about the intricacies at play, about the skills involved. Example: a few years ago in Barbados, Tradewinds are in Baxter's Road having a few after-fete coconuts. Harry Cupid, our percussion guy, drains his coconut and hands it back to the vendor,"Open that for me." The vendor simply swings his machete in a quick arc and picks the coconut clean out of Harry's hand. He (Harry, that is) almost wet his pants. Coconut vendor touch; was he born with that? Last weekend I'm in Victoria at the Masquerade Flounce-Off. One of the stilt walkers comes before the judges doing his dancing bit. Suddenly, he leans down, unbuckles one stilt and proceeds to dance on one stilt holding the other one overhead. The man is elevated four feet high, dancing on one foot. The physics involved there leaves you gaping; how is he remaining upright? I just don't get it.
The puzzlement extends into other areas as well. For instance: I just don't get Wolf Blitzer. Okay, I've grumbled about this before, but the man continues as apparently one of the premier news readers on television, when in fact he is probably the worst of the big names in the news game. In almost every sentence he delivers, Wolf pauses where there is no comma, no period; he will sometimes pause in the middle of a word (as in "para…graph"). Last week, Wolf comes back on camera after a remote report from newscaster Mary Snow. Big and bold in the "Situation Room", Wolf says: "That was Mary Snow. Thanks very (he takes a breath) much Mary." Apparently the brass at CNN are happy to let Wolf ignore basic rules in speech and to pause wherever and whenever his lungs tell him. I just don't get it.
Some of the oddities extend to behaviours. In Trinidad carnival, for instance, we're now seeing the phenomenon of women going to a fete, dressed to kill, but wearing only a panty from the waist down. Yes… nice blouse, pretty jacket, expensive dangling earrings, but from the waist down, only a panty. Now I can see the guys saying "go brave, baby" – I get that – but what leads a woman to employ that tactic? Which man in her household is approving? If you get that, please explain it to me, because I don't.
A company in the US is now offering a special tattoo, linked to your phone signal, so that when your phone rings the tattoo vibrates on your skin. One could argue it's for conditions such as a noisy coal mine or in a ship's engine-room where you wouldn't hear the ring, but if it's so noisy you wouldn't be able to hear the conversation either, so what's the point? Mind you, this is brand new, and I don't know if people are actually buying this thing, but the principle involved here eludes me.
Another example is a residence, near where I live, on the other side of a wide trench. The property has a high galvanized fence, with a gate in the back facing the trench. Every so often the folks living there, come through the back gate, dump some garbage on the parapet outside, and calmly go back inside. How can you dump garbage, your own garbage, right where you live?
Sometimes, it has to do with what I do. For example, a famous orchestra leader/violinist Heinz (his last name eludes me) does a Carnegie Hall television tribute to Frank Sinatra (whom he describes as "the greatest singer American has ever produced.") He plays My Way, Sinatra's anthem, to rapturous applause, some people are weeping, but in his long introduction to this iconic piece of music, Heinz does not once mention Paul Anka, the writer of the song. Certainly Sinatra made it famous, but he didn't write one note of that song. That powerful creation was the work of Paul Anka; completely Paul Anka. How could Heinz now present an instrumental version of the song, receive such an ovation for it, and never say the name of the man who created the music and the words? It's usually the case in popular music that the creators get no accolades. Most of Elvis Presley's hits, for instance, were the work of a black man writing the songs unheralded. In our own sphere, many of Sparrow's hits were not written by him. We have these significant creators being completely ignored when their music is stirring people to laughter and tears and joy. I just don't get it.
You know I have to give you one relating to cricket. This is in a recent ODI with Australia playing West Indies. Marlon Samuels leans back from a bouncer, the ball brushes his glove, and he's out caught behind. Next over Adrian Barath, same kind of ball, he moves out of the way, safe, and Tony Cozier comments that Samuels should have done the same thing. Hear the Australian commentator: "Well, Samuels is a taller man, and it's harder for him to get his hands out of the way." C'mon, Aussie: a man's height affects his ability to move his hands? This commentator is being paid big money to come all the way from Down Under to enlighten us about the game, and that's what he comes up with? I really don't get it. Same announcer, two overs later: Brett Lee has bowled 3 maidens, but then he puts down one a bit short, and Adrian Barath hoists it for four. Aussie says, "A slight mishit, and that could have been a wicket." Hello? On every ball bowled a slight mishit could produce a wicket. Why do we have to put up with such drivel from supposedly professional commentators? Do you get that?
Last week one of the local papers ran a front-page photo of the Vreed-en-Hoop stelling looking as if fire had taken it. Although the structure appears as if it's about to fall into the river, it's still being used by passengers to and from town. I used that stelling thousands of times as a youngster living on the West Coast; it was well maintained then; why is it a derelict now? I just don't get it.