The attempts to build a Guyanese film industry continue. The latest contribution in this long-running saga is the new film A Jasmine for A Gardener directed by Mahadeo Shivraj and released in Georgetown last week.  This is the second film produced by the combined efforts of Shivraj and Neaz Subhan to create works for the cinema in Guyana, following up on their screen version of Ronald Hollingsworth's Till Ah Find a Place.
It is a serious attempt. For its courageous intentions, willingness to take risks and perseverance in a very worthy cause it can bear historical reference to good films made that have some degree of relevance to Guyanese works. Of course, the timeless classic of them all is that produced at the very highest level, the Hollywood hit made from the novel To Sir With Love by Guyanese ER Braithwaite. The British/Indian company Merchant Ivory and the BBC have also filmed such works as The Mystic Masseur by VS Naipaul, Ian McDonald's The Humming Bird Tree, and Jeanette Allfrey's The Orchid House. There are therefore high international achievement and models to serve as inspiration.
Jasmine is good enough to be accepted among the more worthy films that are fully Guyanese. For the quality of acting it does not match the memorable leading performances by Mahadeo Shivraj and Sonia Yarde in Till Ah Find A Place, but it is an improvement in technical camera quality and big screen techniques in cinematography, which were a bit off in the earlier movie. It contributes significantly to the development of the Guyanese film industry which is growing – not in numbers of works but in genuineness of effort. These efforts have been so far sporadic, but Jasmine may be highly rated. It comes out of perseverance and a willingness to take risks in a demanding industry that requires as much financial as artistic resources.

There is the need to overcome these and other requisites such as, creative artistry, dependence on the local audience and the realistic expectations of revenue. As Jasmine has shown, the artistic resources are already there.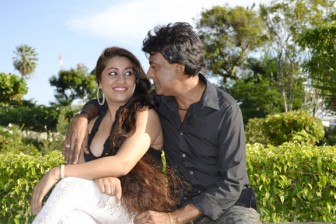 Jamaica has moved way ahead of the Caribbean; it has a serious film industry.  The commercial, the documentary and the cinematic arts are supported by elements not developed in Guyana, such as formal training, a larger market, a more developed audience, resources and potential income. However, despite the examples of two monumental successes—The Harder They Come and the documentary Life and Debt, even Jamaica is not there yet when compared to the developed world.
In contrast, in Guyana, producing work for the screen is still regarded just as an extension of the stage. There is hardly a difference between film and theatre as there is the use of the same personnel, the same effort and erroneously, the same techniques. The President's Initiative was launched in 2010 and short films were produced, but formal training is still lacking and there is a smaller audience.
The cinema industry in Guyana has declined almost to the point of extinction with just a single house—the Astor Cinema—heroically still open to keep a tradition tenuously alive. Cinema houses in Jamaica, Trinidad and Tobago and Barbados have also closed, but have been replaced by the modern multi-layered complexes: movie towns with shopping malls, fast food courts and simultaneous multiple offerings to create and meet the new audience tastes. The survival of any local film will also have to contend with the sale and rental of DVDs, CDs and rampant piracy along with today's preferences and facilities for watching films at home.
Local films will definitely have to win audience confidence and audience interest. Perhaps partly for this reason Jasmine seems to aim at a specialised audience. Till Ah find A Place did a screen version of a popular humorous play in the hope of having the same popular appeal and winning the same large audience as the play. Jasmine is an imitation of Bollywood apparently aiming at the same large audience for Indian films. Shivraj's film is infused with the same techniques and main motifs. There is a leading romantic interest; the lovers face obstacles, conflicts, plot complications including mistaken identities and motives; there is villainy from unexpected quarters; an unwanted marriage thwarted by a last minute rescue; tragedy is averted, mysteries cleared up, the hero's secret explained and credibility restored; the lovers are reunited to live happily ever after. There is also a comic sub-plot.
It is a predictable formula. The structure was fully adopted from Bollywood and it was therefore Bollywood set in Guyana, or more accurately, Bollywood superimposed upon a Guyana setting. This is so strong in the film in style and atmosphere that there is very little sense of place and the Guyana setting is not convincing. There are references to place names without a real feel of local colour and situations largely because the camera does not capture them while focusing on individual characters and their dialogue. Filmi music is also part of the movie in popular Bollywood style, including the language. The form is clearly imitation if the language of the film is English yet every song is performed in a foreign Indian language.
The songs are good and very well sung but what is further missing is the variety and the energy that make them come alive in Bollywood. There is no choreography for any of them and a good opportunity is lost in the Phagwah sequence since it is flat and motionless without colour, vivacity and local atmosphere. Additionally, to a large extent, Jasmine is more drama than cinema because of its wordiness; it is dominated by dialogue. It is less driven by cinematography and camera action.
Those factors contribute to some slowness, but riding above that are the strengths of Jasmine whose story holds the interest of the audience. While it is a love story with its share of overwritten sentimental lines, the mystery and the villainy brewing in the sub-plot harden it appreciatively. It does not get over-emotional or melodramatic as happens in Bollywood and does not try too hard to wring tears out of the audience. The love scenes are fairly sterile, lacking the fierceness of passion achieved by the Shivraj/Yarde combination in the previous film. But it is a different kind of film which pays deference to the old tradition in Indian cinema.
Apart from that the acting is quite convincing with no weak performances.  Actors on the whole are still to fully appreciate the different demands of screen acting, but those in this film provide believable characters and generally interact well with each other. In this respect there is no shortage in talent and some of the more experienced actors such as Shivraj, Neaz Subhan, Rajan Tiwari, Dimple Mendonca and Nazim Hussain demonstrate comfort and competence before the camera. Gem Madhoo Nascimento is a pleasant surprise in screen acting, while others known on the stage or who are newcomers including Mark Imran Kazim, Moses Pertab, Bhavana Samtani, Lisa Singh and Shameeza Hussain get well into character and convince.
While those whose function is the typical Bollywood comic, namely Tiwari and Shameeza Husain, played to suit even to the point of being stagey in their farcical sequences, they showed that when called upon for other dramatic effects they are quite up to it. Nirmala Narine as a newcomer is well controlled and gives a credible impression of a character drifting in hazy confusion and naiveté.
The direction of the movie is commendable. Shivraj has developed an eye for the screen and has presided over camera work that is improving in competence and overall effect. Jasmine may represent the Guyanese cinematic arts in transition and may come to the public as representative of Guyanese films as a work in progress, but it can take its place among those local films that achieve an acceptable standard and demonstrate that they are accomplished works to be taken seriously. The film is fully deserving of commendation and support. It holds many rewards for audience entertainment.
Around the Web