The Theatre Company and GEMS Theatre Productions have a few reasons to feel some sense of achievement in the staging of The GT&T Link Show 28 directed by Ron Robinson and managed by Gem Madhoo-Nascimento. The show was considerably less impressive than Numbers 25 and 26.  But they may celebrate because it was still not less than good and had some strengths of its own.  It did not collapse below the new general threshold reached and sustained by Link Shows since 2009, and is significant because it remains important in a regional context.
The annual satirical revue soared to such heights of excellence in Link Show 25 in 2009 that it would have been understandably difficult for other productions to equal or surpass it.  But to make things worse, it set such a high standard that it is perhaps unfair to expect all the other productions to achieve the same level.  There is, nevertheless, that expectation and Link Show 28 was looked at in that light.  It was only comparable to Number 27 (2011).


After 30 years of existence The Link Show has settled down to a stable format and an obvious new dispensation.  It is now a highly professional annual production with a workable theatrical form with generally efficient levels of commentary, mostly good satirical content, an accomplished style with very competent performances and a confident use of the stage.  It took many years and many meanderings to get there, but the producers and director have reason to be satisfied with where it has reached.  After falling off the edge of the earth and languishing in an abyss for a few years, it found itself and reinvented its form when Robinson and Madhoo-Nascimento reunited to produce Number 25.  It learned how to be consistently satirical and has been steady since then.
Despite its lack of flashing excellence, Link Show 28 maintained that new dispensation of a show of some quality and resounding performance. But that is not all.  It takes a significant place in contemporary Caribbean theatre.  The region has a strong tradition of satire in its cultural forms and in its theatre, yet when the Link Show trod the boards in March, 2012, it was one of the strongest remnants of that tradition.  Many Jamaican year-end satirical revues have faded, leaving just the annual Pantomime to carry the torch.  Laff It Off originally created by Thom Cross continues political satire in Barbados, but this kind of theatre has dwindled to sporadic appearances, most recently through Choo Kong and Penny (Raymond Choo Kong and Penelope Spencer) satirical comedy in Trinidad.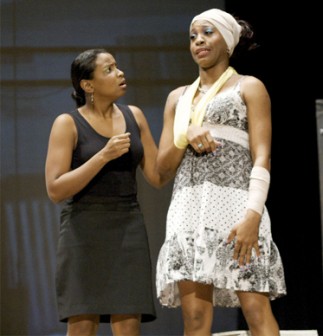 Link Show 28 then meant that Guyana continues something of value on the stage.  It presented the audience with a reasonable package; entertaining and not excessively lengthy.  There was a good mix of jokes, comic sketches and satire, and continued the successful use of the 'Quickies' (very brief comic sketches) to make satirical statements and social comment.
The production also held its own in what are some of the Link's most staple items which have now become very well settled and stable.  These include the skits Over De Fence, Even De Police and All, Justice For All and Uncle Rufus.  Among these Uncle Rufus stood out for its effective use of the format of a dramatic monologue (a telephone conversation in which we only hear one of the speakers) for commentary and sharp humour.  It has always been one of the best pieces in the show and in Number 28 was among the best written scripts.
Similarly Justice For All was top of the line for take-off and demonstrated the way the Link Show actors have mastered the particular style of farce that works in this type of theatre.  There was a full understanding of take-off in a convincing scripting and performance.  Even De Police and All tried as usual to capture the bustling and populous Stabroek Market area or the bus park with their drama and teeming humanity.  While several topics are touched in both lampoon and take-off, it pandered as usual to a good deal of slapstick.  It was much carried by the transvestite and homosexual humour that holds much currency in today's popular comic theatre.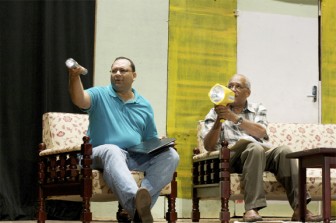 The production as a whole was very well held together with efficient directing and an almost even presentation of sometimes competent and sometimes high quality acting performances.  Both director and actors appreciate appropriate styles of farce as they used them in this show.  All-round effective acting was as
uniform as the production was crisp and brisk with good control of pace.
Choreographer Leslyn Fraser appeared very busy in the show as The Link again attempted to make more meaningful use of dance as an element of satire.  This work was neat as the performers, including mostly non-dancers, were kept honest in the movement, but dance as lampoon is a difficult art which is not always consistently conquered in Link Shows from year to year.
However, the usual songs in the production were quite a different case.  They were among the worst elements of Link Show 28.  These were mostly political commentary but really said very little above listing names and deeds of government politicians.  Scripts and lyrics were badly written and music did nothing to uplift them.  One was done to the tune of Jackson's 'Human Nature,' but the lyrics, when you could hear them, made little sense.  Music in Number 28 was not a success.
Most likely it was the fault of the National Cultural Centre equipment and management, but the sound quality and utility were weak and uneven.  This led to a good deal of inaudibility, further drowned out by 'talk back,' comments and witticisms from the audience. Understandably, 2011 was an election year in Guyana and the politics no doubt provided unlimited material for lampoon.  But it grew monotonous in the show that could have found large reservoirs of material outside of the PPP and politicians.
The material both within and without that narrow range did not always evoke good scripts.
And then, what continues to draw attention to itself is Ron Robinson's curious notion, repeatedly expressed in the Programme Notes, that The Link Show functions as a means of paying compliments to people.  When he wrote "during 2011 it seemed that many leading Guyanese politicians and personalities were just doing things to ensure their inclusion in the show… they provided much to satirise" one took it as humour, picong and ironic wit.  But when he apologised to those persons who were looking forward to being included in the show but could not be because of space, it dawned on one that he was serious.  "We may have missed one or two [happenings and persons].  If you find yourself in the missed category and feel you should have been included I apologise."
Well, whatever happened to the principle that satire seeks to rid the society of vice, corruption, tyranny, folly and dotishness?
Of what is ridiculous and laughable? Errant persons are lampooned, ridiculed and chastised for their bad behaviour in satirical theatre (?).  But Robinson makes out that being laughed at in the Link is a reward to compliment people and is a sign that they have arrived and have achieved social importance.
GT&T Link Show 28, however, departed from all that to make a direct statement on an issue better confronted without laughter.  There was an interlude devoted to a social scourge Domestic Abuse in which the performers added their voice to the denunciation of domestic violence and abuse that has escalated in its prevalence.
That was another different way in which this annual satirical revue addressed itself to a range of social and political issues in an attempt to raise the consciousness of the audience while entertaining them as thoroughly as this show did.
Around the Web