Over many years the Embassy of the United States of America in Georgetown has been involved in a range of artistic presentations in Guyana.  These have included musical ambassadors in which celebrated American violinists and pianists have been brought in for concerts, singing groups of different styles have performed, and there have been storytellers in the American tradition on stage in Guyana as guests of the USA.
The Americans have not been alone in this kind of programming. The Chinese have from time to time entertained with performances from their very rich performing arts tradition of acrobatics, dance and music drawn from very interesting regional cultures. A number of others have mixed the performing arts with the visual and the culinary, such as the Embassy of Mexico with an exhibition of national dance added to a food festival and exhibitions of art.  But the Mexicans have been even more varied since they have also presented poetry and public lectures on the arts of Mexico.

The British contribution took on different approaches as they sought to be a bit developmental with the holding of an essay-writing competition for schools, the sponsorship of art conservationists and the hosting by the High Commissioner of a useful series of literary evenings and poetry readings. The programming of others has also been somewhat rooted in development since some have added to their embassies and high commissions by establishing cultural centres, as in the case of the Indians and the Brazilians.
The Indian Cultural Centre is the oldest of its kind in Guyana and has been continuously active in the promotion of Indian dance and music, including classes in the playing of instruments such as different types of Indian drums. The dance classes have produced a permanent dance troupe, while from time to time performers from India have been brought in by the High Commission.
The Brazilian Cultural Centre has exhibited works by their artists, including painters and graphic print designers, and presented cultural festivals with performances of popular music by Brazilian bands.  In addition to those they have hosted exhibitions of the work of local Guyanese artists.  The Venezuelans have made contributions of a similar nature in terms of exhibitions of art.  In fact, one of the most important art shows to be held in Guyana in the past 20 years was at the former Venezuelan Cultural Centre.  That was the showing of Six Lokono Artists which brought the current brand of tradition-based Amerindian art to prominence.
All of this has been in the long and well-known tradition of the art of diplomacy.  It is a strategy employed by foreign nations with missions in another country to win friends, influence alliances and promote their cultures.  Art has long been used as an effective means of political and cultural diplomacy. When the USA closed the JFK Library in Georgetown in 1996 it was said that the budget for that kind of cultural outreach in this part of the world had been downsized because the Cold War had virtually ended aggressive cultural diplomacy of that type and had been relegated to lower priority.
The Americans, however, have continued with arts programmes of different types, including the promotion of painting and sculpture.  One such programme makes a similar type of developmental contribution as that of Venezuela and Brazil.  It is also the most recent cultural outreach of the USA in Guyana known as Art in Embassies. It provides some amount of exposure for American art to wider audiences, thus exporting and promoting art and culture in other countries. It disseminates knowledge of the art as well as gives a boost to the recognition and reputation of the selected artists. An extension of this programme in Guyana in June 2012 was the inclusion of local Guyanese artists in the activity, thus doing some of the same for them and for Guyanese art.
The US Department of State's office of Art in Embassies (AIE) was established by President John F Kennedy in 1963 and explained in a brochure by current Secretary of State Hillary Clinton as a programme that "reveals the rich history and cultural heritage of the United States and the communal experiences that we share with peoples of different countries, backgrounds and faiths, binding us closer together.  Through its temporary exhibitions and permanent collections, the AIE intrigues, educates and connects – playing an ambassadorial role as important as that served by traditional diplomacy."
For his part in the Art in Embassies endeavour, the Representative of the USA in Guyana Ambassador Brent Hardt brought in paintings by seven painters from the state of Maine on the American East Coast – Robert Colburn, Philip Koch, Brad McFadden, Jonathan McPhillips, Thomas Paquette, John Michael Thomas Seitzer and Lynne Seitzer.  To join the Americans in the exhibition in late June 2012, five Guyanese artists were included: sculptors Desmond Alli and Winslow Craig, painters O'Donna Allsopp, Merlene Ellis and ceramicist Aiesha Scotland.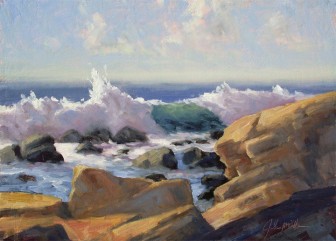 Ambassador Hardt commented that "diplomacy at its best is about finding commonalities, while understanding and appreciating differences. We believe this exhibition provides a frame of reference for beginning conversations to find that common ground."  The painters from Maine were selected "to display their talent and at the same time highlight the many commonalities between the landscapes of Maine and Guyana."  The identifiable commonalities are there in the similar approaches to the landscape of Maine and Georgetown interpreted by Robert Colburn John Michael Seitzer and Merlene Ellis. The very different landscape further into the interior of Guyana as represented by O'Donna Allsopp may be compared to the works of Lynne Seitzer and Brad McFadden from Maine.
While Philip Koch is a landscapist as well, his approach is quite different with a stylised kind of intuitive influence. In his own words he has shifted "away from reporting on actual places towards a more imaginative stance.  I began visualizing the earth as it might have existed long before we humans left our mark on her."  The other American landscape painters are the most interesting – Jonathan McPhillips and Thomas Paquette.  McPillips' Hurricane Surf is a seascape recreating the fury of nature with a wildly raging sea matched by the stormy looking fractious clouds across a furious sky.  This is carried over into Paquette's rendering of raging skyscape in Sky Ascending which likewise is a vision of nature unchecked.
These are slightly different from the more realistic works of the others, although McFadden tries a picture postcard type of picturesqueness.  Ellis might even be more of a realist then they are although she manages to suggest a metaphorical text, largely through her title, in Waiting for Droppings.  Scotland's work is highly decorated ceramics – vases and urns while Alli's pieces are what he is known for – the creation of large reliefs in wood.  Winslow Craig is one of the most interesting and unique sculptors to have emerged in Guyana in the 1990s with his use of imagery, highly polished wood and an influence from his ancestral Amerindian roots.
While the selected paintings open but a small window into the wide and varied world of American art, they are able to tell something of it to an audience unaccustomed to viewing it.  Since much of the foreign art that is well known to the local audience will either be from the ethnic based traditions of some of the world's great cultures or classical European, it is good to have a reminder of work from North America.  The AIE can achieve that while practising the art of diplomacy.
Around the Web