We have on a number of occasions analysed the state of dance in Guyana, the factors contributing to the way it has developed over the past 35 years, the pre-Independence traditions, the element of formal training, and the notable rise of schools, companies and dance theatre productions. These subjects have only recently been revisited while noticing the advance of popular dance in the performances of one company and the pursuit of a modern cinematic tradition in the dance theatre of another.
These topics have again become relevant because one of the most established and longstanding companies has been affected by the loss of a founder member.  Guyana's dance community has lost Indranie Shah Lennartson, who was the 'Indranie' in the Nadira and Indranie Shah Dance Troupe and one of the very significant personalities in the context of the factors contributing to the development of contemporary dance in Guyana.  She was a dancer, choreographer, tutor and producer who co-founded the dance group along with her sister Nadira Shah Berry and other members of the Shah family in 1979.  In the same year they also founded the annual dance production Nrityageet that is outstanding in its consistency and regular existence, having celebrated Nrityageet 33 in May, 2012.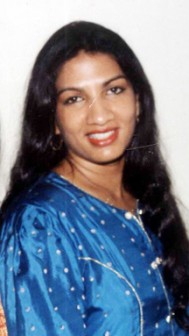 Indranie Shah had lived in Sweden for a long time having become a member of the dance community there, but she has maintained contact with local dance through the troupe and Nrityageet.  Not only that, she grew up in and with dance in Guyana and her career advanced alongside the rise of the dance in Guyana in the 'modern era' of the discipline in this country.
Biographical notes by her sister Dr Seeta Shah Roath, Director of the Guyana Learning Channel, outline a notable career and development landmarks including her training in the art of kathak from a very early age at the Indian Cultural Centre in Georgetown and her first public performances at Diwali events in 1975, numerous appearances for the national Depart-ment of Culture and the Indian Cultural Centre.  She represented Guyana in Carifesta 1981 in Barbados, and 1995 in Trinidad, and the World Trade Fairs Expo in Portugal 1998 and Germany in 2000.  She performed, taught and held workshops and studied at the Umea University in Sweden since her marriage in that country.
Her achievements include Certificates of Excellence at Guyfesta 1977 and 1981; the receipt by the Nadira and Indranie Shah Dance Troupe of the National Award of MS for "Sustained and Outstanding Contribution to the Cultural Mosaic of Guyana";  the New York Folk Festival Award for "Long and Sustained Dance Productions of Excellence";  receipt of an Indian Council for Cultural Relations scholarship for further studies in dance in New Delhi, India in 1984; and the company's many awards in Barbados and Guyana for Best Dance Production, Best Costume and Best Set.
Shah Lennartson's development in dance is almost indivisible from the development of dance in Guyana in the 'modern era.' Two main contributors to the sustenance of dance in Guyana are tradition and religion.  Dance traditions are closely tied to religion where Indian dance is concerned and the Hindu religion has played a significant role in the practice and popularity of dance since there are always performances at religious festivals and occasions.  Several dance groups developed in kendras and mandirs across the country, which certainly helped to sustain the performance tradition.  This was surely a factor in Shaw's early development with her Diwali performances.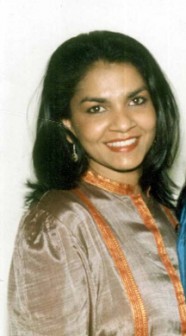 Alongside this is the factor of training.  She started in Indian dance which was driven in Guyana by the Hindu religion, tradition and the work of the instrumental Indian Cultural Centre.  The provision of formal training has been one of the most important developmental factors which played a role in the 1970s when the National School of Dance was established.  Many dancers were trained then with the beginning of the availability of public tutorship locally and the increased opportunities of overseas training through scholarships.  Shah thus benefited from local training and further study in India, factors that contributed to dance generally and particularly to Indian dance.
It was largely these improved training opportunities that led to the later multiplication of privately operated dance schools, groups and companies.  Many more persons learned not only technique, but choreography and dance education and felt fit to offer themselves as tutors, increasing the corps of competent dancers and advancing the art form.  It was directly as a result of these activities that both Nadira Shah and her sister Indranie founded the dance troupe that carries their names. After the National Dance Company and the Indian Cultural Centre dancers (which are public), the Nadira and Indranie Shah Troupe is the third oldest surviving dance company in Guyana and the oldest privately formed one.  Its establishment in 1979 was a result of and a beneficiary of the various developmental factors of that time.
But it was also a contributor since it was a part of the movement that saw many other companies developing as more choreographers and dance teachers emerged.  The initiative of the two sisters started not only a company but an annual full dance production, Nrityageet, and a training school for other dancers.  In addition to those, the contribution was also to research in dance because, having started with an interest in kathak followed by interest in other forms of Indian dance, further exposure developed their interest in other dance traditions.  With the collaboration of the third sister, Seeta Shah Roath, they ventured into research into both Indian and Western dance, interests and investigations which would have broadened when Andre Sobryan joined the company.
Nrityageet is performed each year on or very close to May 5 as part of the celebration of Arrival Day in Guyana.  In earlier years this emphasized their contribution to Indian dance, but since then their research and widened interests took them into explorations, choreography and performance of a wide range of modern dance, experimental and interpretive forms.  This may also be reflected in the several others who either joined the troupe or participated in Nrityageet as choreographers.  They pioneered annual dance theatre productions which now see several other groups and schools doing the same.  A look at the dramatis personae of Nrityageet reveals how it has developed.  It has grown from a company to a performance to a tradition.
This 'tradition' started with the Shah family.  Cyril Shah (Cyril Shaw) was a famous Guyanese impresario responsible for several years of theatre, vaudeville and stage shows including management of The Mighty Sparrow.  The family has now lost two members in the same year since Shaw died in January 2012, and they are now in mourning again for his daughter Indranie.  His wife Bhanmattee Shah also has a history in show business and throughout the existence of Nrityageet she has been the costume designer and maker.  Seeta Shah has been a manager, has worked with her father; she writes performance poetry mainly for dance and is a choreographer, film maker and researcher who has worked with Nrityageet.  Seeta's daughter, Indranie's niece Suzanne Shaw Nilsson, is a notably talented dancer and a choreographer who grew up performing in Nrityageet.
This annual dance theatre is therefore the work of three generations of the Shah family with Bhanmattee, her daughters Seeta, Nadira and Indranie, her son Rajendra Shah and grand-daughter Suzanne.  Dr Shah Roath lists the members of the Nrityageet production team as "Nadira Shah Berry – Founding member, Producer, Chief choreographer and Instructor;  Indranie Shaw Lennartson – Founding Member, Producer, Senior Choreographer and Instructor;  Seeta Shah Roath – Director, set designer, theatre Artist; Suzanne Shaw Nilsson – Choreographer, Dancer, Producer" to add to costume designer and seamstress Bhanmattee Shah and Rajendra Shah.
Nrityageet's work and influence are extensive and have included several choreographers, performers and instructors over its 30 years of existence.  Dr Shah Roath lists them: "Guyanese – Andre Sobryan, Abigail Allen, Audrey Paul, Clive Prowell, Sandra Primus, Linda Griffith, Vivienne Daniel, Rewattie Datt, Dominic Niamatali, Almasi Allen, Nikita Doodnauth, Amanda Defreitas, Indra Itwaru, Sonya Singh, and Amanda Singh" and "Indians – Pt Girdar Chand and Pt Durgalall". Other Guyanese choreographers who have worked with the group include Gora Singh, Robert Narain, Marlyn Hall and Kenrick Cheeks.
Nadira and Indranie Shah have thus engraved an indelible and prominent place in the performing arts in Guyana with activities that have been very important parts of the development of dance in Guyana since the 1970s.
Around the Web