What is art?  It is an expression, an illusion, a love.  It is the revealing of the thoughts in one's mind, yet it is the sacred thing of the soul.
Art is the humour we sometimes forget and the severity we often avoid. It is the history we have never known and that which evolves from what we actually experience.
Art is weird, it is a whole. It is familiar and yet unknown.  It is what some run from and the factors that others run to. Art is the eye, the ear, the mouth, the hands and the body we often exaggerate.  It is the beauty, the ugly, the weak and the strong. 
Are you and I art? Art is everything.  Is art everything?  Yet with all its magnanimous descriptions,we cannot begin to fathom nor describe, by no means available, what art is.
Christina Richardson (Art Student, UG)
This attempt to define and understand art by a university student studying the discipline and its theoretical underpinnings suggests the unfathomable, yet the expressive, the startling and the familiar. Yet many things that University of Guyana BA Fine Arts student Christina Richardson says about art may be directly applied to the 2012 exhibition mounted by the Guyana Women Artists Association.  Their collections and exhibits over the years have been many things. Quite often the shows have emphasized art as a cultural industry, what creative women are doing with textile, fashion, jewellery and pottery, but this 2012 exhibition has most definitely been about 'art' in a very theoretical sense.
It is an exhibition that brings out the "illusion," the "history" and "that which evolves from what we actually experience." It is a collection of work by women artists making a statement about art.

In a very revealing series carried in Arts on Sunday two years ago, artist and academic Akima McPherson examined the background to find out why there have been "no great women artists" in history.  But in August 1988 a group of women got together in Georgetown to establish that there has been significant art by women in Guyana since 1928.  They mounted a very historic exhibition – 60 Years of Women Artists in Guyana: Retrospective Exhibition 1928-1988.  This was followed by a publication of the same name edited by Nesha Haniff.  They also founded the Guyana Women Artists Association and started the initiative of an annual exhibition.
Names associated with that development in 1988 included some of the "great women artists" in Guyana's history such as Marjorie Broodhagen, Bernadette Persaud, Leila Locke, Stephanie Correia, and O'Donna Allsopp, as well as Agnes Jones, Hazel Shury, Desiree Armstrong and Valerie Cox.  The exhibition in November. 2012 is relatively small and presents work by a mix of established and new women artists. Only one of those named above involved in the 1988 initiative appears in this 2012 show, that is O'Donna Allsopp, and along with Jynell Osbourne she dominates.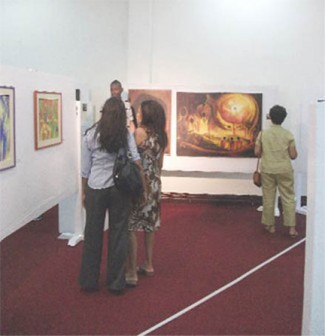 Allsopp is a foremost landscape painter and a founding member of the association who works in acrylic and has produced impressive two-dimensional pieces with bas  relief in work that has been described as "painterly and sculptural." She was trained in London in architectural draughting and those skills have obviously influenced the way she works.  This exhibition is dominated by many of her interpretations of Guyana's interior landscape – rivers, waterfalls, savannahs and rainforests, with many paintings enhanced by other media to produce two-dimensional works.  These include Rock Carvings and Waterfall At Aishalton in which she reproduces images of the petroglyphs and their physical habitat.
Allsopp's famous studies of the geomorphological features, the terrain and vegetation continues with Weathered Rock on the Summit of Mount Roraima and Arawatta Rock Barima River in which the brooding dark rainforest is reflected in black water.  Her large studies Palms in the Flood, Orinduik and Safari to the Guyana Forests are some of the outstanding pieces on show in the National Library Annex where the exhibition is housed.  These interpretations of interior landscape capture not only the visual magnificence, but the feel, atmosphere and mood of the places in a manner reminiscent of the treatment of the same landscape in the poetry of Mark McWatt.
This work is complemented by the imposing paintings of Jynell Osbourne, President of the Guyana Women Artists Association and a graduate of the University of Guyana's Fine Arts programme.  In contrast to Allsopp, Osbourne is a surrealist whose work has been described as "semi-abstract, cathartic, feminine, erotic and social commentary." Surely, No Silhouette and The Purple People, her two most dominant and imposing pieces bear out those descriptions.  They are sensual and striking in their hot colour schemes.  No Silhouette is erotic in its use of the female form – a semi-nude, semi-abstract study, while Purple People is also noted for blazing colours with silhouettes and a subtle purple motif. These are large, intellectually engaging works in acrylic.
Three very interesting artists on show are Myrna Bernard, Sharon Jordan and Berverly Reynolds.  They might not be new to art, but they introduce new elements into the exhibition and the approach to art.  Myrna Bernard, well known in science and education circles, and in Caricom conferences, demonstrates a most impressive range in ink on canvass.  She can draw, and she combines this with a keen sense of colour with styles of work arising from having been a student of Marjorie Broodhagen and having a photographic career involving the use of the digital camera.  There are startling contrasts in The Chief and Secrets which appear like etchings and a contrasting approach in Expression and the study of a saxophonist in Blue Note.
Sharon Jordan is known from the theatre as the daughter of a legend (Pattie Gomes) an actress and a critic. She produces a range of unusual works, two-dimensional, collages and the use of untypical media.  She puts together material from leaves, tree bark, coconut fibre, fabric, paper, thread, flowers and grass to fashion pictures and abstract pieces.  She remarkably manages to create true colours as in the amazing finish of Midnight Swim, and Twilight Melody using cut-outs against water colour and cut leaves.
Beverly Reynolds is a Jamaican who makes a mark in her preoccupation with colours.  Abstract Lights is a study in blue with a subtle sprinkling of white and yellow against colour contrasts to give an impression of stars and the Milky Way. Another use of contrasts is Colours of the Caribbean.
Anna Correia joined the Women Artists Association in 1995, but maintains a link with its early beginnings as the daughter of Stephanie Correia and the inheritor of some of her preoccupations.  She works in ceramics and textiles but her offerings in this exhibition are drawings in pen and ink and water colours.  A striking feature of this work is a study of women.  Market Vendors is one of many presentations of working women while Muslim Woman Buying Cloth and the provocative Modern African Queen are her pictures of women in ethnic cultures.  Her The Symbol of Wisdom uses the image of the owl and Amerindian motifs.
Social commentary then, is also a part of the exhibition, most notably in an experimental exhibit by Akima McPherson which highlights violence against women.  Accompanied by music are unfired terra cotta figurines placed against receptacles with strange shapes and filled with water, other devices and transparent hangings on which are written the narratives of women, victims of brutal violence.
This puts a kind of frame to the exhibition itself as various forms of expression of social realities hinted at by Christina Richardson, and it adds a gender dimension to the 2012 Exhibition of the Guyana Women Artists Association, demonstrating the various expressions and meanings of art.
Around the Web