Story and photos by Shabna Ullah
Residents of the mixed community of Cumberland, East Canje in Berbice have various occupations and some have undertaken businesses ventures which have helped with the development of the village.
It is the first village in the Canje Road, located just off Sheet Anchor and No 2, Canje. It is bordered by Canefield, while farther down are Rose Hall, Reliance, Betsy Ground and Gangaram Settlement.
Many of the residents are employed at the Rose Hall Sugar Estate as cane-harvesters, labourers or office staff, while others are teachers at the Cumberland nursery, primary and secondary schools as well as other nearby schools.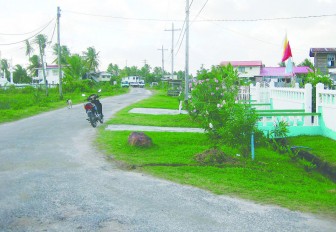 The health centre, the Neighbourhood Democratic Council, supermarkets, boutiques, spray-painting and mechanic shops are also some of the other places in the village providing employment for residents.
The village also boasts a taxi service, drugstore, grocery and variety shops, a butcher's shop, liquor restaurants, snackettes and a well station. For the spiritual needs of residents there are mosques, mandirs and churches, while a cricket ground caters to their recreational needs.
Cumberland is known for its Eidgah [open air mosque where Muslims perform prayers for Eid], the only one of its kind, and according to residents, the only one in the Caribbean. According to Wikipedia, the very first Eidgah was founded on the outskirts of Medina.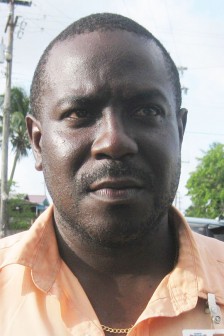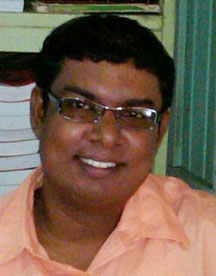 At the market, located at the other end of the village, vendors ply their trade from 10 am to midday and for a few more hours on Saturdays. They sell mostly fruits and vegetables, fish, shrimp and haberdashery.
Residents said the area has a problem with petty theft, although it is not "widespread." Other social problems, they added, included "alcohol abuse among elders and youths," and they felt the area needs more recreational facilities.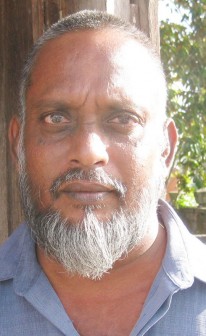 During a drive around the village on a Friday afternoon, it was observed that most of the streets are well maintained and the surroundings are clean. Many residents have enhanced their yards with colourful flowering plants.
Stabroek News caught up with resident, Leon Suseran who has been a schoolteacher for 10 years. A freelance reporter, website host, and a third-year student of the University of Guyana, majoring in Social Studies, he feels "Cumberland is a village that basically has it all…" including "good roads and streets."
According to him, "The village has progressed over the years and has become the focal point in the East Canje area."
"It is a generally peaceful village," he continued, "except for days when there is a lot of noise nuisance from persons playing loud music in their homes and vehicles."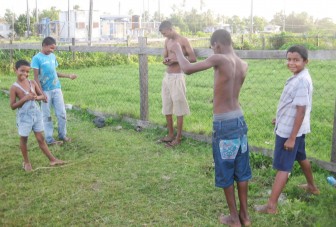 His grouse is that, "You do not really get the co-operation from the NDC which is located obliquely opposite to where I live."
Suseran calls on the Regional administration to "exercise closer supervision of the Cumberland NDC so that the village can be managed more efficiently," noting that he has "total confidence in the new RDC and I know  that other residents of Cumberland share similar sentiments."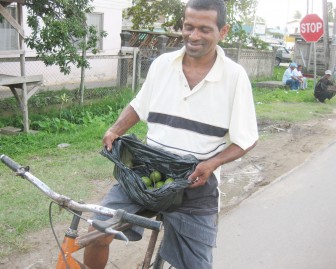 Deodat Seepaul, 41, a labourer was riding along the road. He had just gone to purchase golden apples and was returning home. Seepaul, who was planning to pickle the fruit, said he was not getting a job. His main setback, he said was that he does not have a birth certificate which would allow him to get an identification card.
Nearby, Baburam, 68, and a group of other men were relaxing at the head of the road. They were happy that their village would be featured in the newspaper.
But only Baburam was willing to provide information and he showed this newspaper the deplorable condition of the street he uses to access his house at Burn Bush Dam, saying it had been that way for a long time.
He lamented that because of the impassable street when a close family member died in a fire a while ago the hearse could not go all the way to his house, and relatives had to "fetch out the body on their heads." He was also concerned that the main drainage was blocked up and that some sections were affected by flooding whenever it rains. Baburam who was born and grew up in the village and worked as a cane-cutter opined that when he "was a little boy the village was nicer."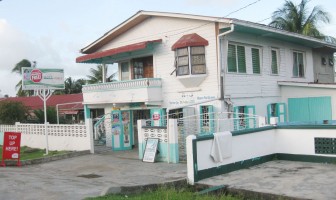 In another part of the village a group of boys were enjoying a game of marbles after school. They were totally engrossed in the game and even though this newspaper was trying to take their picture they would not be distracted from their pastime.
A butcher, Abu Bakr Razack was busy conducting business from a stand he had set up away from his home and supervising his two assistants as they chopped and sold the beef. He can be seen selling at his stand on Sundays and holidays as well as on Thursday and Friday afternoons. Razack described the village as being "reasonably ok to live in" and said the people are "nice, friendly and co-operative."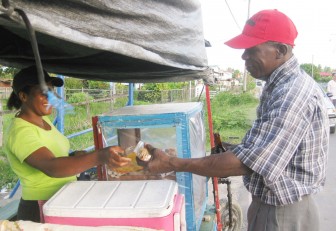 Richard Barclay, 70, who was assisting Razack, reminisced on the "good ole days" in the village, saying that it was "100% different." He recalled that "in those days things were cheaper and you could have gone to anyone and get eggs, greens and provision to cook. People used to come out of their farms and share their produce with their neighbours." Barclay also remembered going to the shop to purchase "bread or biscuit, and if you ask the owner for some cheese or butter you would get it. He also remembered that persons used to ride around the village and sell home-made ice cream.
"You didn't know the difference from Blacks and Indians then and the youths had respect for the elderly," he said. "But nowadays the youths would use indecent language [in the presence of senior citizens] and wouldn't even greet you when they passing." He earned a living as a cane-harvester and also developed a skill in baking while working at a baker's shop. After he retired he made cakes and bread which he gave to his children to sell.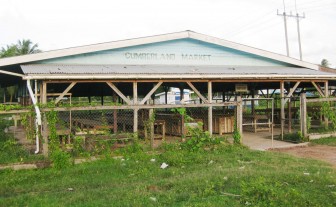 In another section of the village, Donna Parris was busy serving customers from her roadside snackette. She sells there every day from 1 pm to around 6 pm after preparing the food items at home. She also sells salted and sweet packet snacks as well juices and aerated beverages. Parris who has been in the business for seven years, supplements her husband's income from his job as a prison warden to maintain their five children.
Another resident, Clifford Roberts who lived at De Kinderen, West Coast Demerara, moved to the village with his mother, Yvonne Roberts. Originally from Cumberland, Yvonne relocated upon her retirement as a nurse.
Clifford, who learnt the trade of welding from his father, works as a driver/salesman with Banks DIH in New Amsterdam and is "enjoying it." He found the area to be "very quiet and peaceful, unlike Georgetown."
Seeta Jagessar, popularly known as 'Basket Lady' earns a living from making baskets which she takes to the Cumberland and Port Mourant markets and sells, mostly to fish vendors. She told this newspaper that she acquired the skill many years ago from her parents. She weaves the baskets in all sizes after purchasing the local material – bamboo from the Canje Creek – and then dries and strips it. At first, she said, the business was lucrative and although it is slow now she still enjoys making the baskets.
Around the Web