Story and photos by Shabna Ullah
Although Number 12 Village or Romefield is one of the smallest villages on the West Coast Berbice with a population of just 200, it is well developed in terms of businesses.
Residents described the village as being "very quiet and peaceful." They said too that the neighbours are friendly and co-operative.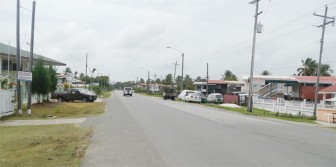 Lining both sides of the road are businesses, including a tailor's shop, mechanic shop, internet cafe and computer school, computer repairs, electronic repairs, grocery and general stores, DVD shop, G Singh Contracting Service and auto sales as well as a Chinese restaurant.
A Christian church is located along the road while residents can access the services of a dental technician, further down in the village.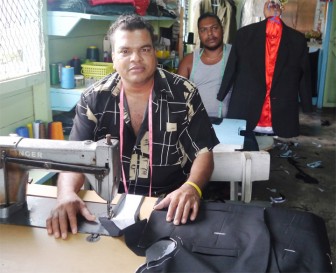 Most of the persons who reside along the four cross streets are engaged in eschallot farming while a few earn their living from fishing.  Villagers also have other jobs as labourers on the Blairmont Sugar Estate, in the regional office and other places. They attend the Woodley Park Health Centre or the Fort Wellington Hospital in times of sickness, while the children attend schools in other villages such as Woodley Park, Bush Lot and Rosignol.
Most of the residents moved to the village in the '80s from Bath Settlement after purchasing plots of land from Africans who relocated to other areas in 1963-64. The village which is bordered by Bath Settlement to the west and Woodley Park to the east was swampy, but residents developed the land and built houses.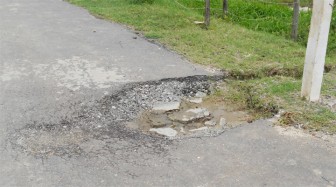 Fisherman, Alfred Muttoo, 59, was watching his son, Ramesh, as he prepared the fishing line with hooks to go back to sea to fish. Ramesh would go out about three to five miles in the "river mouth" with his fishing boat. When he returns with the catch including cat fish, banga mary, butterfish, trout, mullet and shrimp, he would ride around the community and sell them.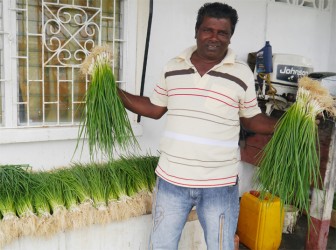 Whenever there is a large catch though, he would sell it to a middleman at Rosignol. Muttoo has been involved in the fishing business for 40 years and luckily, he has never been attacked by pirates. He recalled that a few years ago "pirates attacked some of my friends while they were fishing at the river mouth."
In recent times, most of the large-scale fishermen who go out about 15 miles in the Corentyne River, have suffered at the hands of pirates, while a few have even lost their lives.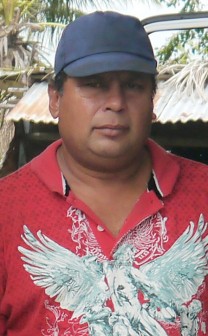 Apart from that business, Muttoo plants eschallots in his yard and said he enjoys that, "because I'm home." His farm was not affected by the recent flooding although the rain caused a few of the eschallot blades to bend. The only good thing about the rainy weather, he said, is that he would get a "good price" of $120 per pound because most people would lose their crops. In the dry season, the price would be just $40 because "it is plenty in the market."
At one end of the village, a tailor, Mukerjee Mohanlall, 47, and his eldest son, Mukesh were busy in his shop trying to complete five gents' suits for a wedding that weekend. He specializes in the "latest designs in men, women and children's [formal] wear" and also rents out men's suits for special occasions at a cost of $6,000.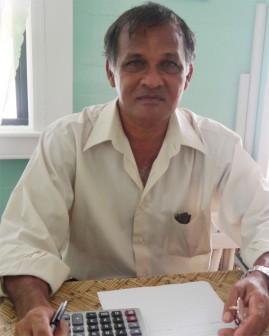 Mohanlall who belonged to Bath Settlement learnt the trade at the age of 17 from a tailor at Bush Lot. He migrated to Suriname with his wife in 1980 and was employed with a tailor there and further enhanced his skills. He returned five years later and bought the place at Number 12 and established his business. He said he tried to teach a few boys the trade but they were not interested and dropped out. Three of his sons have followed in his footsteps though. He also provides a service of repairing sewing machines while his wife, Annette runs a shop selling mostly clothing and cosmetics.
Excited
Next door, Siri Mooklall was surrounded by a number of televisions, microwaves and other electronic items that he was fixing. He has been providing this service for over 30 years.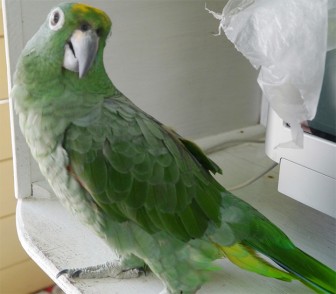 Mooklall who spent 16 years working at GuySuCo doing "all types of work" started by repairing watches and clocks. He said proudly that he was "self-taught" and that he developed his skills by dismantling and re-assembling the parts. He too moved to the village from Bath Settlement with his wife, Elaine. At the front of their yard, their son and daughter-in-law operate a DVD shop.
He was excited that this newspaper was featuring his village because he would "always read the village stories [in the Sunday Stabroek] and was wondering when you all would come here."
Across the road, Curtis Ram was busy in his mechanic shop fixing a truck. He also had a bus and a few other vehicles lined up to be fixed. Ram has trained a few young men in the area to do the job so they would be occupied in a positive way.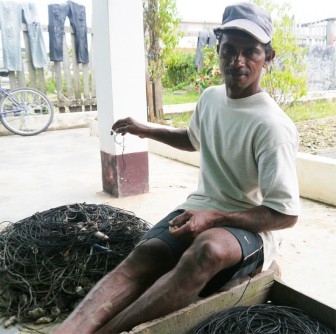 Around 11 am at W Tech Extreme, which provides internet calls, computer training and other services, Zarina Khan, was taking a break to do some laundry. She would be quick to return to the shop, though, when she gets a customer.
She would keep the shop until her husband, Farouk, her son, Wazim, a supervisor at Singers in New Amsterdam, and her daughter, Razina, an accountant at the MMA, return from work.
In the meantime, her parrot, Peggy, would keep her company. Zarina was camera-shy but Peggy 'posed' for a picture.
Zarina who moved to the area from Dundee, Mahaicony said she did not like the place at first but "I get to like it now and I get along well with the neighbours."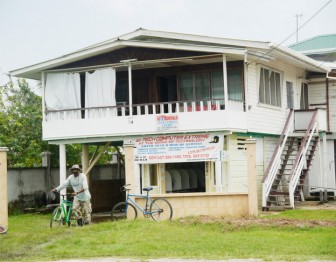 This newspaper caught up with her husband, Farouk Khan at the Bath/Woodley Park NDC where he works as an overseer. He said most of the residents pay up their taxes on time. He said too that the NDC would visit the other residents and would have no problem in obtaining payment from them. The area is well-kept in terms of streets and drainage, according to him.
Khan who worked for several years at GuySuco as an accounts clerk was also a supervisor at the Barama Company.
Negative activities
Other persons residing in the street told this newspaper that mostly on weekends a group of youths would reportedly drink and smoke marijuana at a snackette.
The youths who also come from neighbouring villages would be there until the wee hours of the morning while blasting loud music and using indecent language. Residents said they had called the police at Fort Wellington numerous times but they never showed up.
At the head of the street which residents said was repaired only last year, there was a huge pothole. They said it was caused by a burst pipeline and left to deteriorate, but they had learnt that the Neighbourhood Democratic Council (NDC) was supposed to fix it soon.
Around the Web