Known as one of the gateways to the interior, Itaballi Landing is a small mining and logging community perch-ed on the bank of the Essequibo River and a short boat ride from Bartica.
Most of the residents of this rustic community are involved in logging, mining or farming with the remainder into vending. The brightest spot of the community is the waterfront road which is lined with shops selling almost anything one may need. There are also guesthouses and bars. At night, this strip of road is transformed and it is here that entertainment of any sort could be found.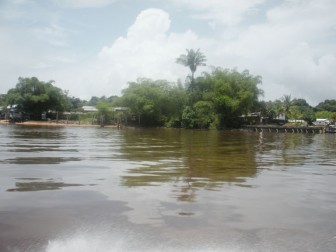 When the Sunday Stabroek visited the community it was a busy Friday. Boats were in and out of the community's waterfront and trucks were seen leaving and entering the community. As school children made their way to and from school, some adults were seen taking some recreation time in the shops and housewives could be seen busy with home chores.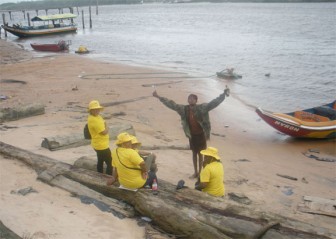 The main roads of the community are made of red loam while others could be described as just tracks through the pasture. On any given day many strangers could be found in Itaballi, passing through as they make their way out of or into the interior. In recent times two guesthouses–Lions Hotel and Bar and Sugar & Rico Guest House and Restaurant–have sprung up in an effort to cash in on the opportunity to provide lodging for those persons who are transiting in the community.
In fact, most of the shops on the waterfront are operated by persons who are not residents of the community. One woman the Sunday Stabroek spoke to indicated that she was from the village of Mahaica and while she was not keen on revealing how she ended up in Itaballi she said that she sleeps in her shop.
The residents of Itaballi number little over 180.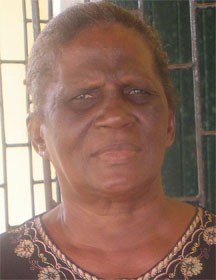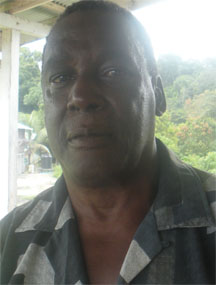 "I would close up and go home sometimes and spend a few nights and come back again," the woman said adding that it her only means of income.
The community has one school building which houses both its primary and nursery schools. After primary school children continue their education at Bartica. Unfortunately, there are some whose parents are unable to afford to send them to Bartica; their schooling ends at the primary level.
Chairman of the Neighbourhood Democratic Council (NDC), Cleveland Trotz, told the Sunday Stabroek that the community depends heavily on mining for its survival.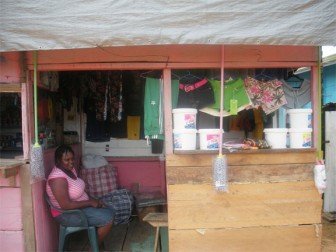 "The people who actually live in Itaballi are not really miners, but indirectly they benefit from mining," said the retired teacher who made Itaballi his home in 2002.
Trotz said after his teaching career he moved to the mining sector and worked with his brother who owns a dredge up 2007. He now works with the Shell Company. He said while a few men in the community would go into mining, many are involved in logging and the others are about and would be involved in carpentry and trucking. Most of the women are housewives, according to the chairman, and he could not explain why most of the shops on the waterfront are owned by persons who are not from Itaballi.
At one time the community did not even have a primary school and it is hoped that one day a secondary school would become a reality in the community.
'The Premier'
Thirty years ago, according to Eric Griffith better known as 'The Premier', only one Amerindian man lived in the community. Griffith, who is the former chairman of the community's NDC, said he moved to Itaballi on May 30, 1975, when he obtained a job with the Upper Mazaruni Road Project (UMRP) and it was there he met the lone Amerindian man. That man, he said, died 15 years ago.
Born in Mahaicony, Griffith said he made Itaballi his home as he saw the potential of the area and he knew one day that it would become a thriving community. Not a man shy of giving himself kudos, Griffith told the Sunday Stabroek that he played a major part in the community's development and he recalled that the then chief executive officer of UMRP told him, "this area would be one of the gateways into the interior and he told me what to expect in the future."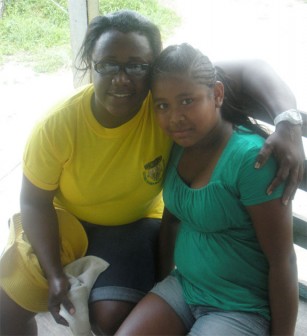 Griffith said that as the persons began to drift into the area and put up structures he mobilized them and told them to start making claims to parcels of lands as they had to think about the future generation of the community. At one time, Griffith, who boasted that he has about 60 children—12 with his present wife—the youngest being a little over six years old, said the children of the community had to travel about three miles to get to primary school and this was very hard. He said he and other villagers made every effort to get a primary school in the area and it was following a six-page letter that he wrote to then minister of education, Dr Dale Bisnauth, that a primary school became a reality. He recalled that a building was not built but barracks that once housed soldiers and prior to them logging workers was transformed into a school.
"So they did not have to build a building to get the school going," the 84-year-old man said.
Later on, Griffith, who said it was his dance movements and his popularity that resulted in him fathering so many children, said a health centre and a community centre later became a reality.
'Bare bush'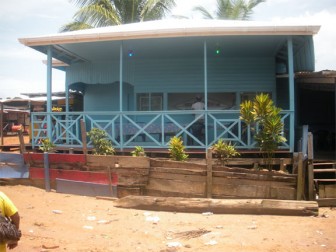 Another long-time resident of the community, 67-year-old Bobsie Peters, related that she moved to there 27 years ago and at that time it was "bare bush".  She said she went with her husband who was a logger working on the logging grant in the area and while he was later forced to move she remained and made the community her home. She said while she had to move out of the lodging the logging community provided, Griffith later assisted her in "building up a lil thing on the land." She has been vending all the days of life.
Asked to describe Itaballi, Peters said, "It is a very nice place."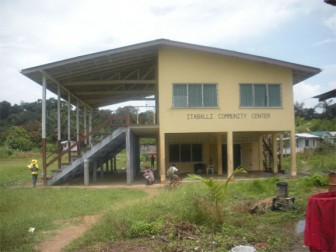 Sabita Jeffrey was born in Itaballi and she recalled how it was rough growing up and "some days we went to school; some days we didn't go because, you making joke, when you parents have 12 children it was hard."  Today she lives in Bartica but owns the Lion's Restaurant and Bar and is also a miner in the interior. She owned a shop on the waterfront but sold it since she found it difficult "getting up every morning and cooking to sell." Her business started in a canoe; she used to paddle and sell along with her husband of 31 years. She said Itaballi today is "a city" compared to what it was when she was a child. She noted that at present some residents get everything they need right there in the village and don't travel to Bartica; some have never even seen Georgetown.
"This is the city for them," she said but added that it has now become "sinful".
She said while the community is developing it comes with a great deal of negativity with the influx of strangers and the young people are being led astray. There are also no job opportunities in Itaballi for the young people, especially for the females.
Around the Web