Despite its small size, the community of Onderneeming on the West Coast Berbice is culturally very active, and is developing rapidly, according to residents. Along with Catherina's Lust and St John's, Onderneeming really started out almost as a satellite village of Hopetown, since it is built on land originally sold by the latter's co-operative society.
With Catherina's Lust on the one side, Ondeneeming's other neighbour is Fort Wellington, beyond which is Hopetown itself.  The village is located about 60 miles from Georgetown.
The community has a vibrant cultural group in the form of the Sea View Cultural Organization (SVCO), where residents are trained to perform various African dances and learn drumming to ensure their culture stays alive. They also participate in various activities in Georgetown, organized by African Cultural Development Association (ACDA) of which they are a part. The SVCO was formed through the vision of re-migrant, Mohammad Odinga Tufail.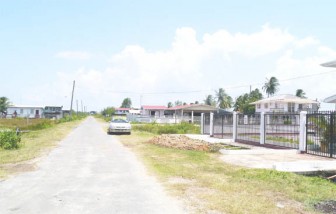 At the time of his newspaper's visit he was away on vacation but an employee pointed to pictures of cultural activities displayed on a board.
Tufail has a lovely home and his yard was decorated with a gazebo and beautiful coconut and other trees. He got down to setting up the group, and it has helped enormously in keeping the youths out of trouble. Apart from dancing, drumming and drama, the youths are involved in craft-making and physical education, and take part in discussions on various topics.
Secretary-treasurer of the SVCO, 66-year-old Claudette Ralph, known as 'Teacher Sue,' said that during the emancipation celebration they held a campfire and were part of the Hopetown Soiree and the ACDA activities in Georgetown.
The former teacher said that they "have plans to try to get somewhere to establish a building; we need space so the children can be properly housed. Our headquarters is currently based in his [Tufail's] compound." She told the Sunday Stabroek that the group currently has 78 members, including 34 adults. Many of the adults, she said would be there to "give moral support."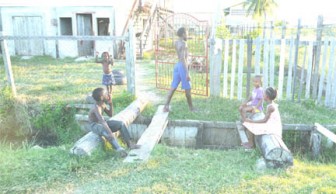 She recalled that when she moved to the village over 12 years ago there were just a few houses and the streets were in a deplorable condition. Ralph, whose skills in cooking and craft were acquired at the Carnegie School of Home Economics (CSHE) imparts her knowledge to the members. She proudly displayed some of the knitted chairbacks and cushions she made and said most of her other pieces had been sent overseas.
Born at Ann's Grove, she came to Hopetown "as a baby" and lived with a grandparent. She attended the St Michael's Anglican School and then the Pitman's Commercial Institute where she did courses in shorthand, typewriting and English Language. After completing her course at CSHE she became a teacher at the Hopetown Home Economics Centre (HHEC) for two years before moving on to No 29 Primary, teaching in the Home Economics Department. After a few years she attended the Cyril Potter College of Education and upon completion she returned to the HHEC.
The village has a few shops, the GuyCan Machine Workhop and the office for the Hopetown Co-operative Land Society.
Some of the residents are engaged in cash crop and livestock farming while some have been employed in nearby villages as nurses, teachers, clerks and education officers. They access health care services at the nearby Fort Wellington Hospital and some of the children attend the Fort Wellington and Bush Lot Secondary and Hopetown Primary Schools.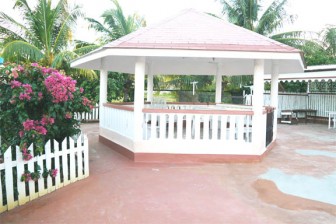 At the GuyCan Machine Workshop which was opened in 2006, the workers had been on a snack break and were preparing to resume duties. Lana John-Seenauth was overseeing the operations for her brother, Joe John. The workshop undertakes general machining, fabricating, rebuilding parts for agricultural machinery as well as arc and acetylene welding. Seenauth also said that persons can acquire quality tools from the shop with top brands like Master Craft, Husky and Stanley.
Football
During the afternoon visit a group of boys was playing football on the street. When this reporter attempted to take their photograph, they became and shy and ran into a yard laughing. A few other children were sitting on a few pieces of board across the drain, looking on. Cash crop farmer, Julian Bourne who was chatting with a resident in front of his yard tried to encourage the children to continue their game and to have their picture taken but to no avail.
Bourne then issued an invitation to see his impressive garden. He takes great pride in his small farm which appeared well-kept and was neatly laid out with produce such as boulangers, bora, cabbage, celery, eschallot, squash and pigeon peas. He said that he does strictly organic farming and his produce is "sold out in no time" to the villagers. He plans to expand his business later.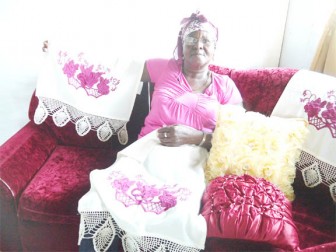 Bourne who dedicates his time to his garden told this newspaper he enjoys what he does: "It nice man; is a nice piece-a-work." He also rears ducks which he supplies to a farmer from the Corentyne and has the birds in all stages.
He had just fed the ducks and they were scattered all around the back yard. He once worked as a driver but said he prefers to "stay in my yard and do my own work… This is nothing new to me. I grew up in farming with my parents. They used to rear a lot of ducks too."
This newspaper caught up with Sharon McDonald and her brother, Colin while they were looking out from their veranda. They moved to the area three years ago with their father and Sharon's children. Sharon works at the National Insurance Scheme office at Fort Wellington as a cleaner while Colin works as an office assistant at the Regional Democratic Council. They said they loved living in the village which has developed more since they moved there, and said the residents are friendly and helpful.
Leslyn Charles who serves as an Education Officer and is based in Region Two said the land in the village was purchased by over 50 residents through the Hopetown Land Co-op. Those persons were entitled to the land but eventually the co-op started selling it off to their descendants and some from out of the area. The St Michael's Anglican Church and the St Michael's Anglican School were located in the village at the time, as well as an office and workshop belonging to the Public Works Ministry. None of these buildings is still there.
The first persons to occupy the village were Makie Saul and another man, Burnett, until others started building their homes and moving there as well. The village still has a lot of vacant plots which are owned by persons.
Charles said before that it was just "swamp land and residents used to catch fish on it." Residents "had to do a lot of land filling" and the village has started to develop and is becoming more populated. She said the "co-op started putting in infrastructure with the money from the sale of the land." About two years ago though, the regional administration helped to build two streets.
Charles who has been in the field of education since just after she left school in 1979 first taught at No 5 Primary before attending teachers' college. Upon completion she started working at the Hopetown Practical Instruction Centre (PIC) in the Home Economic section for a few years. She attended the University of Guyana and then returned to the PIC in 1995 as the head teacher. In 2002 she started working at the region as an education officer for the secondary level.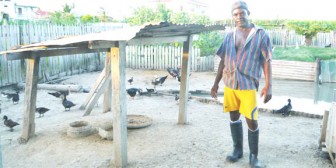 Charles was also involved in the Hopetown Development Association which successfully applied for the community centre. The group also "got Future's Fund to establish a new section at the Hopetown Primary." It also held needlework, catering and sewing classes for young people from West Berbice and Mahaicony and "got young people to appreciate the value of education."
Charles' daughter is a teacher and is also attending university, and her son is self-employed while her husband, Cecil Charles who is retired,  is rearing livestock.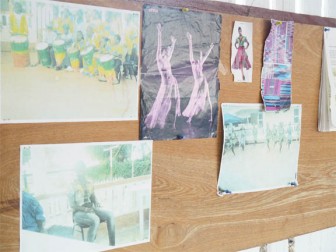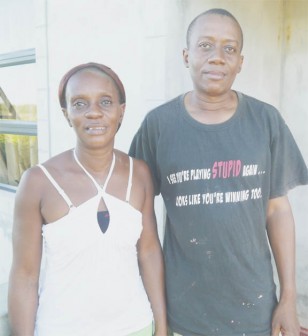 Around the Web