This is my 50th year in the entertainment business, and along the way there's been much to be grateful for. One has to be grateful for those on-stage surges – the roar from a massive crowd; the sound of the Tradewinds band on those nights when everything is just right; the awards that have come from various quarters (Guyana, Canada, Cayman, Barbados, the USA); the look on the faces of the public when they're hearing you perform a song they have come to love; and those sudden searing few seconds when a crowd erupts at the instrumental intro of a song they know inside out, like the guitar line that begins Not A Blade O' Grass or the original hit Honeymooning Couple. That last one can send tingles up your spine.
I recognize those moments as part of the wonderful magic of music memory.  At the same time, however, what I have come to treasure most of all are the one-on-one interactions, away from the stage, from people in everyday life you encounter to whom a song or an experience with the band, or their opinion of you, is so strong that they have to express it.  Those experiences, perhaps because they come in everyday life with no music rahrah involved, have the most impact on me. Part of it, I suppose, is that the persons are conveying something that is clearly important to them; they will come up to you uninvited in the most uninviting circumstances and blurt out something connected to some song I wrote or some feeling they hold about me.

A classic one (I've mentioned it before) is the woman who came up to me, out of the blue, as I was waiting to play in the National Park.  She walked up to me and threw her arms around me without a word.  She was someone I had never seen before. Stunned, I asked her, "What was that for?"  She smiled and said, "You know." and walked away.  You can't put a price or a rating on moments like that.  They're priceless.  That one gives me goose bumps whenever I speak of it.  It is in moments like that, often in total silence, that the effect of the songs really comes home to you like thunder.
Just last week, for instance, I'm coming out of Scotia on Carmichael Street, and a gentleman coming in, does a double take and, as we say in Guyana, brackles me; he is almost shaking as he tells me of his love for the music.  He has this huge grin on his face, calling out snatches of lines, and then, in a sudden reverse, he turns serious. "I have to tell you, you know, I am from Leguan.  I went to the Enterprise School, and you know some years ago they burnt it down…politics or something. They burnt it flat.  So Burnham built it back up from the ashes; they burnt it down it again.  Now, I'm 73 years old; my school is gone. This is Education Month and they're not saying anything about it.
I want you to write a song about that."  Of course, as I explained to the gentleman, songs don't come about that way, but the touching part about it was that from knowing my songs he obviously felt no hesitation in talking to me as if we were old friends – the music had done that.  I suggested that he call one of the newspapers to do a story on his school, but that's not where his heart was – he wanted Dave to do a song; for he one.
A month ago in Toronto I ran into a Guyanese who took me back to early in Tradewinds' life when we were playing a show at the Astor cinema here.  Astor had no dressing room for performers, so a kindly family on Church Street let us use their upstairs house to change into our playing duds.  Now I'm carrying you back to 1968.  Honeymooning Couple was on music charts all over the Caribbean and this, in fact, was Tradewinds' very first performance in Guyana. The point here is that I had forgotten about the clothes changing, but here was this man, 44 years later, telling me it was his family house that had hosted us, and he was holding that memory like a photo album.  I could see the pleasure on this face; his reliving it for me was so touching it was in my mind all night.
Earlier this year, I'm in Courts waiting for an item.  A fellow comes up to me very shyly, offers his hand (I think he said he was from Linden), "I hope you don't think I'm being forward, or anything like that, but I just wanted to tell you I'm proud of you and those songs, man, those songs.
You'll never know how much they mean to me."  He has two young children with him, 5 or 6 years old.  He picks them up, one in each arm, and says to them, "This is a man you have to meet. This is Mister Dave."  The two children are looking at their father like he's gone mad.  He's calling out the names of songs – Cricket in the Jungle; Boyhood Days; Civilisation – and the children are looking at him like he's talking French.  He and I both ended up laughing – the children were wide-eyed and open-mouthed and completely out of it – but again I recognized this for what it was – a feeling so strong he could not keep it to himself.  Powerful stuff, that.
One more short one: Two years ago, on a trip to Toronto minus my guitar (that's another untold story) I ended up using a Fender Stratocaster owned by a diaspora Guyanese Andy Irwin, a friend of a friend, and a Tradewinds fan.  He had just bought the guitar, and he asked me to autograph it – that was April 2010.
Fast forward to August this year.  I'm in Toronto again, using Andy's guitar again, and I take the bull by the horns. "Andy, man, this guitar is me; everything about it is me; the neck, the touch, the sound – sell me the guitar, nah?"  I was expecting him to laugh, which he did, but I wasn't expecting what came next which was "Sure, it's yours."  Now Andy didn't tell me so, but I know all them songs from all them years was back of the banna's decision to sell me the Stratocaster.  So, the upshot of this is that Dave Martins is going on stage now playing a guitar autographed by Dave Martins.   Seeing it, some folks may say, "He conceited."  They don't know about the encounter.
Comments

Calypso achieved popularity with the arrival of calypso tents in Port-of-Spain, particularly from the first commercial recordings in the 1930s, and from the spread of the tents after World War Two ended in 1945.

In the bewildering variety of things that come over the electronic transom we now have on the internet, there occasionally comes a gem that stops you in your tracks; even more rare is the gem that gives you goose bumps.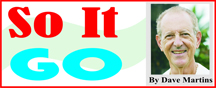 This week, in the aftermath of the Category 5 hurricanes ripping up the Caribbean, some gripping videos and still photos are making the rounds, and a standout in the lot is a BBC documentary on Hurricane Irma titled 'Apocalypse and the Aftermath'.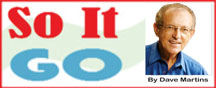 As anyone who has seen me perform knows, I frequently go off in some good-natured commentary on various things cultural, and one of them is the effectiveness of our dialect, so that a reaction from Bernard Fernandes, a diaspora Guyanese, lauding a point about dialect I recently made, leads me to shout, as I have before, for the value of our dialect and to consequently object when it is attacked.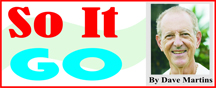 This past week I found myself once again being asked to explain to someone in the diaspora why I chose to remain in Guyana.