One only has to listen to the jazzy performances of "Bounce It" or "Let's Speak Latin" or the Beyonce hit "If I Were A Boy" by Derry Etkins' students in the St George's Muzik Lab to know that he is passionate both about music and about teaching it. But he also says so in such a matter of fact way that even if you haven't heard them you're bound to believe him.
The British Virgin Islands (BVI)-based Guyanese says he longs to see Guyanese music take its place in the world and to one day play his part by teaching Guyanese children to appreciate music more.
In a series of online exchanges with The Scene, Derry says he would like to be part of the movement to develop his country's music; a development that will incorporate all of the indigenous music of Guyana—Amerindian, African, Indian and Chinese—to really make it something Guyanese. European music, he said, is already in excess and it is time for something truly Guyanese.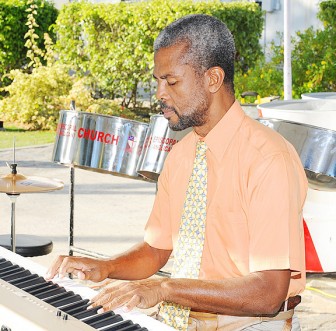 "Throughout history, there have been artistic movements coinciding with political movements," Derry says, positing that maybe it is Guyana's time since there is so much raw material available.
Derry himself does not fit into any genre of music. The former Queen's College student composes almost all of his teaching material, including the foot-tapping, finger-snapping "Bounce It". "Whenever I play or write, everything that I have ever played or heard comes out," he says. This makes it a "generous mixture" of so-called Classical music, Jazz, Calypso, English and American pop, Spanish Latin, Brazilian Latin, Movie music, Masquerade, Reggae and Indian including others. "…Once I've played or heard it, it's there in some proportion," he adds.
And neither is he limited to just one musical instrument. He is a bassist turned pianist who has fiddled with a few other things and "the trombone fascinates me," he says.
Composing and playing instruments are two things Derry does rather well, but singing should not be added to his musical repertoire.  "When I sing in the shower, the water stops running!" he jokes, but admits that though his voice is untrained, his words "are clearer than many of the singers out there."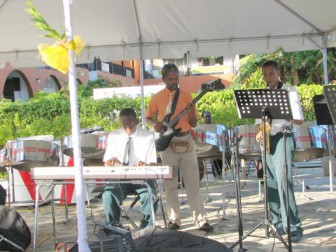 Asked about the beginning of his journey in music, Derry recalls a "Mr Wiltshire", who visited their home in Plaisance when he was very young and whose playing motivated him. Derry says his mother gave him his first six months of formal piano lessons, at age seven. He learned to play the bass in high school.
Later on, he was exposed to another six months of piano lessons this time with Sybil Daniels-Husbands and then he was supervised for a year by the late Edith V Pieters, who was instrumental in him being trained as a music teacher. Initially, Derry left Guyana in 1973 and lived in Barbados, then moved to Canada, then back to Guyana, then back to Barbados. He now lives in Tortola, BVI.
During his perambulations, he studied in Barbados with the late Janice Millington-Robertson for three months in 1984, then with Christopher 'Kit' Spencer for three months in 1996.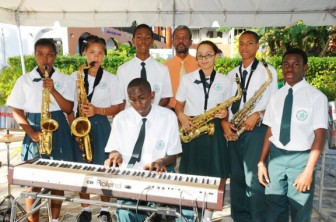 "I've been on my own since," he says but discloses that he has "bugged" Dr Joycelynne Loncke and Dr Ann Osborne, a Trinidadian, for advice "a few times".
Today, there is not much scope for Derry to play music where he lives and as such he does not play as much as he would like. A night of playing at the Sidewalk Café just before the end of 2011 afforded to him by Trevor Rogers was therefore described as "wonderful".
"I would love to play more, though," he says longingly but quickly adds, "Don't misunderstand me, I enjoy teaching immensely! It's a good feeling to see a student get a 'light-bulb moment', and take a concept and make it his or her own."
This is obviously the reason that he plans to continue to teach music as long "as God allows". And while there is that dream to teach in Guyana he says the "time isn't right as yet. Maybe I need to sharpen my skills a bit more before I come home," he jokes.
The versatile teacher and composer says his musical influences include Ahmad Jamal, Peter Nero, Claude Debussy, Sergei Rachmaninoff, Quincy Jones, Dick Grove, James Last, JS Bach and the list goes on.
Derry recalls that he was a member of The Gradu8s between 1970-73 when its 45 rpm, "Make It With You" featuring Glen 'Fluff' Miller, and "Mashramani Time", an instrumental Reggae, featuring Ivor Lall on guitar, and him on Farfisa organ was recorded. In 1982, the late Howard Daly asked him to put an original piano piece on cassette for him to use in a dance/theatre production at the Theatre Guild Playhouse–a request he acceded to.
Around that time, Derry says, he was with Solo Sounds International (SSI) (owned and managed by Neil Chan, formerly of the External Trade Bureau). He says Solo had sponsored a radio programme called 'Culture And Entertainment'. The theme for that programme, a piece called "Coc'nut Broth", was part of an experiment Derry was doing with local folk tunes and the masquerade beat.
Another original piece, also for a dance, was done for Donna Hunte-Cox of Barbados. It was produced in The LivingRoom, a little studio he ran at the time, and recorded onto CD.
He says there is a videotape "knocking around somewhere" with him playing at the Flood Relief Concert, held in Barbados in 2005.
While with Solo, Derry also had the opportunity to arrange two songs for Lee Houston. He and Maurice Wilson from the National Cultural Centre were co-engineers/producers on those projects. He arranged calypsoes for various artistes as part of Mashramani celebrations between 1980 and 1983. Winston 'Chat' Etkins and Chuck Girard are two of the many he worked with.
"I had the great honour of working with the late Aubrey Cummings on his album, 'Moon Over Me'," Derry wrote.
In Barbados, he worked with calypsonians and non-calypsonians alike such as, Red Plastic Bag, Bumba, Kid Site, Mystic, Holly, Classic, Edwin (Yearwood), Wendy Alleyne and Sheldon Hope.
Derry also attended a few Caribbean song festivals as musical director for singers who represented Barbados. He was the musical arranger twice in the five times Barbados won at that festival, including the year that sealed the "hat trick" for Barbados.
Around the Web