By Jairo Rodrigues
Mosa Telford is an impeccable example of the potential of the dramatic arts in Guyana. Her one-act play Shadows, recently won five awards at the Theatre Guild Awards and six awards at the 2011 National Drama Festival which both included: Best Director, Best Actor, Best Supporting Actor, Best Supporting Actress and Best Short play.
A proud Buxtonian now residing in Georgetown, Mosa is a new mother who lives quite an accomplished life thus far earning multiple accolades for her best known piece. She constantly writes other dramas and short stories, she co-wrote a short movie last year entitled Beached and now is pursuing her career working along with the National Library and other publishers.
At the young age of eight Mosa began writing short pieces as a hobby and then stepped it up a notch in her teens at church. When she attended North Georgetown Secondary School, she participated in a series of drama classes in Form 3, but noted that they "didn't last long and wasn't much". She later joined the now inactive youth group 'Youths with a Motive' for which she wrote short stories.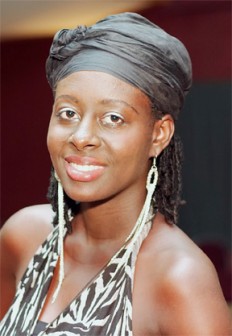 A Diploma of Performing Arts was accredited to her in the year 2002 in London which is no big surprise since she came from a bloodline of dramatists. Her uncle was the director of the National Cultural Centre and her father was into the arts, her two sisters came up with the young Drama Club 'Young leaders of Buxton' which she stated an excellent initiative in promoting the arts locally.
Mosa said she came up with the idea of Shadows in a dream and as she usually does when a great dream or idea presents itself, she writes about it as soon as she is up. Jotting her ideas down paid off afterwards with a total of nine awards and a surplus of recognition.
Shadows was premiered at the One-Act festival in the Theatre Guild in June of 2011, it was directed by Tivia Collins, and the cast comprised the very talented Lisa Punch, along with Lynnus Adams, Ron Clarke, Coleen Duncan, Keon Heywood, Tashandra Inniss and Kijana Lewis.
Mosa describes Shadows as having a solid background of traditional literature based on abuse entwined with the present lifestyle of those affected by neglect, abuse and molestation in present day Guyanese society. When asked about her response to Shadows' success she said, "I didn't expect it to be received so wildly, didn't expect it to win all those awards and be beloved so much by the public, it boosted my confidence to be a playwright."
Mosa also co-wrote and produced a short film entitled Beached with her colleague Kojo Mc Pherson, who directed and came up with the original idea of the film. Beached was premiered at the Presidents Film Endowment with eight other short films that were viewed by former president Bharrat Jagdeo, Prime Minister Sam Hinds and other government ministers.
Beached was also shown at GuyExpo all four nights and at the Guyana Cultural Association based in New York. Mosa expects Beached to be shown on a country tour some time this year.
Mosa said she considered herself "fortunate to have worked on Beached" as it was part of a workshop conducted by representatives from the Ohio University on lighting, writing and directing.
"Beached is about a man who lost his wife and was going through a tough time with life; he suffered from depression and at a breaking point in life – he was saved," she said in a short synopsis. She mentioned that the majority of the film was shot at the Georgetown Seawalls behind the Pegasus Hotel.
Being a very active member of the theatre, she mentioned that the Theatre Guild has training sessions for young dramatists from 07:00 hrs – 09:00 hrs) on Wednesday nights every week. She pointed out that the Theatre Guild is very active in promoting Drama in Guyana and soon be hosting shows on Mother's Day, World Poetry Day and the anticipated One Act Festival – one year since the premier of Shadows.
Asked if she was into acting she replied "Yes! In my teens but now… I prefer to write. I am motivated by life, if I don't write I will get sick and die." She mentioned that she acted in the Link Show last year, but nothing afterwards but looks forward to doing it in the future.
Asked for her general views on drama in Guyana, she pointed out that "much more can be done… we need to spread out more in the country". She mentioned that the arts were mostly centred in Georgetown and she would like to see more outreach. "We need training facilities, for those who are interested in the performing arts," she said.
Asked about her plans for the future she said she hoped to accomplish much more. She also mentioned her interest in starting her own Theatre Company and writing a magnitude of plays. "I plan to work hard to pursue [the] dream [I had of becoming a star in Hollywood ever since I was a child."
Mosa also hopes to publish her first book of short stories within a few years and expand her talents in a cross country tour and even in the Caribbean. She sees herself promoting drama through her Theatre Company and hosting workshops and training.
Around the Web