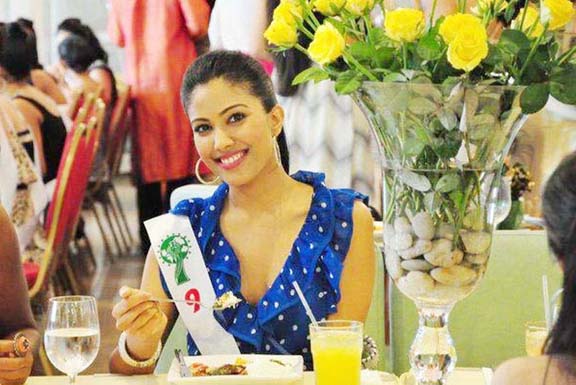 Still basking in what she terms the surreal experience of winning the Miss India Worldwide pageant, 24-year-old Alana Seebaran is still deciding on future pageantry, while anxiously looking forward to see what Bollywood has in store for her.
In an interview with The Scene, the final year, York University, marketing student opened up about her experiences before, during and after the pageant, life with family, school and studies, future goals and her other interests including finding Mr Right.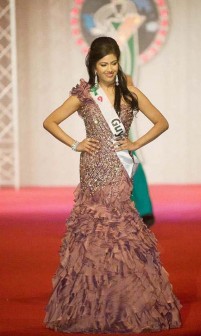 "I think I need to soak this in first and then make a decision. Right now, I feel as if I'm walking on clouds and I need some rest," she said throwing back her head and laughing. She added, "I am really looking forward to Bollywood and the opportunities that will be afforded to me there because I want to be an actress there, it is my dream."
She opined that to the world, and to her at first, pageants seemed all glitz and glamour and an easy task. However, after her first experience in the local Miss India Worldwide and then later international segment she has come to the realization that it is very taxing on participants both mentally and physically, and has newfound respect for pageantry. "There is no beauty sleep in beauty pageants from the beginning to the end its just go go go! You hardly get any time for yourself. It's from all-day auditions to another practice session in the evening, to working on your talent piece and by the time you know it, its time to get a few hours of sleep and be up and ready for 5 am the next day and the cycle continues," she said.
Through the sleep deprivation and hours of practice, Alana said, the lesson learnt is one she will never trade as with the 'No pain No Gain' saying. She said, "However, the hard work teaches you punctuality and so much discipline. I wanted the crown so much, I said there is no time to complain so just go do it with focus and determination. The non-stop hard work taught me a lesson I will be able to use in my job, family whatever I'm doing in my life."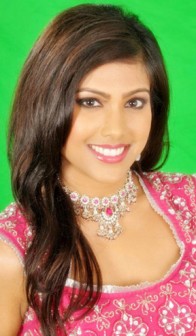 Asked about indelible experiences at the pageant and what made it different from the local one, Alana replied, closing her eyes as if reliving the contest from the comfort of a sofa in her home: "The experience is one I will never forget because I met so many women at one time from around the world all of whom spoke different languages and were just so beautiful inside and out.
Unlike your typical pageants this one did not include a swimsuit segment, because they wanted to show beauty in a total package and not just showcase a body so that also made it special for me."
Her fondest memory might seem "girly and clichéd" to some but it was the time spent bonding with her fellow contestants. Getting comfortable as she plaited her feet in the sofa she smiled, and said, "Breakfast with the girls is it for me  …waking up so early running to the coffee machine to get that dose of caffeine to get you going but then taking the time to socialize and familiarize yourself with the other girls was it. You get to know each other better when everyone shared their family experiences, nostalgias and so on." |
Laughing out loud, Alana informed that another fond memory was when the President of Suriname sang his favourite song with the reigning queen and everyone joined in on stage dancing.
Probed as to why she felt she stood out from other participants she said, "I think I stood out from the other contestants because of my friendly personality, patriotic nature and great performance. From the beginning I was proud to say I was Guyanese and walked proudly as I sold my country to the world. I was very natural and through that: me saying this is me… it shone through causing the judges to see me for me."
A dancing background with the Naya Zamana Dance Company placed Alana on the frontline in the talent segment with what she described as a captivating piece. Alana explained that she incorporated Classical, Khatak, Ballet and Disco dances into her talent piece to a song called "Chikni Chameli" from the movie Agneepath.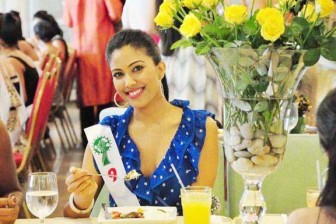 "It took the audience away and they were all cheering at the end," she recalled. While other delegates danced, sang, performed puppetry and even walked on stilts, the beaming new queen secured the prize for best talent.
In addition to this, the Guyanese beauty was also recognized for her Indian attire, and again copped the first prize for 'Best Indian Wear'. "I shopped in New York with the assistance of my mom," she stated.
Alana said she formed her introduction in an informative way after realizing that many persons were unaware of Guyana's location.
"I realized there were people who did not know where Guyana was as I went about introducing myself, so in my introduction I said, Goodnight Suriname… I represent your neighbour to the west, Guyana. I feel it worked because when I was selected into the top ten the judge called me to the front by saying 'number eight your neighbour Guyana'," she said, opining that she marketed her country in that sense.
Alana related that the feedback from the audience was overwhelming, with the venue packed to capacity and a visible sea of Guyana flags.
"The crowd that night was spectacular and just everything a participant would want in a pageant. My dad filled his suitcase with Guyana flags and he, my uncle and brothers shared them out to spectators. So it was beautiful to see.  It's amazing how many Guyanese live in Suriname and also how hospitable the Surinamese people were.  At one time the crowd had me distracted with their cheers. I had to recompose myself. I want to thank them all a lot at this time," she stated.
One week after winning the title, Alana said she has made the decision to complete her final semester of college online, for which she has already registered.
Apart from her academics, which she remains focused on, Alana said she will fully utilize the opportunity this pageant has provided her with – an appearance in a Bollywood soap opera, other trips and monetary prizes. "I plan to make the best of it when I go to Bollywood… I want to be able to act and be just like my favourite actress, Priyanka Chopra," she said.
Alana blushed as she was asked if she was currently dating, opting instead not to comment. She, however, shared a few qualities she looks for in a man. "Honesty, sense of humour, ambition and someone who is family oriented; my best friend someone that is my rock that I can lean on and you have to be attractive but I think personality can make you attractive to someone. I just want someone who I am just totally compatible with," she said.
Finally, Alana said that as a Miss India Worldwide ambassador, she plans on committing herself and executing her duties as best as possible with dignity.
"I recognize that I am… a role model to youths everywhere and is the example: that with a dream and determination everything you wish for can materialize," she finished.
Around the Web