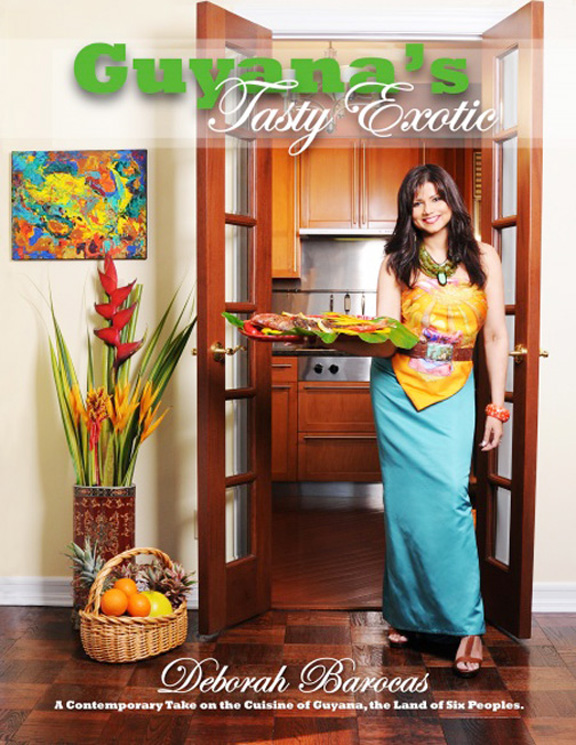 Drawing on her food memories of 30 years ago and some new ones as well, Deborah Barocas self-published a cookbook, Guyana's Tasty Exotic Foods of Six Peoples, almost two years ago and she's currently working on the second edition, which will be published by a publishing house in New York, USA where she's based and is due for release in September.
Deborah, the first girl and second born in a family of seven siblings, says she has been cooking for over 30 years. In addition, she was raised among an extended family from different ethnic backgrounds, "which further exposed and enhanced my love of various foods and the preparations of them".
Deborah, who left Guyana while in her teens, told The Scene in an online interview that while living in New York has its perks, "my beautiful Guyana is where my heart lives, aligned with vivid memories of cooking in kitchens of old; its rhythms, rich culture and history…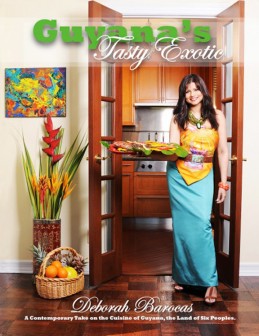 "I miss those old days of making Metem and Cassava Pone, Pine tarts and Patties, of going to the baker shop on Barr Street to bake a pan of homemade bread in that wood burning oven… I paid 25 cents to do so. I miss 'The Nook', a pastry shop that was a fixture at the corner of Camp and D'Urban streets, and Channa Man.  I miss Flutie, Ice block, Mauby, Dhal Puri with mango sour, and all those exotic fruits. I miss the dialect… I miss it all. And at the risk of sounding like [the late] Godfrey Chin, it was my nostalgia and great love of Guyana and her people" that inspired the cookbook.
As a child in Guyana, Deborah attended St Angela's, Dolphin Government School, and the then Muslim Educational Trust College in Brickdam, now Brickdam Secondary.
She remembers and was inspired by home economics classes at Dolphin Government School. She recalled lessons in making Scones, Shepherd's Pie, Cottage Pie, Cook-up Rice and other dishes. But her mother was an even greater inspiration.
"My mom, who was a fabulously frugal cook, could take just a few ingredients and create something super delicious in minutes," she says. "She and her sisters traditionally made Black Pudding on Saturday afternoons in my grandmother's kitchen. And by age 12, I, too, was making it in our cozy kitchen in Middle Road, La Penitence.
"Even as young as 7, I went to Kitty Market with my mom, and intently listened as she explained to the Indian-spices vendor the types and amounts of various spices she wanted him to mix for her masala.
"I enjoyed picking out a fowl and taking it home for our Sunday chicken curry meal, which always came with sides of rice and chowmein. The taste derived from the freshly slaughtered chicken was superb by itself, but searing off the fine feathers on an open fire before cutting it up into pieces in preparation for our traditional Sunday meal made for even more outrageous flavours.
"After we moved to La Penitence, I volunteered to go marketing with mom every Saturday, because I found the market bantering, bargaining, and produce selecting exciting and right up my alley. I remember a man who sold uncooked fire roasted wild hog at the head of Punt Trench Dam aka Independence Blvd. We'd buy a sizeable piece, fresh bora, cabbage, and other ingredients, and I would make a real cook-shop style tasting chowmein that earned my culinary stripes amongst my siblings."
Deborah says the recipes in her cookbook are mostly hers and she recalls meeting a Guyanese woman named Chan at a wake in New York, who had taken her homemade cassava pone there, "which I thought tasted better than mine, so I asked her permission for that recipe." The cookbook spares no secrets, she says. "I researched and tested the recipes. Additionally, I created some new recipes with ingredients one can find in Guyana and almost anywhere."
She hopes that fellow Guyanese and everyone else who enjoys cooking "would be able to acquire a Guyanese cookbook archived with our delectable recipes in bookstores here in the states and anywhere else for that matter. I wanted everyone to know of Guyana, its foods, culture and traditions. Moreover, I wanted to proudly place Guyana on the culinary food map of the world."
Guyana's Tasty Exotic Foods of Six Peoples was nominated for an award from Gourmand International Awards, which recognizes foreign cookbooks and validates their efforts with an award. The award ceremony was in Paris, but Deborah chose to visit Guyana instead and during that visit, she met Prime Minister Sam Hinds' wife, Mrs Yvonne Hinds, and presented her with a copy of the first edition of her book.
Deborah also has a food blog  http://www.guyanastastyexotic. blogspot.com/.
Deborah, who has two sons and resides in Manhattan, is also involved in philanthropic activities and she is currently exploring manufacturing opportunities which will potentially lead to her developing and marketing of a tropical food product line, inclusive of what Guyana offers.
Around the Web