By Jairo Rodrigues
By now everyone knows the legendary Joel Ghansham. If you didn't know him before, you certainly would remember him being one of the four judges in both the English and Indian segments of the 2011 GT&T Jingle and Song Competition or from one of the many television commercials he has appeared in.
Joel surpasses boundaries and he has an appealing personality. He is, in fact, an icon of change and acceptance in the Guyanese society and he always leaves his viewers guessing as to what's next.
But what makes this persona capture the attention of everyone? Is it his flashy attire, his flambouyant personality, his 'bling'? The Scene had the privilege to interview him; to have a look into the life behind the Joel Ghansham we all see on television.
The Scene: Who really is Joel Ghansham?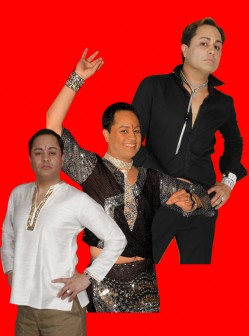 Joel: Well for one I love being humorous. I'm a very homely person. I like my family. I'm a big shopper and I absolutely love my life! Every morning I wake up and I think how I will live today. I'm a bit addicted to coffee. I like to mingle and relate with people, I made a lot of friends and I love being in good company.
I love going to the temple, I love religious functions. Most importantly I love giving back to humanity and I always ponder on how fortunate I am, it just makes you think about life and how lucky I am.
I'm an animal lover and I would love to be the spokesman for the Guyana Society for the Prevention of Cruelty to Animals (GSPCA). I have no tolerance when it comes to violence against animals, and I am all in for their protection and care.
The Scene: What was your childhood like?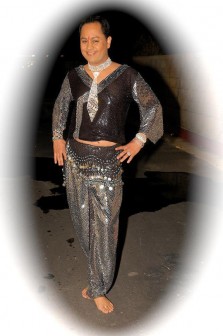 Joel: Well I was very blessed to grow up in such a good home. I learnt a lot of values and we were a family not wealthy but well kept. I grew up in New Jersey in the same neighbourhood as Whitney Houston and Queen Latifa. I spent my life in New Jersey, it was very cold but fun, but oh my! School, that was so very long ago, Well American schools are very different from Guyana… over all it was enjoyable.
The Scene: And what was your family life like growing up?
Joel: Well I have one brother and four sisters, I was always more fashionable than the rest of my siblings; I see myself as the prima donna. As we were growing up, and even now – they are not into this television thing as I am so when they see me they are just amused.
The Scene: So what does Joel Ghansham do now?
Joel: Well for some reason I am always sought out by the big companies, so I have a lot of opportunity out there. NTN is my platform, my stage – they were always there to showcase my talent and for that I am forever grateful. It is very important to remember where you came from so that you have a vision of where you are going.
The Scene: Well our sources say you were a trained dancer, do you still dance and where did you learn?
Joel: Well, first of all I'm a retired dancer, I got too old for that. But oh boy! You would've loved to see me in action! I was trained by a renowned Guyanese – Gora Singh – who trained in India and came to New York City and taught Indian Classical Dancing.
The Scene: So what is it like being you?
Joel: I am very happy and pleased with my life so far. It is very important to be in your own skin, be comfortable with who you are – I answer to me. Most people think of the glass as being half empty. It is very important to reflect within yourself when you are in trouble and be very patient. You have to have a flexible personality to deal with other human beings. Does money really buy the values within you? No, it's you – it's your personality that makes you who you are. You can change physically, but within you will never change, that is who you are.
The Scene: So who or what motivates you?
Joel: Oh my God, definitely kind human beings, when I see that people are willing to do acts of kindness to others, my biggest motivation – I absolutely adore that, of course parents are a motivation and the good values within you, but kind people would always encourage me, push me.
The Scene: How do you feel about the Guyanese people?
Joel: Well I strongly believe that Guyanese people have evolved in many ways, for example culture and the perception of human beings in different areas and aspects of life. There is always room for improvement, I think most of all we should be a little more aware of animals.
The Scene: And what do you have planned for the future?
Joel: Well… Botox, Plastic Surgery.
The Scene: Are you serious?
Joel: Yes! I think if you have little flaws and imperfections on your body, if you have the money and you have the need to do so – you should redefine what you have. On a more serious note though, I would like to continue what I do as long as God is giving me the time to do it, I would seriously like to be the Spokesman for the GSPCA, so far I am working with Buddy's Housing Development, Shoe Heaven etc.
The Scene: Okay, so what do you do in your spare time? What is your social life like?
Joel: well I am not a big clubber, I would go out once a month to have a glass of wine with a friend or two but I don't drink, I'm not a big drinker.
The Scene: Any closing remarks or comments?
Joel: Well, let's touch on the topic of entertainment and the GT&T Jingle and Song Competition a bit.
The Scene: Yes, go on…
Joel: The media itself needs to improve and promote, I would like to see better marketing in Guyana – why aren't they looking at Shelly G? She is an excellent artiste. They only published Ms India Worldwide for one day and she faded away. What happened to her? Companies like BM Soates and Ricks and Sari market themselves well. About the song competition, Yog Mahadeo invited me to be a part of the judging cast, and I was so excited! He has always been kind and very good to me and GT&T has always delivered. The sad thing is people don't really recognise the magnitude of work and success in the Jingle competition. GT&T is not an entertainment company, and for them to do that was just astonishing, everyone – from the judges, to the competitors should thank and praise GT&T for such recognition.
The Scene: Everyone knows of the jolly companionship and cooperation you had with a fellow judge during the competition, so what do you really think of your judging mate Ms Charmaine Blackman?
Joel: Well… well… well, she is a wonderful human being, high spirited, amazing and just a great entertainer.
The Scene: Final words?
The Scene: Well I just wish that all entertainers can come together and unite, be one face – showcase the strength of our talent, basically join forces because we have no space for competition. They should really invest in such an award ceremony broken down into several categories to praise the different varying artiste and promoters from editors, to singers, producers – all entertainers; we are a small country so we should motivate our artistes.
Around the Web