By Jairo Rodrigues
No strange face in theatre, Nirmala Narine has also expanded her repertoire to film, scoring a role in the recently released local effort, A Jasmine for a Gardener, which she said she was very excited about.
Nominated for awards in three full-length plays, Nirmala won the Best Supporting Actress award, at this year's Annual Theatre Guild Awards, for her part in the play New Beginnings.
When she was asked how it felt to win the award she said "I knew I would've won at least one but I was still shocked. I felt honoured just to be nominated, but winning? It was amazing just to be on that stage to collect my award and beat so many people!" She noted that she competed against a lot of other actresses and in many categories.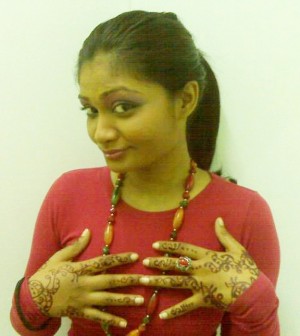 She describes New Beginnings, which was written by Timolyn Barclay as a play of true drama and intensity. "It was about a man who has a girlfriend but keeps her hidden from his mother – my character was the girlfriend in the play – he does not want his mother to know about his relationship because she constantly talks him down so he hides everything from her."
Asked how she felt being a part of the play she remarked, "WOW! I was very excited because it was a big show last year. My friends and family loved it; it was so fun playing my role". She also noted that her play was in third place in the National Drama Festival Awards.
Nirmala started acting around the age of 14, participating in school plays at the Bishops' High School.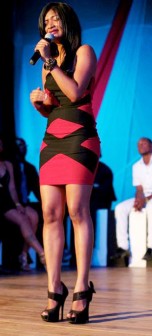 Having established her love for acting, she subsequently attended the Carifesta Drama workshop here in Guyana and after that acted in what she described as "my first play on a national stage, Moon on a Rainbow Shawl."
She said despite being a little nervous, "I got used to my surroundings and it became quite comfortable. Acting has always been a passion for me ever since I was a child. I just love being on stage, it's like my second home."
Not surprisingly, the young actress draws inspiration from her favourite actress Sonia Yarde and role models Malcolm De Freitas and Henry Rodney as well as, "My fans for sure, they are my pure and true inspiration, supportive and very motivational…" and "I just love Johnny Depp," she gushes.
Along with her acting, this multi-faceted young lady also has a wide range of theatrical performances and literature she loves to partake in. She aspires to be an author and playwright and to further explore her talents in drama and dancing. Nirmala loves to write dramatic poetry and she is a regular at the Upscale Restaurant's monthly poetry nights.
Meanwhile, Nirmala is also completing her last semester at the University of Guyana for her Business Management Course and hopes to study English and Literature in the near future.
While she definitely wants "to continue acting… I wish to open my own business, selling women products."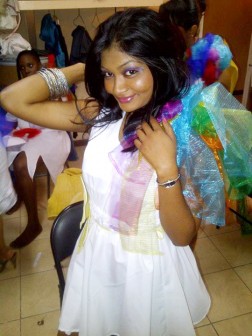 Quizzed about her dreams and whether she sees herself in Hollywood at some point in the future, Nirmala replied: "Well I see Hollywood as a far stretched dream, but I can see myself as an entrepreneur. I would also like to open a homeless shelter… to benefit the homeless and the abandoned."
Nirmala lives on the West Demerara with her parents and her four siblings. She is the eldest and only girl and she describes her family life as "fun, crazy, thrilling and the occasional playful fights with my brothers".
Her social life is centred around her friends and she loves the club scene. She describes herself as an outgoing individual who loves the outdoors and nature walks. Her hobbies include reading, travelling and playing board games.
Around the Web