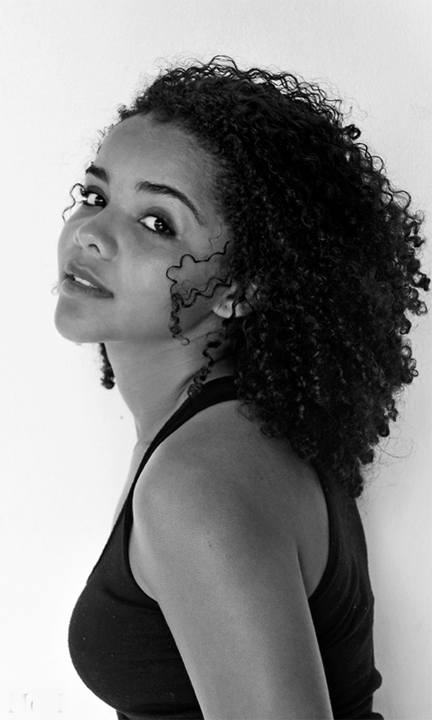 By Jairo Rodrigues
Sixteen-year-old Calais Peterkin had been wowing audiences in her church and school for quite some time before the rest of Guyana had the opportunity to hear her powerful voice at the recent GT&T Jingle and Song competition. Since then, life has changed a bit for young Calais.
In an interview with The Scene, Calais says she considers the Jingle and Song Competition a thing of the past, but a strong building block towards her career as a musician. She describes the entire competition as a great learning experience. "I didn't expect it to be so big," she says. "It was fantastic! A boy at my church told me to go up for it, and before you know it, I am walking on the road and everyone is congratulating me, telling me how good I am and motivating me. It was a thrilling encounter."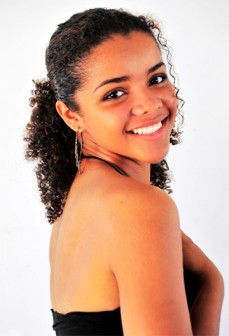 Calais was loved by the judges, the audience and even other contestants. When asked about her connections and obvious friendship with her main competition Poonam Singh, she had this to say: "Everyone expected us to be enemies because we were each other's main rivals. But when we were in the same group she came by me to practice and stuff and that's how it all began. After that we became really good friends."
Calais says the Guyanese audience, inclusive of the recognition, were supportive and encouraging and the reception was immense. Subsequent to the competition, she reveals, she was frustrated because some persons saw it fit to call her a "fake Guyanese" or "overseas wannabe". Clearing the air, Calais says: "A few people seem to think I am that category of people who were born and raised in Guyana then go overseas for a couple years and – Bingo! They're English. I hate it when people do that, [they have] no pride for Guyana, point blank. I was born in England to a Guyanese father, and I am very, very proud of both my English and Guyanese roots. I cannot emphasize that enough."
Calais says she definitely would like to stay in Guyana, since it's a free atmosphere and life moves at a much slower pace. She adds that she just loves the weather.
"To be honest, when I'm here, I feel a connection to England, when I'm there I feel a connection to here – basically I get the best of both worlds," she says.
The songbird strongly believes that aspiring artistes are trying to do new things but the reactions from their own Guyanese are not as supportive. She says its very important to keep and enhance our culture, but not to seal ourselves in a box with no air. She points out that as a people we should open up to new ideas and new things and not just be accustomed to the wining and gyrating we always see – there is a bigger world of entertainment out there.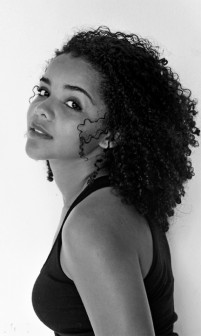 In the future Calais sees herself definitely doing some music but not throwing herself completely into the field. "I definitely want to utilise the opportunity, but I have some interests academically and professionally. I [have to] balance everything," she says.
Calais is in her senior year in Marian Academy Secondary School and will soon write the Caribbean Examinations Council, Caribbean Secondary Education Certificate Examinations. She had to say, "I absolutely love my school and I have a lot of school pride. In here, we are like a big supportive family – it's a clean environment, great morals and discipline as well as so many extra curriculum activities to help and guide students with their talents."
Few people know that another of Calais's talents lies in the field of athletics. She is the elected House Captain for Marian's most dominant house. Calais modestly says, "I wouldn't say I'm much of an athlete, but I am very competitive and I will always encourage my team to win."
Calais has been participating in Marian Academy sport events her entire school life. She has competed in the Shot put, Discus throwing, Javelin throw, distance and sprint races and lawn tennis competitions.
She and her brothers are known as the 'Peterkin Squad'. Harrison Peterkin, Calais's younger brother won the 'Beresford's Trophy' in the 2011 Marian Run – the sporting event that kicks off Sport Week in Marian Academy where all participants are required to run a full lap in the National Park's inner circuit before finishing on the school's basketball court. Washington Peterkin, her other younger brother in the Primary Department came in third place.
Asked about her family, Calais reveals that she has one older sister, who lives in London, and her three younger brothers residing in Georgetown.
"Well we grew up in a Christian household, all of us sing and church is a huge part of our lives. That's how we started off, singing gospel in church," she says. She admits that she loves her social life and that she makes friends quickly. She has friends from all over the world, but most of her friends are right there in her school. Calais's favourite social activity would just be hanging out with her friends Kerri and Megan or singing with Candice.
She emphasises that the passion and love for the things she does motivates her to continue doing them. "I have a calling to be successful. I just know that there is something great for me," she adds. "Everything around you is highly influential. I do a little bit of everything and I just throw myself in."
She also draws her inspiration from musicians, literature and everything in an artistic form. Calais says aspiring artiste out there should never give up, "Make sure you do what you do because you want to. Always remember though that they are other things in life – do not just focus all your energy to one thing or else you will lose the others. Do put in a lot of work and don't listen to the naysayers."
Around the Web