Pamela Arthur is a teacher by profession who has a passion for designing. She first showcased her talent in the national arena when she entered the Inner Wheel Club Annual Hat Show in 2007.
Now no stranger to the public, Pamela has been participating in the hat show since then with the exception of 2010. Over the years, her creations have brought her nothing less than first place.
She told The Scene recently that she works alone in creating her eye catching pieces and would only summon the help of others when necessary. Her creations are made from materials such as cardboard, Styrofoam, feathers, cloth and lace, which are all too common to run scarce.

Designing, according to Pamela, "is a pleasure, especially when you have a piece of raw material and can turn it into something. It brings a satisfying feeling."  She said her pieces bring a mixture of originality and fascination to the designing scene, even though it takes a lot of time to create them.
Apart from her participation in the annual hat show, the vibrant Pamela also designs clothes and she recalled creating pieces for models who participated in the African Head Wrap and Outfit Show in 2011. Even though it was her first time entering that competition, she did not disappoint, but took home the trophy for second place.
Pamela noted that there are many hurdles that prevent local designers and persons with the same creative touch like hers from advancing locally and internationally.
She added too that there is a limited market for her products, but she said that she is trying to promote her creations overseas with the help of a good friend. She suggested that "government should create an export market for persons with talent like me".
Despite the hurdles in her way, the talented woman says that she is determined to continue progressing in the arts and at the moment she is working to establish a business place to showcase her products.
More of her designing skills will be showcased in her new clothing line, which she expects to launch before August this year. The line will include clothes for men, women and children.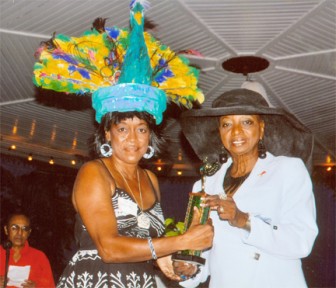 This year, Pamela said, she will be participating in the original and tactical categories of the annual hat show slated for the Promenade Gardens on April 14. According to Pamela, she expects the two pieces which she will display at the show to wow the crowd and she expressed hope that she will continue to upkeep her feat of occupying the first place, since her hats are built from scratch and they showcase her originality and creativity.
Pamela added that her supporters inspire her to enter the competition each year.
The Inner Wheel annual hat show has been around for more than a decade and in the eyes of Pamela, it will be an annual cultural feature for a number of years, since it pushes designers to penetrate the wider society.
Persons who may be interested in Pamela's designs, can find her at her home at Lot 85 Gordon Street, Kitty. (Mandy Thompson)
Around the Web