By Jairo Rodrigues
There is no uncertainty about the talent young Tivia Collins possesses; she is shaping up to be one of Guyana's formidable dramatists and has basically dedicated her life to the arts with no intention of veering from this path.
However her tremendous love for the arts has never been in the way of her educational pursuits. Graduating in 2010 with a degree in International Relations from the University of Guyana, she was accredited the Rashleigh Jackson Prize for the best graduating International Relations student and the Dr Harold Drayton Alumni Award of the University of Guyana Guild of Graduates: For a graduating student who has demonstrated leadership through practical involvement in community and/or social services irrespective of sex, race, religion, creed or political persuasion. Commenting on her academic success, Tivia noted, "This is just to show that I am well rounded, and I prioritise my education, even though I love theatre."
Tivia is also an activist for the Rights of Children and currently works at UNICEF.
Tivia's interest in the dramatic arts started at a young age. She was introduced to poetry readings at St Margaret's Primary school at age 8 and competed in the Mashramani competitions, mostly placing first. She also did poetry recitals at her school's Christmas concerts. She recalls, "The first poem I ever recited was 'Goodbye'" at a Christmas concert. She then realised that the performing arts was something she really loved.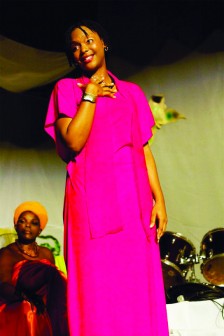 "At St Margaret's Primary, drama (particularly dramatic poetry) was a big thing whenever Mash competition was around the corner, or whenever we had Christmas concerts. I would always be involved in it because drama was one of the few things I looked forward to in primary school," she recalls.
The former Bishops' High School student says that throughout high school was continued along the same path, competing in elocution, impromptu and drama competitions.
At Bishops', she says, drama had a more prominent role in school life, especially when elocution, impromptu and drama competitions were on.
"…Mrs Ellis, the English Literature teacher at Bishops' literally stood behind me and pushed me to perfect the art form at school, whether it was through poetry readings, acting in the drama competitions, expounding on and analysing English and Literature texts for class. I think Mrs Ellis saw something in me that needed to be exposed, and she started the induction process. I am forever grateful to her," she says.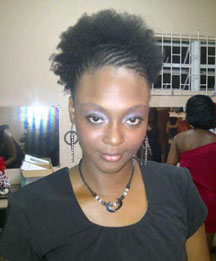 But she was not exposed to theatre at the national level until Carifesta where she met Dr Paloma Mohamed and later on got involved at the Theatre Guild, where she began to fully explore the arts, particularly writing and directing. Tivia counts Paloma Mohamed as the greatest influence in her life to date. After Carifesta, she recalls, Mohamed employed her as a research assistant. "This, I would say has been the greatest training I had in my professional, as well as theatrical career. I learnt stage craft, the art of directing, playwriting, writing for television, radio, stage managing and production management just by working for her for about three years. Every production she was involved in served as a learning tool for me. As I say to her constantly, I hope to accomplish half of the things she has in her life when I am her age. She is my role model, confidante, 'theatre-mother' and friend," Tivia says.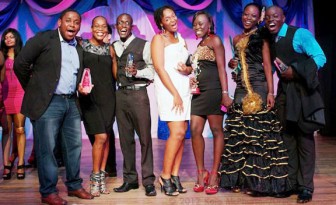 Apart from Mohamed, she says, Ron Robinson has made a major impact in her life in terms of directing plays for stage. She recalls that her first professional production was as his assistant director for Moon on a Rainbow Shawl, which was staged in 2008 at the Theatre Guild. It was through that production I understood how and what is required as a director. She said Robinson also serves as a coach for any production she is tasked to direct, no matter how small.
"As a young poet, I love reading the works of Shakespeare, Martin Carter, John Keats, Billy Collins, and of recent, Ian McDonald. I read their work to further understand style and forms of poetry. We cannot grow in an art form if we do not expand our knowledge on the works that exist in our field," she adds.
Just how involved is Tivia in drama? She writes poetry. She writes plays. She writes television scripts. (She is currently the scriptwriter for the Feel the Beat dance competition.) She writes for APSARA Magazine. She directs plays. She does stage management and has done it for all of the APSARA shows including the Miss India Guyana pageants. She is also a musician and plays the drums and guitar.
"Theatre is… that is the best way I have been able to describe it," she tells The Scene in an online interview. "For me, it is more than life: it is exciting, challenging and fun. It pushes you to analyse, it forces you to remove the limits of society and stretch your imagination. It causes you to look at life differently.
Working on dramatic productions expands your level of thinking as well, and causes you to see the world differently. For me, the form of theatre never really mattered. It all does the same thing. Most importantly, it allows me to do more than exist in this world. Culture is a society, and to be involved in the culture of my country in a very personal way is the greatest gift this life has offered me.
Theatre completes me."
And so although she plans to complete her Masters in international law and become a researcher and academic in the field of human rights, Tivia sees no end to her love affair with theatre. "Theatre makes me very happy, so I wouldn't leave it for anything. No matter where I am academically or professionally, there will always be a huge chunk of my time and energy devoted to the arts," she says.
She posits that people just need to realise how important the arts are and culture is to nation-building and there would be no need for "promotion" of either. They would be right up there on their own.
Tivia is modest when asked about her best accomplishment in theatre to date.
"I honestly do not think I have any of that. Every production I have been in means something different to me. Every experience is personal and touches a different part of my spirit. And, I am a heavy critic of my own work, so even if people are praising the work I am doing, I am searching for the errors and already fixing them for the next thing I do."
She is, also, both humble and grateful for having already received two memorable accolades: Best Director at both the National Drama Festival and Theatre Guild Awards.
"I was grateful and excited, especially in the National Drama Festival because I knew I was up against some seasoned directors. But all in all, I am grateful for the awards and thankful to my cast who pulled it off on both occasions," she says.
She reveals that the same play, Shadows, was put on for both events. "It called for a lot of late nights, long hours and hard rehearsal sessions, but it clearly paid off in the end with the awards," she says. "Not only did I win the best director, but we won Best actor (Kijana Lewis), best supporting actress (Lisa Punch) and Best Supporting actor (Lynyus Adams). So, you can clearly see, it was a group effort."
Tivia grew up at Sparendaam with her mother and an older sister. She says her mother made a lot of sacrifices to ensure that both she and her sister were educated to the level of first degrees. "That was something I constantly heard her banging in our heads: 'Education first, everything else can wait'. She loved us and always supported the dreams we had. To this day, she is still very much there and can be seen at every production I am involved in, giving her usual moral support. I am very grateful for my mom, and I always ask God to give me half her strength, because she is a very strong woman."
Along with her mother Tivia's older sister was also a source of strength, motivating her to keep going. "My mother would always sit with me every time I had a poem to learn or recite. She would have me rehearsing it for a lengthy time then give me tips and pointers, though she did not have formal training in the arts. There were moments of frustration, but both my mom and sister pushed me to perfection."
Tivia currently lives with her mother. She is not married and has no children. "I am too busy for those commitments," she says.
With her time split between work and theatre, Tivia hardly has time to go out, but when she does, "I am always with friends. I do the occasional clubbing or stage shows. I love to just sit on the seawalls, hang out with good people and discuss any and everything we can think of."
Around the Web