Horizon Arts Production's (HAP) play Front Yard opened at the National Cultural Centre last night and continues tonight and tomorrow night along with a matinee show today at 1 pm.
Front Yard was written by HAP's Artistic Director Mariatha Causway also known as Jennifer Thomas and directed by her and Sheron Cadogan-Taylor.
Front Yard, according to a press release, tells the story of a woman who was courageous enough to pack up and leave the comfort of her luxurious home, in an effort to be rid of an abusive spouse, and start a new life for herself. In so doing she ends up in a tenement yard, which was a far cry from the life she had grown accustomed to, but which provided a refuge for her and her 11-year-old son, who was also frustrated and had had enough.
The play also touches on the way society views certain communities and teaches that all that glitters is not gold. Despite the serious messages, however, the producers promise an evening of entertainment.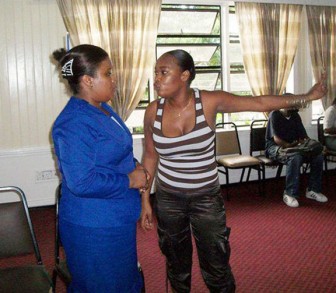 The cast consists of Henry Rodney, Gerard Gilkes, Clemencio Goddette, Mark Luke-Edwards, Colleen Humphrey, Leon Cummings, Max Messiah, Nelon Benjamin, Quincy Williams and Lezhan Lord.
The show starts at 8 o'clock each night and tickets cost $1,200 and $1,000 and are available at the National Cultural Centre Box Office, Nigel's Supermarket, Sweet Point Snackette in Orange Walk and Double C Salon in Forshaw Street. In addition, tickets for today's matinee are available at the National Cultural Centre Box Office all day so school children can purchase same easily.
Since Watch De Ride in 2010 HAP has put on productions at the Theatre Guild and travelled to Antigua twice to put on the plays; Fitzroy Tyrrell's Somebody Gon' Horn Yuh and recently, Sir Ian Valz's Two's A Crowd.
Around the Web