Helena Martin, who was born in what was then British Guiana, and now lives in Australia, has written a memoir on growing up in Guyana
Walk Wit' Me… All Ova Guyana, published by Balboa Press, covers the first 21 years of Helena's life, in what was described as a compelling, humorous memoir. According to a press release, Helena recalls her years living in Guyana while navigating a labyrinth of family secrets.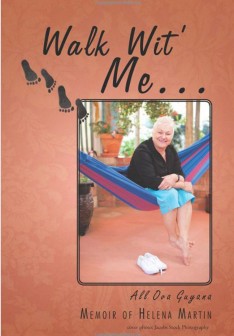 "I yearned to preserve the love for my country, family and fellow countrymen," she is quoted as saying. "But most importantly, I want to pass on the legacy of my life in Guyana to my children, grandchildren and future generations."
She described her memoir as "laced with nostalgia and at the same time it is my sincere intention to portray the true essence of the Guyanese culture without offence. Keep in mind that this is not based on the experience of every Guyanese. This was the way I saw and experienced things back then."
In addition to documenting Guyanese culture, Helena's focus is on revealing "simpler times" for her readers. "The majority of today's society is totally focused on achieving happiness through material possessions," she is quoted as saying, adding that Walk Wit' Me shows the importance of good old family values and friendship.
According to the press release, documenting her own experience of Guyana, Helena also takes care to preserve the traditions she has come to love while conveying the "clever humour and witty repartee abundant in Guyanese culture".
She noted that while it is "a personal account of my life, this memoir was intentionally written to preserve the language from that era."
Included in Walk Wit' Me  is a glossary of terms, providing readers with insight and translation of the colloquialisms and vernacular used throughout the book, the release said.
Helena Martin was born in 1947 in British Guiana. She and her husband immigrated to Australia and currently reside there with their four children and seven grandchildren.
Walk Wit' Me is available on Amazon.com in paperback and Kindle format.
Around the Web