From its flawless opening dance sequence, performed by Kreative Arts, to Alicia Keys' "Fallin" (I keep on
Fallin'//In and out of love//with you), which portrayed partner abuse, Front Yard promised much. It did not disappoint.
Jennifer Thomas (Mariatha Causway), writer and co-director of the drama, was upfront with spousal abuse and its concomitant problems and deserves to go to the front of the class for her brutally honest, but sensitive treatment of these issues which many persons still tend to shy away from.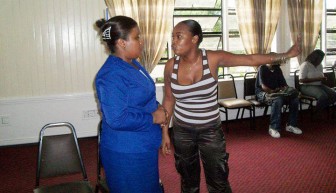 Front Yard tells the story of Susan (Clemencio Goddette), who leaves an abusive relationship only after she is put out of her fancy Bel Air home by her husband Ronald (Gerard Gilkes) for what must have been the umpteenth time.
Susan is forced to seek lodging in a tiny room in Sand Yard, said to be well-known, low-income community in Lodge, as her husband has control of their finances. Susan is a teacher who does not earn much and has to fend for herself and her 12-year-old son Ryan (Lezhan Lord) who is about to write the National Grade Six Assessment exams.
Susan is warmly welcomed in the community by her landlord's front man Gary (Max Massiah), who tries to ensure that her one-bedroom, no-bathroom 'flat' has a few pieces of furniture before she arrives.
Lionel 'Lil Man' (Mark Luke Edwards), a younger man, who is 'smitten' from the time he lays eyes on Susan, gives up his mattress so she and her son could be comfortable and gradually wins her trust and her heart with countless acts of love and kindness.
The shopkeeper, Short Man (Henry Rodney) and his nosy but caring wife Thelma (Colleen Humphrey) also overwhelm Susan with their kindness. Besides being a shopkeeper, Short Man is the father figure and go-to man in the yard for residents who need advice or just an ear. From his vantage point at his 'Front End' shop counter, he sees and knows all.
But Susan's husband Ronald would not let her be. He finds her in the Sand Yard and tries to force her to return home, abusing her and assaulting and flooring 'Lil Man', who went to her rescue, in the process. Ronald has the element of surprise in his first foray into the Sand Yard, but on the second occasion, the Sand Yardians are ready for him and though he knocks out 'Lil Man' a second time, he gets a taste of his own medicine before being handed over to the police.
Unlike many spousal abuse stories, the play has a happy ending in which everyone gets everything they deserve and then some – especially Ronald!
Despite being out cold twice in the play, Mark is a class act as Lil Man or "25", the younger man, who falls head over heels in love with Susan and eventually becomes her anchor.
Clemencio, in her first lead role, is convincing as a confused, battered woman struggling to make it on her own and keep her dignity intact.
Henry displays his usual aplomb on stage and is the glue that holds Front Yard together.
Leon Cummings is witty and excellent in his supporting role as 'Lil Man's' friend, Leon, who alternately teases and encourages him and helps him find a job.
Colleen is comfortable and believable as Thelma, the sort of character you would find in any real life 'yard' setting.
Other cast members were Nelon Benjamin as Bowman and Quincy Williams and Johann David as two police officers.
Front Yard was co-directed by Sheron Taylor. Its stage managers were Sandy Thompson and Alison Simmons. Darren Mc Almont was the production manager.
The play's theme song "Sharon's Abuse" was performed by Beverley Smith and composed and arranged by Bonny Alves.
Meanwhile, Horizon Arts Production, which produced the play, will host its annual 'To Dad With Love' show on Father's Day at the Theatre Guild, where fathers will be honoured in music, dance and drama.
Around the Web