By Jairo Rodrigues
Natayha Whaul is relatively new to the drama stage. Only a few years into her new hobby and she has already won a major award. The Scene had the opportunity to chat with Natayha on her life and her persona on the stage.
The Scene: What is it that you really do in the field of dramatic arts?
Natayha: Since I started theatre I've done acting and dancing.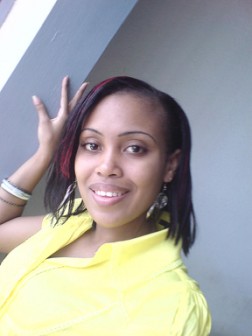 The Scene: When did you start being interested in the dramatic arts?
Natayha: At age twenty during CarifestaX, I actually went to follow a friend to join Carifesta but I ended up joining myself into the acting class.
The Scene: Who/What really pushed you, or motivated you to continue?
Natayha: I realized that due to acting I got to be a bit more open, and Jennifer Thomas and Henry Rodney motivate me to continue.
The Scene: Who do you draw inspiration from?
Natayha: I draw all my inspiration from Jennifer Thomas and Sheron Taylor.
The Scene: Was drama a big thing in your school/household growing up?
Natayha: It was in St George's Secondary but I was never into acting then.
The Scene: So what were conditions like growing up, what was your family life like?
Natayha: I was born to Linden and Elizabeth Whaul on the 29th November, 1989. I have two brothers and two sisters. I'm the baby for the family… I was born at the St Joseph Mercy Hospital Georgetown. I'm presently living with my mom and two sisters, my dad lives in Kenya and my two brothers are married and living on their own.
The Scene: Describe to me and the readers what it is like to be in your field.
Natayha: Acting is very nice. It's where you as an actor/actress get the opportunity to play the role of a character that's different from your way of life… You get to feel how they (character) felt or the different things they went through.
The Scene: What would you say is your most accomplished piece of work?
Natayha: I think my most accomplished piece of work is the play Shoes Blues. Why I say Shoes Blues is because that play was a combination of both acting and dancing. It was the first time I was nominated for best actress. Even though I didn't win best actress 2010 I was happy to be recognized amongst some of the best ladies like Jennifer Thomas, Sonia Yard, Sheron Cadogan Taylor and Simone Dowding, they were in the acting business for years and I was the only newcomer in that category with them.
The Scene: Have you received any awards or acknowledgments?
Natayha: Yes.
The Scene: What and where from?
Natayha: Best actress 2011 for a full length play – Makantali. I was extremely excited.
The Scene: What was the experience like during the production and being given the awards?
Natayha: The experience was great… It took a lot of hard work and time but I had the opportunity of forming a family with the other actors. We shared personal stuff and were able to develop a bond.
The Scene: What do you have planned for the future?
Natayha: I am studying Principles of Business and Accounts, but my heart's desire is to further my studies in dancing and theatre.
The Scene: How would you promote the dramatic and theatrical arts on a national stage?
Natayha: Through local recognition, that is: print, media, discussion and regional acceptance. This means that it would have to go through the school system etc.
The Scene: What would you advice or do to improve the sector?
Natayha: To improve the sector we need more scholarship offers at overseas drama schools, more theatre offering, arts workshops and of course scholars returning to share their knowledge.
The Scene: Tell me about your social life? And what do you enjoy doing in your spare time?
Natayha: My social life is very simple. Apart from my studies, acting and dancing I spend all my time at church or with my family and friends, other than that, I am on my Blackberry or sleeping.
The Scene: I know in Guyana it is difficult to earn a steady income by committing oneself to theatre, you must have a 'day job' what is it that you do?
Natayha: I used to work at Didco Trading and Top Brands Distributors as a Sales Representative but I'm presently a model for Digicel.
Around the Web