Keisha Edwards presents her third annual fashion show on May 11 at 8 pm at the Theatre Guild under the theme 'Fierce Expressions: Steps that lead to Now', which focuses on the positive and negative during the growth as a fashion designer.
Calling it "the best collection I ever presented by far," Keisha says her two presentations: 'Attitude' and 'Corporate Stepping' are focused on her fierce, expressive, young and exotic styles. "Everything is going to be fierce; the clothes will bring you alive," she says. The collection not only presents clothing for the average woman, but males and plus-sizes as well.
The show features some surprise guest models like Miss Jamzone Guyana, former Miss Guyana Universe Tamika Henry and reigning Miss Guyana Universe Kara Lord. Keisha said the models were all working really hard and would not be a disappointment. Pieces and Things is the official provider of authentic accessories for the models. Entertainment will be provided by GT&T Jingle finalist Esther Osborne and the Let's Dance group, while guest designer Miche Brise will also show some pieces.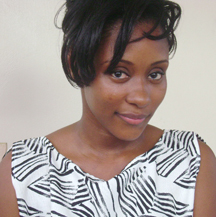 Keisha told The Scene that while she had always been interested in and fascinated by clothing and accessories, she sprung fashion in her final year at the St Joseph High School. She said, "I noticed that at that age everyone needed to look a certain way, or dress up fancy". She noted too that society placed a lot of emphasis on how you express yourself and personal style was important. She started doing some drawings to express her character and variety; and her mother would sew her ideas. Her family and friends were very motivational, she earned the nickname "The Modeller" from her Uncle, and her sister coined the name ShaSha Designs which she uses today as her label. She said it means "personality rising to the surface".

She slowed down while she was a student at the University of Guyana but after graduating with a Degree in Sociology and a Diploma in Social Work, she knew that she had to get back into fashion. "I was just always interested in it, and I knew I had to be a part of fashion. I told myself that this is what I want to do and I'm going to make a business and a living out of it," she said.
"In life you can do anything, there's no limit. I always had a passion for helping people in society. Fashion is a way of me helping people in the aspect of looking good – making them feel comfortable."
Keisha emphasises that Guyanese need to support the thrust of fashion in their own country and not depend too much on western styles, she added that there is a lot of talent out there.
Keisha admires the beauty of British clothing; she finds their trends and styles highly influential. She also added that influences can come from anything and life. "Everyone's style is different, that's the uniqueness you bring," she said, adding that she does research on some works to learn more about the craft, but copying an image or drawing inspiration from an image is very wrong and something she would never do.
Tickets for 'Fierce Expressions…' cost $2,000 and are available at Tasha's Intimate Bath and Body, German's Restaurant and Cool and Sassy.
Pieces and Things will have a special giveaway to some lucky members of the audience and at the end of the show, the audience will have the chance to interact and garner information on the clothing for around 15 minutes. There will also be a bartender performing tricks and entertaining the audience.
Keisha expressed thanks to her sponsors, German's Restaurant, HJTV, Cool and Sassy, Tasha's Intimate Bath and Body, Ninoes Boutique and Pieces and Things.
Around the Web