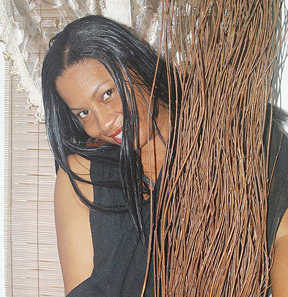 By Jairo Rodrigues
Mariatha Causway also known as Jennifer Thomas has been immersed in drama from as far back as she can remember. As the last of seven siblings, she would often be ignored, so she would simply act to capture the attention she desired. She recalls, "As simple as saying my ABCs had to be dramatized."
It's no wonder then that Jennifer's life is now centred around theatre. She is the Manager of the Theatre Guild of Guyana which is a job she thoroughly enjoys. "It is fun being here. I get to meet a lot of people, and I get to share my talent with a lot of young aspiring actors and actresses. Each day I'm here I learn more about the arts," she says
Her earliest memories of the theatre come from her mother – a great lover of the arts. She has always been motivated by her family, as she puts it "they believed in my talent and have always supported me". It was her sister who took her to see an Indian film where she developed the love and passion for drama and theatre; automatically she knew that this was something that she definitely wanted to do.
At home and at school, Jennifer was surrounded by drama. She was a member of the Drama Clubs at both St Winifred's Primary and North Ruimveldt Multilateral.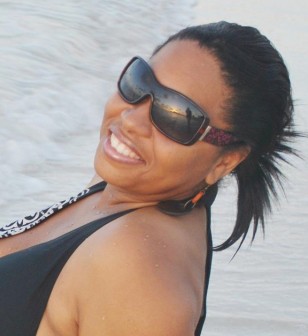 Jennifer was strongly influenced also by Indian actors and films, because of her cinema going as a child. "I love the way Hema Melini captured her audience and kept them for hours. Her range of expressing emotion is unmatchable as an actress and I knew [back then] that was what I wanted to do with an audience someday," she says.
Other influences include her eldest sister, who she thinks is a down-to-earth person; Margaret Lawrence, who she describes as the most humble actress she knows; and Desiree Edghill who is "a very expressive drama queen".
Jennifer has a deep connection to God; she says she believes God created her especially to do this.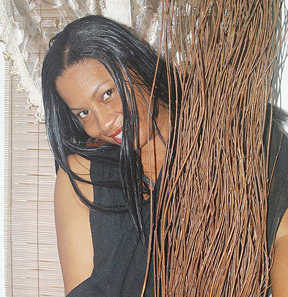 Asked what she would do to promote the dramatic and theatrical arts in Guyana, she points out, "Guyanese need to be more appreciative of our art form. We must recognise that our people of the arts are unique and talented and are among the best in the world. Only when we do so will we be able to compete on an international stage."
She describes acting as "a make believe world with a lot of realness. We express and have fun with a lot of emotions yet our love is genuine. The theatre arts require concentration, love and respect for one another because we are responsible for each other.
"Being an actress is one of the most fun things in the world to do. I get not to be me for hours. I get to be someone else. I get to live their life, to think like them to walk like them to have fun the way they have fun. It's a hard fun job. It requires concentration, observation and a lot of personal time."
Jennifer says her most accomplished piece of work was portraying the character Jewel in the play Ecstasy (1995) directed by Ron Robinson. She says it was very fulfilling doing this role and that the character came from an ordinary woman and made her into an extraordinary woman. "This characterisation has always stayed with me and has always kept me focused and striving for excellence as a woman," she notes. Lavonne George and Fitzroy Tyrrell were her supporting actors and Ajay Baksh her leading man.
Her most memorable accreditations were in 1992 when she won Best Supporting Actress at the Theatre Annual Awards for the role Suzanna of Canaan in the play The Vigil and in 1996 when she won Best Actress for the role Jewel in the play Ecstasy.
"It was great receiving those two awards because I was nominated alongside legendary actresses and it showed that my portrayal of my
characters were being recognised and appreciated by my colleagues," she recalls.
Both directors, Ronald Hollingsworth (The Vigil) and Ron Robinson (Ecstasy) pushed her beyond her boundaries and then expected more from her. "Many days it was all about blood sweat and tears. But in the end my colleagues, my directors, myself and the audience I'm sure were happy with the results." And she has the awards to prove that her efforts were worthwhile.
"I remember at both awards ceremonies, my heart beating like a drum and when my name was called as the winner everything stopped and the world went quiet for a moment. Both were great experiences."
Most people know Jennifer the actress, a few know Jennifer the playwright. Fewer still, know Jennifer the poet. "Being a poet is a part of me I was reluctant to share with the world for some strange reason," she says. "For me, it was private because it's my thoughts. Only very close friends and family knew of it until recently. It's the quiet side of me and writing is something I enjoy." She adds that the ability to write poems comes from loving nature and wanting to capture it in words. "Being very observant gives me the opportunity to use all my senses and so I write as I feel, see, taste, smell and touch."
Jennifer became a playwright after challenging herself to write plays. She has always been captivated by the works of characters and how words can build their personalities. "I read many scripts as an actress and have always been fascinated by plots, themes, development, construction, conflicts, resolution emotions and the different characters used to tell a story." She has written about six plays. Front Yard, recently staged at the National Cultural Centre was the first one she was willing to share with others.
Asked about yet another persona, Jennifer the model, she answers: "This started from high school days but I never followed it up, simply because of the posture and the steps. I am not good with remembering how to place my leg or arm. I just wanted to be free. Until I met Sonia Noel, who is a close friend now and has always encouraged me to have fun with it."
Jennifer has modelled some of the outfits in Sonia's latest collection.
Jennifer spent her childhood days in Campbellville before moving to D'Urban Street, Lodge then to D'Urban Street, Wortmanville. She did not grow up in a rich family, but she notes happily that she lived comfortably and by no means were they poor. She feels especially close to her brothers since they practically raised her because of her single mother's work schedule.
Nevertheless, she considers her family very close. Her current family life is centred on her adoring and loving children. She is a divorced mother with twin boys aged nineteen and a baby girl aged seven.
Her hobbies and social life involve spending time with her family and children, going for long walks, swimming and of course writing. "It must be mentioned that I have two sides and even though I am not a clubber I love going out and having fun with my friends."
Jennifer plans to continue writing plays on relevant topics especially domestic violence, poems and novels. She is also planning on writing and directing films. "It is my dream to direct a movie alongside Steven Spielberg," she adds.
"The arts is my life, my passion, my dreams. Here is where I wish to be always. If I am to live a thousand lives I always want to be an artist; always," she says.
Around the Web