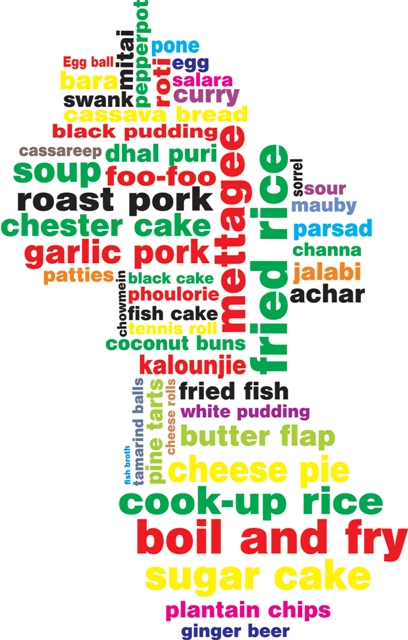 Hi Everyone, Happy Independence to brilliant, beautiful, bountiful Guyana!
Five years ago, I wrote about an 'Independence food dream' I had – one in which there was a table with a veritable feast of the foods of my country. All the dishes that celebrate the rich multi-ethnic and cultural diversity of Guyana were on that table – pepperpot, garlic pork, cook-up rice, mettagee, roti, duck curry, baked chicken and fried rice. Shrimp cakes, cassava bread, pone, coconut buns, bara, salara, Chester cake and mitai were there too. You name it and it was there. This part of the dream has been a reality for decades now. However, it is the other part of the dream I had that continues to give me pause.
Still dreaming, I reluctantly moved my gaze from the table to the rest of the room, where voices and shapes became clear. People were all around, mingling, talking, laughing, gaffing, hugging, shaking hands, swapping stories, telling jokes, teasing each other, recounting ole time stories. And more importantly they were discussing our future TOGETHER.
I stared in awe. All the peoples of Guyana were there and I thought, what a beautiful thing food is. It's a uniting force that's second to none. It makes us laugh, cry, rejoice, remember, acknowledge, compare, compromise, try new things, challenge each other, celebrate each other – it can draw us closer together.
At the table, we are united. Away from the table, we are divided.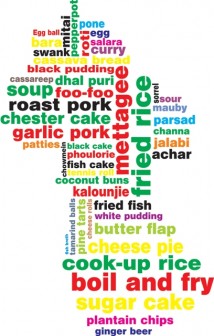 In Guyana and all across the world where there are Guyanese, there will be celebrations marking our independence as a nation from our colonial masters 46 years ago. Today, I ask you to join me in asking yourself, your family, your friends, your groups (social and otherwise), our society and our leaders what is it that we are really celebrating – our Guyanese-ness? Our togetherness? Or is it just another occasion for us to get on our soapboxes and mouth words to which we give no life? No meaning, no action?
We are divided abroad as we are at home. And I don't just mean divided by the squabbles we will have as a family. In the diaspora many of us cannot even come together to hold ONE umbrella event to celebrate Independence. Instead we have factions and groups that want to have their own thing all the while continuing to divide by race, colour, class and creed. It sickens me. So I implore to ask yourself and everyone around you – what is it that you are celebrating this Independence?
I find solace and take refuge at my virtual dining table – online, through my blog, column, email and social media. Despite the deep divisions and unhealed hurts in and outside of Guyana, at the virtual dining table there is a lot of gyaffing. Gyaffing that often challenges the significance of racial differences. It seems as if, when we are online, we can think beyond the racial differences that get in the way when we see each other face to face. Let's be realistic, in real life, the face-to-face reality of our differences can get in the way of open conversation.
Online, I have found this to be less the case. Don't get me wrong; I'm not saying if we want to talk openly in an effort to move forward in unity, that the Internet is the way to go. What I am saying is that not only could the Internet be a tool that we can use to do so, but, more importantly, our experiences online where we are willing to talk across difference could serve as an example for our day-to-day existence. In other words, if we can do it online can't we find a way to do it in person?
The full-on embrace of the veritable feast in my dream says that I am Guyanese, not Indian, Black, Chinese, Indigenous, Portuguese or mixed. I am Guyanese. So on this Independence as you gather with your family, friends and loved ones – with tables void of space because of the multitude of dishes from our homeland – let's make a pact to move the conversation forward, together, to a brighter and better future for all of us. Let us stand united, not divided.
One People. One Nation. One Destiny.
Happy Independence Guyana!
Cynthia
Around the Web