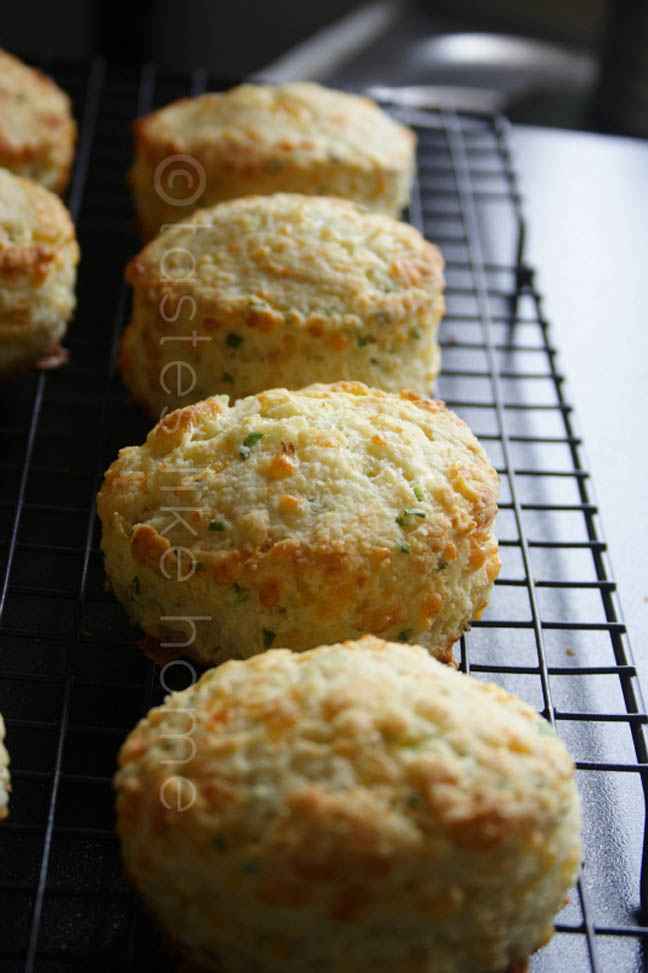 Hi Everyone,
There are subtle differences between a country style biscuit (think KFC and Pillsbury) and a scone. Depending on who you're speaking with they'll tell you that biscuits and scones are the same thing.
The differences are:
●    Biscuits are made to be eaten as bread with a meal served with gravy and therefore tend to lean on the savoury side. Scones on the other hand are generally served with tea and often contain fruits and tend to be sweet.
●    Biscuits are generally made with vegetable shortening, lard or butter. The liquid varies from milk to buttermilk. Scones often call for butter, cream and milk. The fat (shortening, lard, butter) to flour ratio is significantly less in biscuit. Scones call for more fat.
●    Biscuits are baked with a milk wash/glaze; however, scones usually have an egg wash and sometimes the sprinkling of sugar to give an enhanced crust.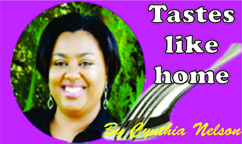 ●    Biscuits are typically cut into rounds while scones are cut into large wedges (British scones are round).
●    Biscuits can be baked jammed up next to each other to have a soft-layered texture around the edges. Scones are generally baked about 3 inches apart.
●    And the last bit that is not so subtle – biscuits are considered American while scones are said to be Scottish (though from a regional standpoint, British).
Now here's why they are often considered the same.
●    Scones can be made savoury too, such as cheese scones. Then there are the bacon-cheddar scones and the cheddar scallion (green onions, shallot) scones. Fresh herbs such as thyme, dill and rosemary make for delightful flavour offerings as well.
●    Scones can be made with milk alone and so too can biscuits. Biscuits can be given a glaze such as an egg wash or brushed with milk alone.
●    Scones can be cut into rounds too.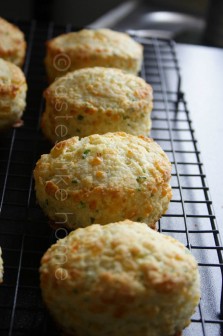 It was necessary for me to go into this amount of detail because, perhaps, like me, you're wondering, what's the difference between a biscuit and a scone.
I think that if I had to choose, I say that I like scones more than biscuits. It's mainly because you can add fresh or dried fruits to scones. And they are always so delicate and attractive. I see them and think of some sweet, strong, milky tea to accompany them. Unfortunately, whenever I've thought of biscuits, only the intensely baking soda-induced biscuits of KFC that my mom loves come to mind. I do not like them at all.
Speaking of chain restaurants and the things they make, on my first trip to the United States more than a decade ago, I had the cheddar biscuits at Red Lobster and fell in love with them. I have to digress a little. Isn't it amazing how the first time you visit someplace that you've only known through television and commercials, that you make a beeline for all the eateries you've seen – Red Lobster, Olive Garden, Chilli's etc? There you are, thinking that the food is going to be just as fantastic as you see on television. Ah, how very quickly that vision and taste fades. The Red Lobster cheddar biscuits have stayed with me though as has the amazing strawberry smoothie I had there in the Midwest.
Getting back to the subject of this column. I wanted something for breakfast that would be done in about half an hour from preparation to cooking. Scones immediately came to mind. Cheese scones. However, I opted for biscuits, which carry the same principles of a scone but with less butter.
Cheddar Scallion Biscuits
Yield: 10 – 12
INGREDIENTS
2 cups all purpose flour
1 tablespoon baking powder
1 teaspoon table salt
2 oz. (1/4 cup) cold unsalted butter, cut into small pieces
¼ cup thinly sliced green onions/scallions (white and green parts)
1 ½ cups grated cheddar cheese
¾ cup very cold whole milk, plus extra for brushing (2 – 3 tablespoons)
DIRECTIONS
1.  Preheat the oven to 425 degrees F.
2.  Line a baking sheet with parchment paper.
3.  Add the following ingredients to a large bowl and mix well: flour, baking powder and salt.
4.  Cut in the butter to the flour until the mixture resembles a coarse meal.
5.  Mix in cheese.
6.  Add half cup of milk to the flour mixture and gradually add the rest until everything is just combined. Do not over mix and don't be too worried if the mixture is a little crumbly. However it if is not holding together as it should, add a little more milk but do not make a wet mixture.
7.  Flour a work surface and pat the dough into a 1-inch round.
8.  Using a 2 or 3 inch cookie cutter or a glass of the same size of roundness, dip the cutter/glass into flour and cut out biscuits, do not twist after cutting as this will seal the edges and prevent the biscuits from rising high while baking.
9.  Place biscuits on baking sheet about 2 – 3 inches apart; gather up dough after the first set is cut, quickly pat into a round and cut again.
10.  Brush biscuits with milk and transfer to oven.
11. Bake for 15 – 18 minutes or until golden. Remove from oven and transfer biscuits to a wire rack to cool. Serve warm or at room temperature as is or with a pat of butter.
NOTES
●    The ingredients should be very cold for this type of biscuit. Once the ingredients are measured and prepped, I usually add them to the freezer for 5 minutes before mixing everything together.
●    If you want the edges of biscuits to be soft, place them close together on the baking sheet, almost touching. For a more crusty edge, place them apart as indicated in the recipe.
●    Scones and biscuits are best when consumed within 24 – 48 hours.
Cynthia
[email protected]
www.tasteslikehome.org
Around the Web